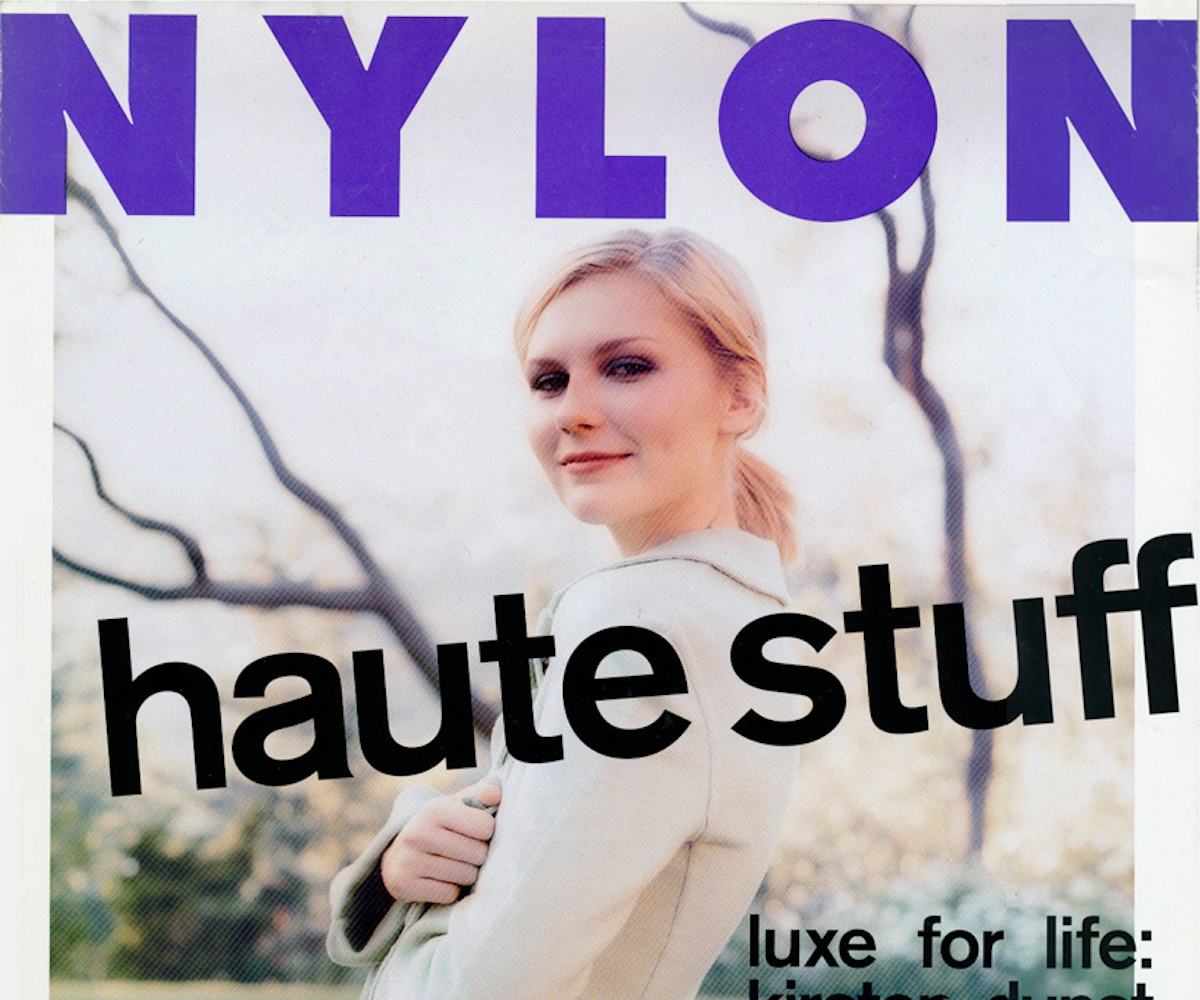 photographed by paul jasmin
flashback friday: bring it on
flash back to our 2001 cover story with kirsten dunst.
Our Flashback Friday just got way cooler. Now you can read archive NYLON cover stories online with the click of a button. This week we're time traveling back to 2001 and our first Kirsten Dunst cover, where the actress talks about her role in The Virgin Suicides and her upcoming project, Spider Man. Read on to 
When I mentioned to a director friend that I was going to interview Kirsten Dunst, the guy got a little worked up. "When? Where?" he yelped. "I would give anything to meet her. I am telling you, she is the next Bette Davis!"
"I'm sorry. Did you just say Bette Davis?"
"Clearly you haven't seen her in Crazy/Beautiful," he chided. (Dunst portrays a seductively self-destructive high-school lush who wreaks havoc on the heart of a guy from the wrong side of the tracks). "And what about her genius performance in Bring It On?" my friend demanded.
Genius? Now wait a minute. Are we talking about the same giggly, pom-pom-waving girl? 
Baffled, I head to the nearest Blockbuster to prepare. At the counter, I am met with more Dunst delirium. When I ask for help finding some of her movies, an overly enthusiastic clerk quickly escorts me to the new release rack, where he points to a movie titled Get Over It.
"There's more over here," he says, nudging me toward the horror section, where we discover that all the copies of Interview with the Vampire have been snagged. 
"Is that normal?" I ask the clerk. "Didn't that movie come out back in, like, '94?" 
Like some kind of cinematic virus, there now seems to be a Kirsten Dunst movie in every section of the video store. I leave with a stack of viewing material. 
"Kirsten is an exceptional girl," confirms Peter Bogdanovich, who recently directed Dunst in The Cat's Meow, a semi-biographical account of a murder that took place aboard William Randolph Hearst's private yacht back in 1924. In the film, Dunst, 19, has the starring role, portraying Marion Davies, the silent movie actress and longtime mistress to Hearst. It takes a lot of courage to portray someone as legendary as Davies, let alone take on a role that is beyond your years (Davies was 27 years old at the time of the incident). 
"Beyond being extremely gifted as an actress, the camera happens to love her," says Bogdonavich. "It's that magical star quality that none of us can explain. Some people have it, and some people don't. It's something you don't see when you look into the camera. You don't see it in the monitor, either. It only shows up on a big screen."
Whatever "it" is, Dunst-whose combined movies have grossed more than $75 million-has been tapping into it since she started making commercials at the age of 3. It's a source of power that-despite the abundance of eye-candy characters the San Fernando Valley girl has had to endure thus far-enables Dunst to be sexier, stronger, and more mature than her 19 years might suggest. 
"People often tell me that they think I am an old soul. I really don't know what that means," says Dunst, who originally hails from Point Pleasant, New Jersey. "I think some people, people who are thought to have old souls or whatever, come out knowing with what they want to do in life. I totally knew what I wanted to do right away. Nothing would stop me. So yes, I am very determined. And, who knows," she continues, "maybe it's because in my past lives I was a struggling performer, and I never got to where I wanted to be." 
It's late afternoon on a Tuesday in Hollywood, and Dunst and I are having a just-between-us-girls moment in the back corner of Lather, a beauty "lounge" that also doubles as a happy-hour hangout for up-and-coming musicians, models, and actors. Dressed in a red Izod polo, loose denim skirt, and dainty, multi-colored flip-flops, Dunst barely looks old enough to drive, let alone understand talk of old souls. 
"It's as if I live two totally separate lives," she says. Her face lights up, and those signature dimples deepen even more as she sorts through an assortment of candy-colored nail polish. Cynthia, our manicure expert, shakes her head slightly when Dunst holds up a poppy-orange shade. Instead, she settles on a muted rose, Pink Lady, for her hands and a racy red for her toes. "I'm not used to this kind of thing," she explains. "I probably have my nails painted, like, once a year."
Turns out primping and pampering do not come naturally to this earthy Taurus. "I hate being fussed over. Not too long ago I went to Hawaii with my family; it was the first time I stayed in one of those Four Seasons hotels, and it was so bizarre. People would come up to us by the pool and try to spray Evian on us. That is not  me. I'm the kind of person who doesn't even like fancy hotels. Things like massages freak me out, too. I've never had one. I feel like I'm being molested," confesses Dunst. "People think, just because I do what I do, that I lead this luxurious life. But that's so far from what my life is really like. Yes, I'm an actress, and then I am also just a girl who likes to have sleepovers, shop, and hang out with my friends from high school."
In the span of time it takes to have her toes painted, Dunst sets out to prove her point. She effortlessly entertains with a torrent of details about her life as a movie star-slash-normal girl, covering everything from picking zits ("I'm like a monkey. I pick and pick and pick. Not just my own either. Other people's, too") and road rage ("I curse at people all the time when I'm driving. Please don't tell my mother any of this. I especially hate people like the old creep who drove up next to me today and started blowing air kisses at me"), to the spiritual experience she claims she had at a Radiohead show at the Hollywood Bowl-a concert she attended with Tobey Maguire, her co-star in Sam Raimi's highly anticipated Spider-Man. But when asked if she and Maguire are an item, Dunst keeps quiet. "I'm not saying anything. No comment, no comment, no comment."
This wouldn't be the first time Dunst has dated a co-star. After filming Get Over It, she wound up turning her on-screen love match with Ben Foster into an off-screen romance last spring. Asked about it now, Dunst rolls her eyes with typical 19-year-old exasperation. "Ben? That's soooooo long ago."
"Don't you just hate it when people write about your personal life in magazines?" asks the manicurist while delicately placing tiny rhinestones on each of Dunst's freshly polished toenails. 
"Actually, I don't mind-except when they say stupid things, like the time someone reported that I'd had a boob job. If anything, I've got way too much going on here," she says of her chest. "Boobs can be so annoying. I envy those stick women with tiny, cute boobies. I'd give just about anything to be a flat girl in a wife-beater shirt."
The first time Dunst was the subject of an interview, she barely had boobs at all. Her first credited role was in Bonfire of the Vanities when she was 8; by the time she was 16 she had made 11 feature films and appeared in numerous TV shows, including her critically acclaimed turn as a teen prostitute opposite George Clooney on ER. 
From there she went on to Sofia Coppola's The Virgin Suicides, Drop Dead Gorgeous (a dark comedy about a small-town beauty contest gone bad), and Dick, a scandalously funny take on Watergate. But instead of focusing on her body of work, certain magazines were focusing on something else entirely, much to the actress' dismay.
I pull out an example of some of the magazine covers Dunst has posed for. She moans and frowns. "I am so grossed out. Look at that one," she cries, pointing to a photo in which she's wearing a man's shirt that's completely unbuttoned and a pair of barely-there white cotton panties. "I hate it. I hate t. I hate it. Half of my boobs are sticking out. It's so demeaning! I guess people thought I needed to have a sexier image or something for Bring It On," she says, referring to the provocative sex-kitten photos from Maxim and Gear. "And maybe I was trying to prove something, too. Trying to prove that I wasn't a little girl anymore. But I am not happy about it. Teen magazines were my sweet, cute era, and now, hopefully, I can move into the next era. My serious era."
Meow is definitely a serious departure from what audiences have come to expect from her. "I think people are going to be very surprised," says Bogdonavich. "While this is an ensemble movie, it's really Kirsten's story. There were times when I didn't know what she was going to do next in a scene, and she would deliver a performance that was better than anything I could have dreamed up."
Dunst is already on to her next big cinematic adventure, playing Mary Jane Watson in Spider-Man. "This is not just another superhero thing. It's got more depth, it really does," she claims. "Spider-Man is this insecure guy who you get to go on a journey with. And it's a love story, too. My character is always getting involved with the wrong kind of people until he comes along. Spider-Man is the only one who really sees her flaws and loves her for what she is not. The strength that he gets from her, and the strength they get from each other, is what I think people are really going to love."
Looking ahead, Dunst is keeping her fingers crossed for a movie that will take her to the leading-lady level once and for all. If only people would stop sending her all those lame princess scripts. 
"You would not believe how many princess scripts there are out there," groans Dunst. "I am so done with those! I'm done with the whole teen stage of my life. From here on out, I want a career that I can look back on and be proud of."