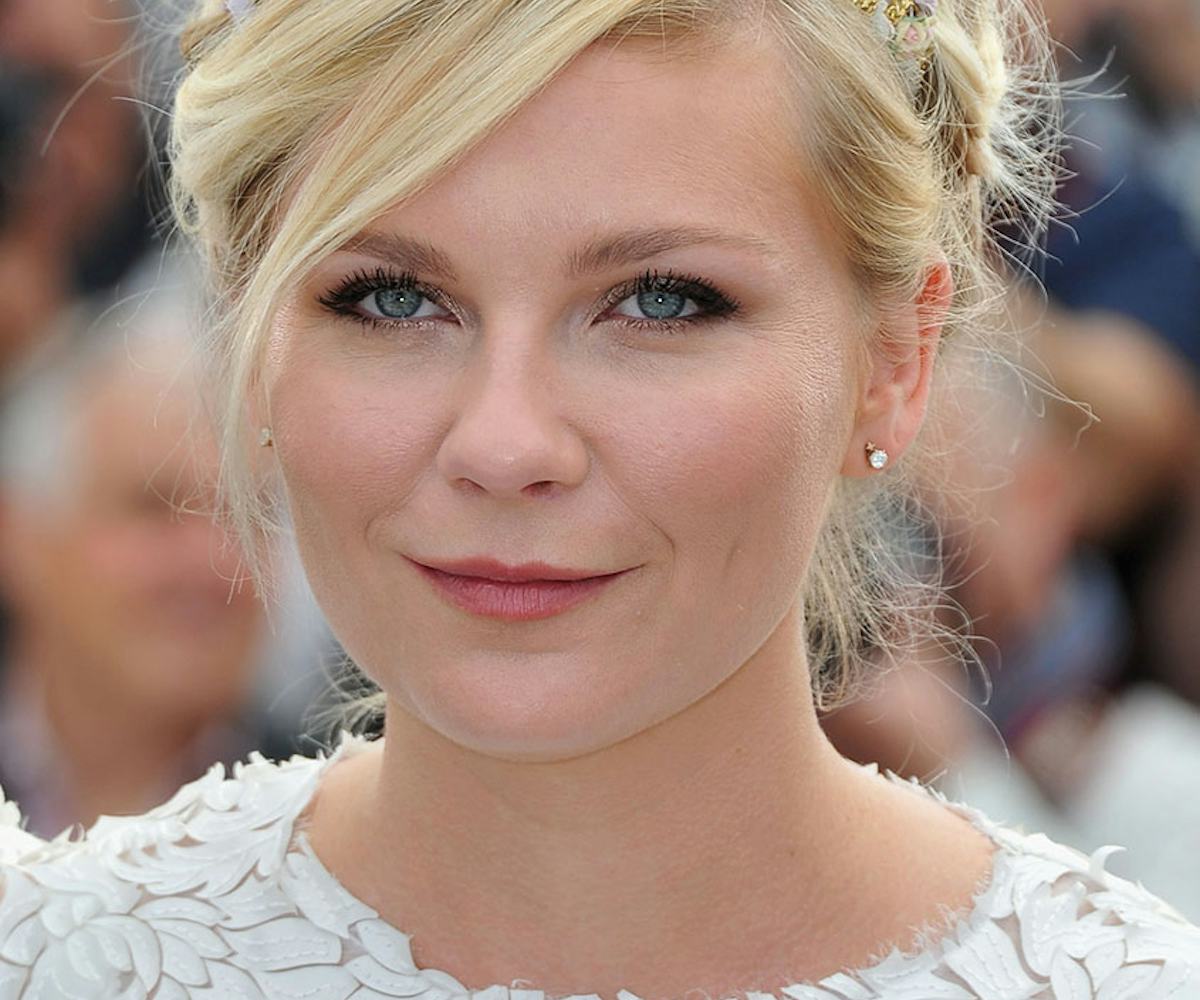 all photos by getty images
50 style tips we learned from kirsten dunst
including how to rock a floral headband.
Today is Kirsten Dunst's birthday! And other then going back and rereading all thee of her NYLON cover stories (two of which you can find right here and here), what better way to celebrate than to relive all her awesome fashion moments?! 
Since staring acting in her teens, Dunst has always hit the red carpet in unconventional and cool outfits--remember the bird-print Rochas dress she wore to Cannes?! Instead of trying to pick a singular favorite, we compiled all of her most notable styles into a slideshow at right with styling tips for how to get them today. So if you need a little inspiration for how to rock a yellow dress in spring or need to know the secret to pulling off kooky platforms, look no further. We've got you. 
Plaid is cool on flannels, but it's even cooler on a dress.
TRY: Rachel Comey Plaid Dress -- $380
Also cooler in dress form: polka dots.
TRY: Sessun Polka Dot Dress -- $154.99
Turns out fleathers, check print, and green all so swimmingly together.
TRY: Maison Michel Feather Fascinator -- $185
Um, hi, Brigitte Bardot--er--Kirsten Dunst. But really, Bardot-inspired tressed can make any outfit look like a stunner.
TRY: L'Oreal Advanced Hairstyle Tousle Waves Spray -- $4.99
Nothing's cooler than an accent pocket.
This one goes out to all the pale people out there: You can wear light colors! Just be sure to offset it with a berry lip.
TRY: Nasty Gal True Romance Dress -- $68.60
Nothing beats a pair of Charlotte Olympia heels.
TRY: Charlotte Olympia Soho Stud Pumps -- $1,195
Pulling off an embellished headband has always been tricky. The secret is to pick a band with similar colors as your hair, so that it doesn't stand out too much.
TRY: Johnny Loves Rosie Floral Headband -- $45.15
So you have crazy platforms? Show them off with a simple outfit.
TRY: Charlotte Olympia Carina Platform Wedges -- $492.10
Every black blazer could use a faux fur collar.
TRY: Missguided Faux Fur Coat -- $89.98
LBD meet RBD (ribbon black dress).
TRY: Red Valentino Ribbon Dress -- $892.13
Later, beige. A navy trench dress is way cooler.
TRY: Burberry Brit Navy Trench -- $1,095
A black and blue dress is a good thing.
TRY: Kensie Floral Dress -- $98.99
You say tomato, Kirsten Dunst says red carpet outfit.
TRY: Stella McCartney Dress -- $995
You don't need jewelry if you have a scarf built in to your dress.
TRY: Express Tie Neck Halter Dress -- $79.90
Life Lesson #485: Black shoes go with everything.
TRY: Missguided Black Heels -- $53.98
Forget the mullet skirts. A longer sheer skirt over a mini is the look this spring.
TRY: Jen's Pirate Booty Maxi Skirt -- $194.60
Yellow dresses are your friend. We promise. Just pair them with nude sandals and a scarlet lip for a '50s-inspired look.
TRY: Alice and Olivia Dress -- $495
Bejeweled is always better.
TRY: Forever Unique Embellished Shift Dress -- $179
The half-tuck is always appropriate.
TRY: Nasty Gal Floral Tee -- $29.40
Crimson lipstick is universal.
TRY: MAC Lipstick in Dubonnet -- $16
We know, we know. Turquoise is scary. The secret to making it OK lies in vintage-looking jewels and throwback beauty.
TRY: Sabine Crystal Bracelet -- $49
Jet black eyeliner will make any look instantly cooler.
TRY: Urban Decay All Night Eyeliner -- $20
Head-to-toe Rodarte is a winning equation.
TRY: Rodarte Woven Skirt -- $517.50
Three-quarter sleeves need a miniskirt. It's just a fact of life.
TRY: Guess Three-Quarter Sleeve Dress -- $98
So you can't afford a Rodarte head-to-toe look. That's OK. Try the tee instead.
TRY: Rodarte Tee -- $135
Ankle booties will up your minidress game.
TRY: Rebecca Minkoff Lace Up Booties -- $275
If your skirt's a little too short to cover your shoes, don't panic. Just match your tights to your shoes. Problem solved.
TRY: Hue Black Tights -- $13.50
Ray-Bans go with everything.
TRY: Ray-Ban Wayferers -- $150
If you get invited to the Met Ball, you better not skimp on your look.
TRY: Express Black Flower Crown -- $24.99
A '40s silhouette needs a belt.
TRY: Kate Spade Bow Belt -- $68
When in doubt, match the colors in your dress to your favorite superhero. 
Flared hips on your dress means rocking a hands-on-hips pose all night long.
TRY: Oscar de la Renta Floral Dress -- $2,390
Ice blue embellishments are way cooler than your normal evening dress.
TRY: Nicole Miller Dress -- $395
Always match your glasses to your co-star.
TRY: Moscot Vilda Frames -- $240
If you're going to wear a black dress and a black blazer, you should probably spring for some nude shoes.
TRY: Steve Madden Pumps -- $80
Be sure to match your shoes to whatever kind Sofia Coppola is wearing, should you ever be standing next to her.
TRY: Madewell Bow Skimmer -- $59
Put a bird on it.
TRY: Boutique by Jaeger Bird Dress -- $142.05
Don't outdress Sofia Coppola.
TRY: Vika Gazinskaya Ruffle Blouse -- $1.906
Vivienne Westwood looks good on everyone.
TRY: Vivienne Westwood White Dress -- $598
The perfect plus one to a pleated black dress is rose-embellished sandals, duh!
TRY: Badgley Mischka Rose Heels -- $139.99
Lesson 1: You can wear flats with a cocktail dress. Lesson 2: Christian Lacroix is a genius.
TRY: Vince Camuto Black Flats -- $98
When standing next to Orlando Bloom, you should channel your inner pirate.
TRY: Saint Laurent Printed Dress -- $3,490
Turns out forest green lace is pretty chic.
TRY: Erdem Maxi Dress -- $4,555
This is how jewel embellishments are done right.
A '50s silhouette + messy '00s hair + d'orsay pumps = the perfect semi-fancy, very-cool outfit.
TRY: Bernie Dexter Dahlia Dress -- $155.99
The secret to being mod is a black minidress, opaque tights, and a mussed-up pixie cut.
TRY: Topshop Black Minidress -- $76
When you date Jake Gyllenhall, you can wear whatever you want.
TRY: Urban Outfitters Knit Beanie -- $24
Always coordinate your outfit with Julia Stiles' and Maggie Gyllenhaal's...right down to the black shoes.
TRY: Express Black Pump -- $49.90
A sheer pink dress definitely needs some shimmering pink blush to go with it.