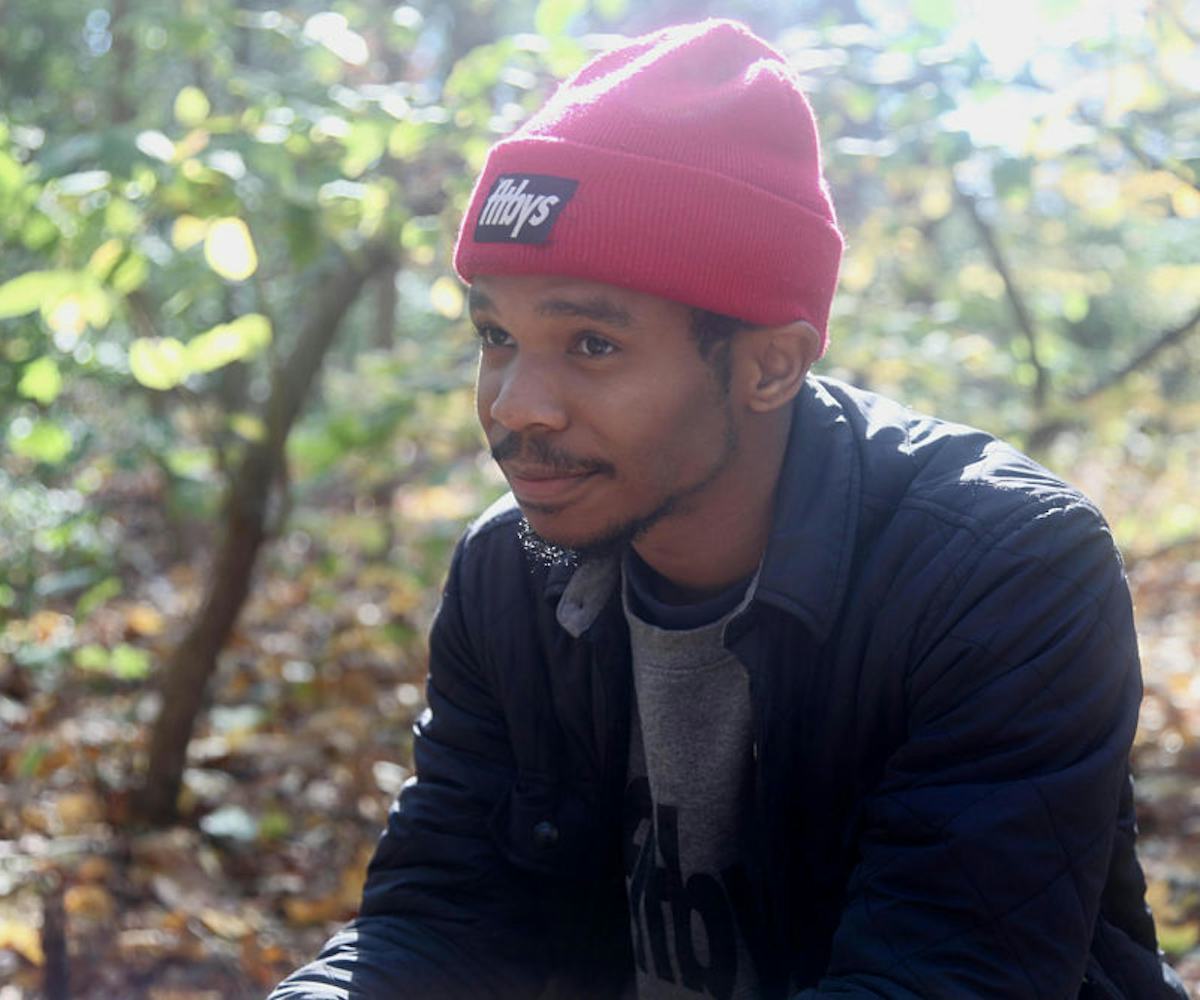 Band Crush: Meet Rising Brooklyn Rapper KOTA
"I'm just a simple dude from Clinton Hill"
"I'm just a simple dude from Clinton Hill, Brooklyn," says the young rapper KOTA. But take one listen to his song "Customs," a complex and imaginative paean to growing up in New York City and the complications that come with it, and you'll know he's just being modest. On the verge of releasing his debut EP, KOTA, who studied film, also directed a 33-minute short film that will accompany his songs, an indication of boundless creativity. We caught up with him recently to learn more about this burgeoning young talent.
How would you describe your aesthetic?
I'm just a simple dude from Clinton Hill, Brooklyn. I like to gravitate towards things organically, so style-wise, I wear a lot of my own stuff. Fltbys is a contemporary lifestyle brand that is really about positive waves and just being you. I almost always have it on. I'm a big hoodie and skully hat kid and I'm really big into leisurewear brands. Personally, I've always stuck to making chill music and being a stoop kid. I like low key spots if I go out to listen to tunes or be inspired. 
How did your career get started?
I've been a musician my whole life. I thought I was weird because I see textures and colors when recording or writing chords or whatever, but I learned it's something called synesthesia. Because of that, I would shy away from sharing my music and my process. I started taking music seriously in college when I met two kindred spirits who go by the names Joe and Trey. We started a psychedelic soul rap group called Nappy Hair, and people were really digging the music. Joe was the rapper and Trey was this amazing singer. I taught myself guitar, bass guitar, and piano while in high school, so I produced all of our music and also tried singing. We started getting different gigs at school and other artists became interested in working with us. Our last show as a group was an opening slot for Slum Village at the Knitting Factory.   
What's your next project?
My next project is my debut EP. It's 9 tracks and it details a story of a young man dealing with the pressures of his city, romance, heartbreak, addiction, depression, and more. Having a background in film production, I turned the project into a 33 minute short film that will be accompanied by the music from the EP. It's been a very interesting process, mainly because I'm recapturing all of these moments as they have happened, and I want each frame to reflect my true feelings at the time about a situation. 
What famous person dead or living do most wish you could have as a roommate?
I feel like me and Chance The Rapper would be dope roommates. I dig his vibe and even though I've never met him, he seems really cool and down to earth. He makes good music, tours, and just doesn't care about all of this other BS. That's the dream.
What is your favorite driving music?
I drive a Subaru with no aux chord, so I make mix CDs that include everything from Jimi Hendrix, Pink Floyd, to Jay-Z. I don't have favorite driving music genre, but I love the Beatles.  I've also been listening to J. Cole's Forest Hills Drive heavy, which is also one of my favorite albums to drive to.
If you had to live in a past time, what do you think would be the most fun era and why?
I guess the '70s would be fun. The music of the time was made through a different lens from today and I would love to see a time where people weren't glued to mobile phones and laptops. Everyone was just out experiencing life and exploring their own minds.
What activities do you most enjoy doing alone?
I watch a lot of cartoons, of course recording music, skateboarding from time to time, and sketching. I can't stand to do any of those things with people around me.
How do you wind down before bed?
After a long day or night depending on how long my session lasts, I usually pour up some vodka and orange juice or Bourbon. I put on Netflix, drink, watch Family Guy and laugh until i'm too tired to watch it anymore. 
When are you most relaxed?
I'm most relaxed in the studio or recording at home. My level of relaxation depends on the weather, the vibes of the day, and whether or not I'm inspired or not to record. I try not to force myself to write and I think that's important for any artist. 
What kind of person were you in high school?
In high school I was a nerd who was cool with everyone. I never had a fixed set of friends in school, just people I've known my whole life which is constant. I also had a clothing line and hosted artist showcases outside of school, so in a few ways I guess I didn't have time to think about the type of person I wanted to be in high school. I always had a guitar case on my back, spent most of my time in the piano room practicing chord progressions, or chilled with whomever was in my space. 
Do you have any phobias?
I guess I'm pretty scared of bees. They suck.
What are some new hobbies you would like to take on?
I would love to take on cooking as a hobby and I would love to surf. They're definitely art forms that take precision and skill. 
How do you hope to grow as a creative person?
I hope that I'm able to create things that people can relate to and make life easier for people mentally and emotionally. I want to learn and experience as much as possible too reach more people. I hope to inspire the next generation to be better and I never want to put my creativity in a box or package it up for a quick dollar.
If there was a phrase that you think best sums up your approach to life what might it be?
Don't worry, be happy.