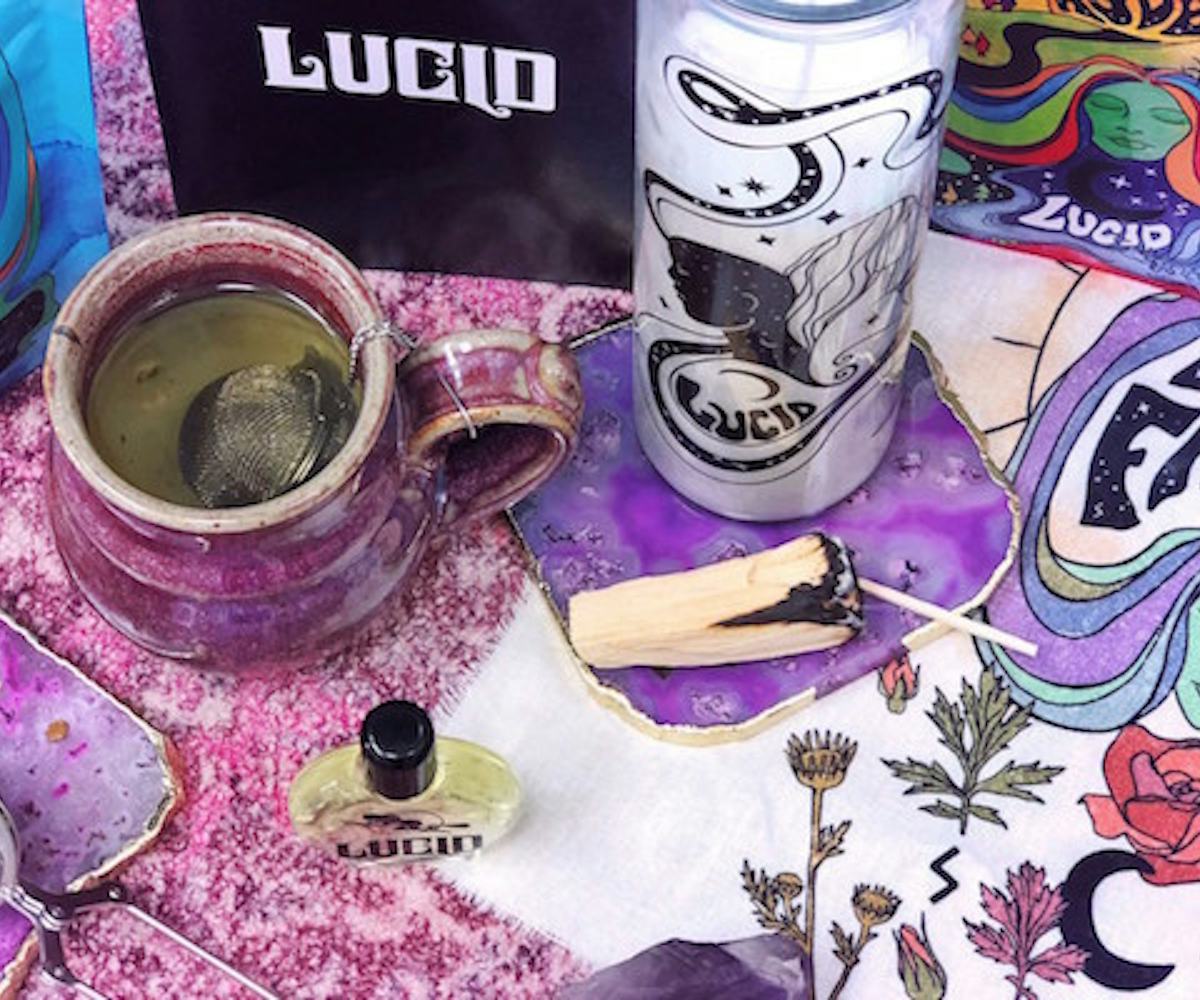 Photo courtesy of Kozmic Ryder
Have You Ever Wanted To Try Lucid Dreaming?
Kozmic Ryder wants to help you get control of your sleep
Dreamtime is about to get way more interesting, thanks to Kozmic Ryder, a new company that focuses on spirituality and wellness.
Founded by 25-year-old spiritual guru Ani Ferlise, Kozmic Ryder wants to make the ephemeral more accessible and practical—and it's starting with teaching us how to lucid dream. What's lucid dreaming? It's the state of being conscious and aware while dreaming, which not only allows you to have control over what happens in the dream, but also to tap inner creativity, receive signs and messages, and explore sides of yourself—and the emotions that come with them—that you haven't been able to see before.
Ferlise chose to focus on lucid dreaming for Kozmic Ryder's first kit, as it's a state that many of us struggle to reach post-childhood. "Lucid dreaming can happen more naturally when you're a child, but in many experiences, getting older and adding stress and distraction makes it harder to attain. Sometimes lucid dreaming can happen when you least expect it, but it can be hard to embody the message and meaning behind the dream, as well as stay in the lucid state or even remember it," she explains.
The kit contains things that have been personally helpful to Ferlise in her own lucid dreaming practice: a votive candle, a tea blend that helps to induce a state of lucid dreaming, an essential oil blend useful in mediation spirituality and psychic awareness, palo santo to clear negative energy, amethyst to protect and open the mind to receiving messages, and a "Kozmic Cloth" illustrated by artist Tate Eknaian inscribed with the phrase "It is never far away," to serve as a reminder of the user's journey.
And, most importantly, the kit contains The LUCID DREAMING zine and journal, written by Ferlise, which helps lead its users through the ritual and goes into detail about the importance of each of the kit's contents.
Through this series of toolkits (four more are coming) and its online community, Ferlise hopes that those curious and passionate about the spiritual world can use Kosmic Ryder to connect, teach each other, and share their numerous perspectives and experiences with one another. "[The brand] was born to provide experiences that focus on the self with kits, connection through online forums and workshops, and community through in-person events, pop-ups, parties, circles, and ceremonies. Life is not a boring experience—Kozmic Ryder is meant to remind you of the magic in the mundane and provide the tools to grab it all by the horns and truly live it."
Ferlise has had quite a bit of spiritual training—especially for being as young as she is. On top of studying a number of religions and practices, she's tried her hand at everything from astrology, reiki, and herbalism to aromatherapy and sacred beekeeping. She also just so happens to be the "ANI" in ALEX + ANI, the spiritually inspired jewelry brand started by her mother, Carolyn Rafaelian.
"I've been amazingly blessed in life to have been able to study many different teachings of all religions, spirituality, and healing modalities," she says. "I've done apprenticeships, classes, trainings, and mentorships and I realized that not many people would be able to access these teachings. It's not enough for me to learn and embody these teachings, I want to help set them out and do my part to share what I've been blessed with."
Snag a Lucid kit ($98) of your very own, here.