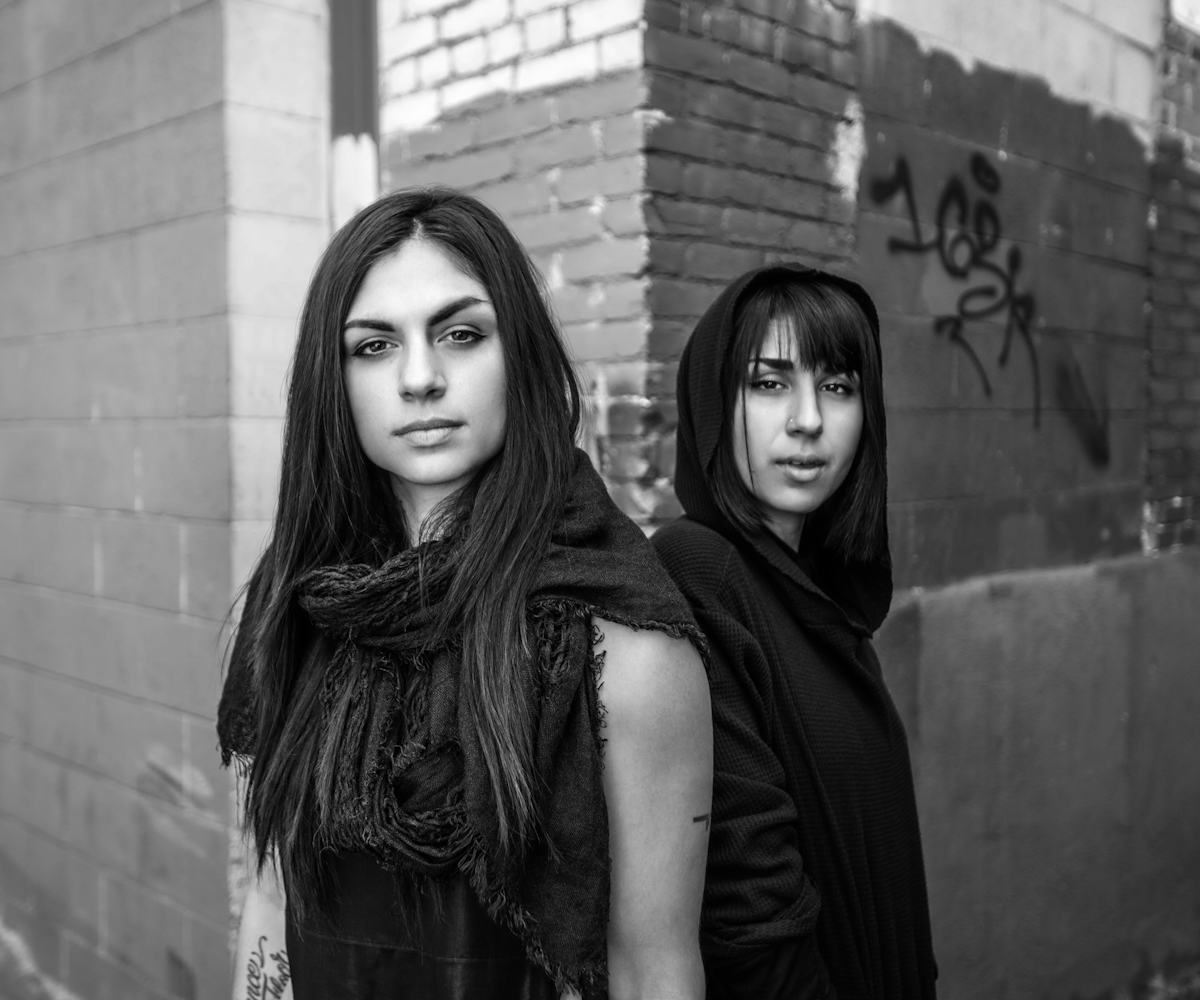 Photo courtesy of Krewella
Your Favorite EDM Sister Duo Is Back With A "Broken Record"
Stream Krewella's new single now
Anyone who had radio or Internet access in 2013 probably knows all the words to "Alive," the EDM-pop banger that introduced the world to Krewella. Since then, the duo—sisters Jahan and Yasmine Yousaf—have been super busy becoming world famous and headlining festivals like Electric Daisy Carnival and Lollapalooza. It's taken them three years to finally release their next single, but it's finally here.
Today, NYLON is premiering "Broken Record," the second track off Krewella's upcomining Ammunition EP. The single adds a nostalgic, alt-rock layer to their signature bubblegum sound. Both sisters wrote and sang every song on the new EP with live guitar, so fans can expect a more personal and "angsty" vibe this time around. "We wanted something a bit more raw and real," said Yasmine. "We wanted feelings of aggression."
The Ammunition EP is due out on May 20 ahead of Krewella headlining their global Sweatbox tour. We caught up with Jahan and Yasmine to get more details about their live gigs and tap into their songwriting process.
What is the inspiration behind "Broken Record?"
Jahan:
We wrote this six months ago about someone very close to us who we never really had closure on. From that emotion, we kept finding that we would reminisce on the same, old experiences from the past. Since we're sisters and have many of the same experiences, we often talk about our memories and help each other figure out how to move on and accept that we can't be with a certain person anymore. As an artist, you create something and it almost acts as the closure itself. So "Broken Record" is our way to face that emotion and accept it rather than feel sadness or bitterness or loss.
What can fans expect to hear on the Ammunition EP?
Yasmine:
We used to write songs that were very universal and never really talked about anything personal. This time around, we're writing songs that are directly related to things that happen to us as they happen. One of Jahan and my favorite bands is Incubus, and their songwriting style always influenced us. Another influence we've always had is The Cure.
Jahan:
We both grew up on the same music. Sum 41 for sure was there on "Beggars" [another track on the EP], that aggressive and angsty sound. We were both huge fans of them for over a decade, and it was just embedded in our cultural DNA. Also, fun fact: The singer and frontman on Sum 41 recorded guitar on "Beggars." We loved how those songs made us feel as adolescents and teenagers. We're definitely holding onto those feelings of nostalgia.
Walk me through Krewella's songwriting process. Do both of you usually work on every song together? 
Yasmine: 
I would say 95 percent of the time we write everything together. We wrote every song on the EP together. Every song is a new process—specifically with "Broken Record," we started writing it on the guitar and it just came out as a stream of consciousness. It was one of those inspiring days where everything comes easily and naturally.
How did you two start making music together?
Jahan:
It started as a hobby in 2007 with our former member, Kris. We were all in school at the time or had jobs—Yasmine was working at Trader Joe's and I had a job as a server. We both had our side hustle. To be in school and work and pay rent and pay touring fees was just very distracting and we couldn't really dedicate ourselves to an artistic lifestyle. So, on June 8th, 2010—that's our dedication anniversary day—we both decided to quit our jobs and drop out of school and pursue Krewella. That's when we started completely living as Krewella, waking up and writing and performing live. That's when we decided to treat it as a career.
Yasmine:
We've been writing music together all throughout our lives, though. Even as children we would mess around and write silly songs.
How have your lives and careers changed since the crazy success of "Alive"?
Jahan:
It all happened in a blur. We were touring and doing press, so we didn't really have time to process it. I really see that as a good thing for us as artists, because it didn't have the chance to go to our heads.
What do you do to create an amazing live show?
Jahan
: Be present. As spiritual and intangible as that sounds, neither of us really care about what we look like. I think fans pick up on that energy.
Yasmine:
It's truly an experience where Jahan and I just let go of everything we've been holding onto and leave it all out on the stage. The best thing you can do for an audience is give them one hundred percent of your heart in the moment.