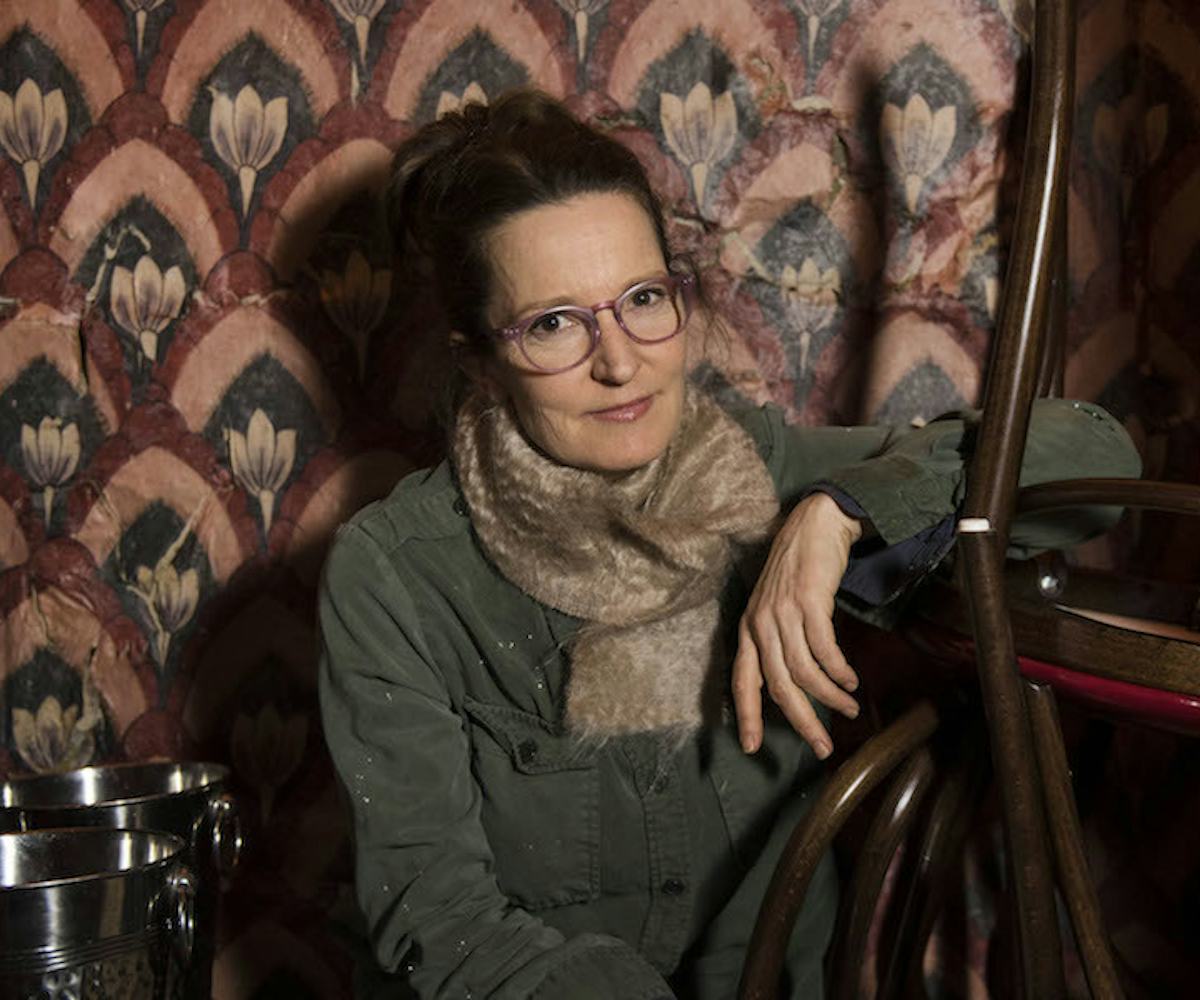 Photograph by Liz Clayman.
See Inside The Restaurant Designed By Wes Anderson's Set Decorator
Kris Moran shows us around Floyd Cardoz's Bombay Bread Bar
Kris Moran is most comfortable behind the camera.
She attributes this to being camera shy, but, during the few hours I spend with her for this story, I come to realize that it's more because she is eternally preoccupied with capturing the perfectly framed shot. As NYLON's video team sets her up on a stool for the interview, Moran asks for trays to sit on so she can look taller in relation to the shot, gets up to move the tables behind her, and adjusts the camera angle so you can see more of the space she's showcasing. "If you show me anything, I will comment on it," she says when someone alerts us that we're low on time, "so just don't show me anything anymore!" It's that laser-focused attention to the most minuscule detail that has led Moran to become the similarly aesthetically obsessed director Wes Anderson's go-to set decorator. 
If you've seen films like Moonrise Kingdom, The Darjeeling Limited, and The Life Aquatic with Steve Zissou, as well as films like Noah Baumbach's While We're Young and The Meyerowitz Stories, or indie darling Begin Again, you know what I am talking about: the lovingly selected retro mementos and odd trinkets that add nostalgic warmth to every shot, the perfect shade of blue wallpaper or carpeting centering its characters, and the plaid and floral upholstery that looks borrowed from your grandmother's basement in the best possible way. It's that incredible ability to make kitsch look modern, and clutter appear visually exciting that has made Moran the film industry's best secret weapon.
Moran has a signature style, and so she is not looking to reinvent the wheel with each new project (and she has many: most recently, she worked on Barry Jenkins' upcoming James Baldwin adaptation). So when four-time James Beard Award nominee, chef Floyd Cardoz, who had loved Moran's work on The Darjeeling Limited, cold-called her to design his new restaurant, The Bombay Bread Bar, she wasn't sure if she would take the job. "In the beginning, I thought that they just saw a Wes Anderson-themed restaurant, and I was kind of like... [sighs dramatically]," she tells me. "To make something that's derivative of him, I didn't feel very comfortable with it. It's kind of like selling out on Wes's thing, you know? It's not my thing. Like, I work for Wes." But as soon as she got to know Cardoz, Moran realized that the film was just his starting vision and not something that he wanted to actually imitate. "The whole idea and concept of the restaurant changed the more I got to know Floyd," she says. "I got on board and just sort of tried to make this train for him."
As Moran started interacting with the Indian-American chef, Cardoz inspired her with stories about his heritage and childhood, as well as his dishes that serve as love letters to India—the same ones beloved by judges of Season 3 Top Chef Masters (which, spoiler alert, he won). These inspirations can be seen in, for example, Moran's choice of vibrant oilcloth table coverings, one of Floyd's strongest visual memories: "Those tablecloths was something that Floyd was excited about from his childhood. That's what his auntie had at her table, and it was what all the cafes had when he was a kid in India." When Moran suggested they cover the bathroom wall with a collage of vintage Indian matchbox prints, Floyd was excited, distinctly remembering the designs from his youth. "Before we started, I would be walking around with paint chips, and Floyd would come in before work time for him, and he would just talk about his mother and his family house in India," she says. "I sort of got to hear his heartstrings about India, and he showed me pictures, so I just felt like this is his house, and I kind of couldn't help but really weave it in along with all his other hopes and dreams. I felt like I had a responsibility to represent this properly."
Considering herself only "a small cog in this giant machine," Moran wanted to incorporate other artists into the design process. She recruited Maria Qamar and Moshtari Hilal, amongst others, for the many art pieces adorning the space, like a floor-to-ceiling mural featuring a crying woman and man on a fire engine-red wall; a hallway featuring 80 stylized pink portraits, including one of Floyd, that Moran arranged over a chartreuse green wallpaper; and a tiger painted over an open wood-fire oven. Moran says that one of her favorite parts was discovering up-and-coming talent. "The younger Indian women artists that I looked around for—they are so incredible. It seems trifling for me to talk about them in this way, but, from the outside looking in, because I haven't noticed it before, there are so many of them. And they are doing this amazing, strong, feminist, outspoken work, and they're just beautiful and strong and embracing their qualities…," she says. "That was a fun journey for me to embark on."
Moran says, aside from the quick turnaround—she had less than a week to design the restaurant before it opened to the public—the process was not unlike designing a film set. "You have the character, which is Floyd, and then the subplot, which was that he wanted people to enjoy the food—he's like, 'I wanna have a place where people can feel good and be happy and wanna come and enjoy themselves and enjoy the food'—and then you have this restaurant structure, which is the set. Films are escapism, this restaurant is like escapism." Moran says. "It's like at the end of a Wes movie—you always have that amazing feeling, you get the song, you get the slo-mo, and you feel really good. That is what I was trying to bring here."
Take a tour of The Bombay Bread Bar with Moran, below, and learn more about the design details in the gallery, below.
Credits:
Camera: Dani Okon and Charlotte Prager
Editor: Dani Okon
Producer: Maura Gaughan
Moral relied heavily on a saturated color palette of blues, reds, and pinks and mismatched prints. She commissioned an artist to create a portrait of Shah Jahan, who famously built the Taj Mahal, and hung portraits of men in suits, topped with animal heads, as nods to India's calling cards that "photographers" employed in the 1800s.
Moran commissioned Desi pop artist Maria Qamar, better known as @Hatecopy, to create the floor-to-ceiling dining room mural for the restaurant. "We told her what we liked about her work, and she came to us with this, and we were like, 'Nailed it!'" she says. "I like that it's at the end of the restaurant, so you can these different experiences and know that this is at the end of the tunnel."
Artist John Dembski painted a Bengal tiger, one of India's native animals, onto the wood-fire oven that stands in the middle of the restaurant.
Moran selected oilcloth table coverings in a variety of prints—plaid, mandarin orange-printed, red-and-white stripes, and sparkly blue. "In the front, we used tablecloths that were quieter, then we combined them with these '50s American, vinyl, sparkly, kitschy ones, which I just thought were fun to sit at," Moran says. "On the other side, they let me put the red-and-white striped tablecloths. I just think there's so much Indian architecture that embraces the red-and-white brick combination, I just wanted to bring it in."
"I studied painting and was a painter before I worked in film," Moran says. "I think this project was like painting in 3-D—we were trying to infuse a lot of color and energy and really switch it up and do a real mashup of cultures, time periods, materials, colors, things that kind of don't go with each other and next to each other. Eventually, if you just keep moving things around enough, you can find a real solid hum of energy, and that's what you want." A curtain made of marigold flowers, that are often used in Indian celebrations, separates the bar from the dining areas.
For the custom lotus wallpaper, Moran used an image of a vintage Indian wall painting, multiplied it, and then adhered it to the restaurant's brick wall with wheat paste. "I actually did the wheat pasting myself. Afterward, I realized that normally people just, like, hire someone to do that. I just sort of get into it and take it on to that capacity. When I put those wallpapers up, I was like, 'Oh this is gonna work,'" she says. "Also, that gave me so much freedom. When you can make your own wallpaper, it can be whatever you want. And then you look at everything a little bit differently, and the possibilities are a little bit more open, and that was sort of like a revelation moment."