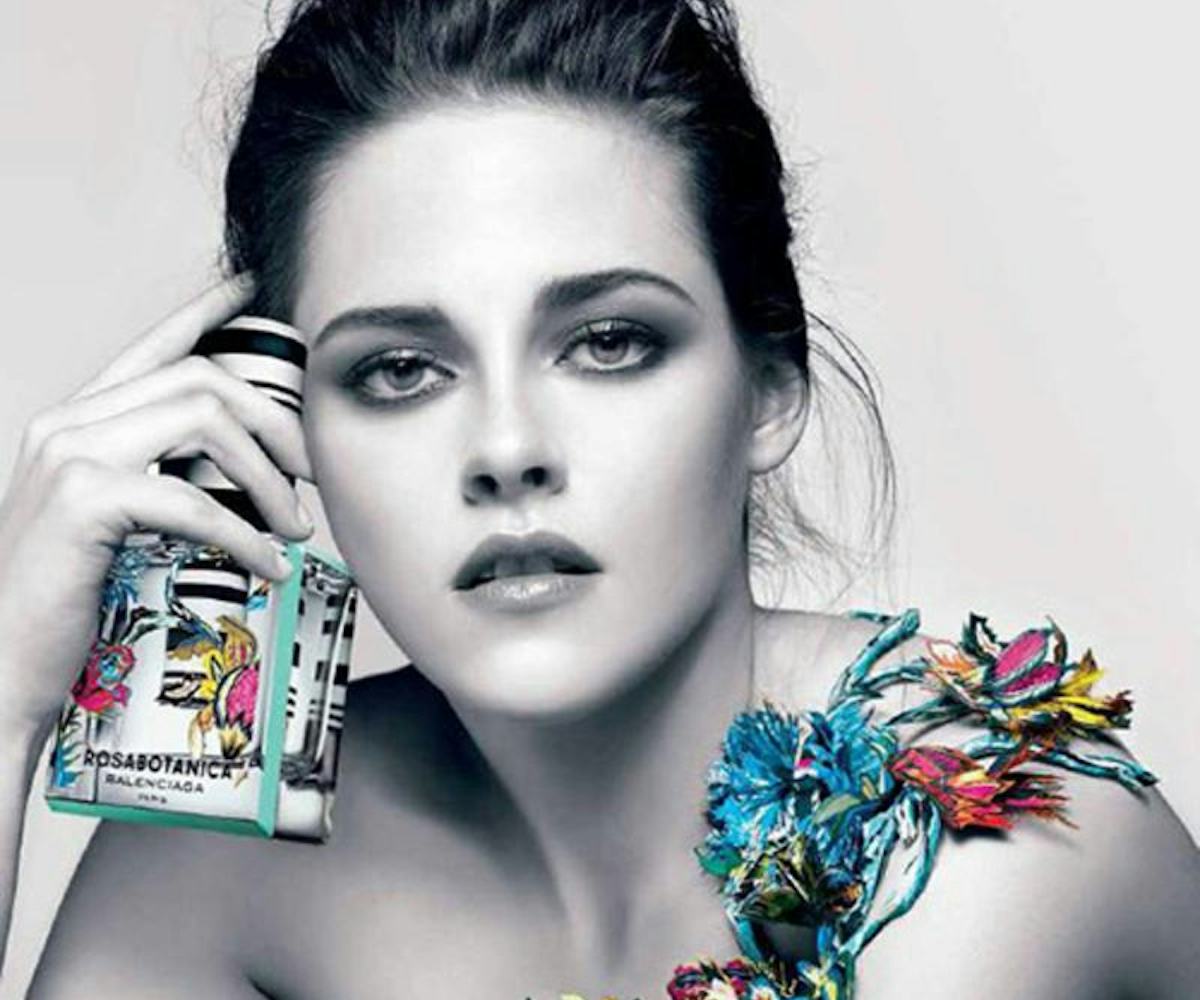 the insider: kristen stewart
the actress plays matchmaker with her favorite scents.
French fashion house Balenciaga is pretty badass-- so obviously the label wasn't going to put out any old floral fragrance. Its Florabotanica convinced cool girls, who wouldn't normally go anywhere near a flowery scent, to join the garden party. That status was cemented by its face Kristen Stewart--an actress who doesn't do girly-girl, as evidenced by her preference for Chucks and unwashed hair on the red carpet. This spring, Stewart reprised her spokesperson role for Balenciaga's latest unconventional take on a flower, Rosabotanica. She was nice enough to take the time to discuss the fragrances, what she would wear with each, and which one would be Bella's signature scent.
You've said in the past that you weren't really into fragrances, but now that you've been the face of the Balenciaga fragrances for awhile, are you more comfortable being a perfume-wearer?
Yeah, yeah I'm a very comfortable perfume-wearer now. I hadn't really taken to any particular scent before I did this, and so luckily, I was more than a huge fan of it when I first smelled it. Whenever I had anything to do with them it always felt like, you know, just really f***** cool and natural. To be the face of a brand seems a bit of a superficial, but this was really about my love for Balenciaga. And then so, when I actually smelled Florabotanica, I really took to it. I sort of came into my own, in regards to fragrance, at a perfect time.
It feels very adult, once you find your signature scent. 
It does, right? And, you know, it doesn't go with everything, like if you wake up and put on a T-shirt and a baseball cap, it's not like you're gonna put on the fragrance. But if you go to dinner that night, it's such a nice little touch to add. It makes you feel a little bit more ready.
So do you feel the same about the new one, Rosabotanica?
I'm not sure which one I like more. They're really different, like it feels like Florabotanica is like white wine, and Rosabotanica is like red, like a little deeper. It's a little muskier. It's like they come from the same garden, but the new variation is a bit warmer and headier. It feels like a little bit more nighttime.
Rosabotanica is a little sexier?
It is! Honestly.
So when would you wear Florabotanica versus Rosabotanica?
I think it's about mood. I would wear Rosabotanica at night, and I would wear Florabotanica in the day. But when I didn't have Rosabotanica, I wore Florabotanica at night. I feel like if you're someone who is like quite young wearing it, it can make you feel like, like you've like stepped up to the plate, like you're a little older, like you're a little bit more ready and finished. And then, I can totally imagine giving it to my mom and having her be like "Wow! This is awesome. This is like fresh."  Depending on who you are, I feel like it has different effects.
Which pieces from Balenciaga would wear with each of these fragrances? 
If I were to go out at night and wear my leather jacket, I'd probably put on Rosabotanica. I have this jumpsuit that's a little bit older but it's sick, and that I would definitely wear Florabotanica.
If you were going to pick out characters you've played, who would wear these fragrances?
That's interesting. Let's see…Well, I think Bella (from Twilight) would probably wear Rosabotanica because she is completely preoccupied with all things sexy. And I just finished a movie called Sils Maria, and I play the personal assistant to Juliette Binoche, who's playing a really famous actress. And you're always a little bit more curious about my character because you don't know anything about her and her life but she's still a big part of the story, so like when anything is revealed about her, like she's into this guy, or she's into this artist or something, you're like, "Oh, whoa! Who are you?" And I think she would be a Rosabotanica girl. Like a little bit darker and more mysterious. Then I would say that Marylou in On the Road, would definitely wear Florabotanica. The character in the book is so fucking effortlessly sexy and light. She's so sweet and very unassuming.