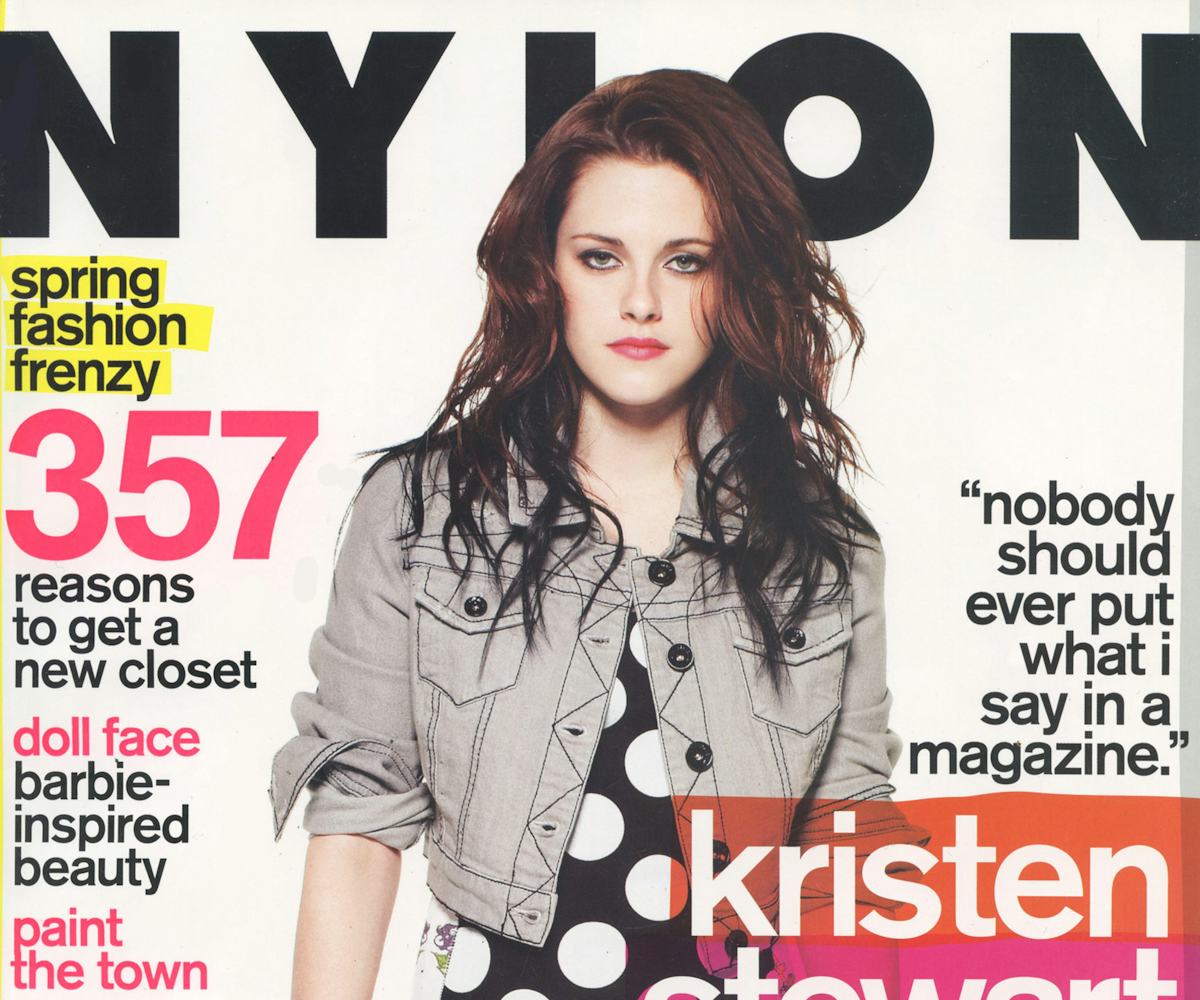 photographed by marvin scott jarrett
flashback friday: super stewart
check out our march '09 cover story with kristen stewart!
Our weekly Flashback Friday just got a whole lot cooler. We're still posting some of our favorite covers from past issues of NYLON, but now you can go even more in-depth with our faves by reading the cover stories in their entirety! Yep--consider this your really rad trip down memory lane. This week takes us to March '09, when our cover star, Kristen Stewart, talked Twilight, Adventureland, The Runaways and growing up in show business. Check out the full article below and the awesome photos in the gallery.
Kristen Stewart is smoking outside of the Roosevelt hotel on Hollywood Boulevard in Los Angeles. She is leaning against the building, her shoulders slumped, one leg bent back, her foot against the wall. Her boyfriend, actor Michael Angarano (24, Lords of Dogtown), is standing next to her, taking drags off his own cigarette. They look like bored kids hanging around a suburban convenience store, waiting for something exciting to happen. A tourist approaches.
"Hey, do you know where I can find some celebrity homes?" asks the woman, who is dressed in mom jeans and clutching a camera. She clearly doesn't recognize the actress. There is a pause as Stewart and Angarano exchange unsure glances; they are not the types who would know where, say, Britney Spears is camping out these days.
"Maybe try that way," Angarano says tentatively, pointing west.
"I really want to see where the stars live," the woman persists. Bemused, he gestures to the Hollywood sign off in the nearby hills and quips, "Uh, I think Madonna lives up there." She thanks them and moves on, never noticing Stewart's face on the massiveTwilight billboard behind her.
"That was so funny," Stewart says, now in my hotel room after saying goodbye to Angarano. Fresh from a rigorous press tour for Twilight, she's preparing to promote another project, Adventureland, a sincere coming-of-age story from Superbad director Greg Mottola. "Literally, if we had taken two steps forward, she may have made the correlation." Stewart opens the curtains, and the bright December sun makes the unmade bed look even messier. But the notoriously press-shy actress, who seems relieved she wasn't recognized earlier, is fine with the clutter; she prefers it to the cafe downstairs, which is bustling with the loud chatter and clanging plates of the lunchtime rush. Dressed in a black T-shirt, skinny jeans, and green Chuck Taylors, she sits down on the end of the bed, coat still on, her leg bobbing up and down nervously. "This is nothing," she says with a laugh, when I point it out. "Usually it's, like, really ridiculous. I'm a fidgeter, anyway, but especially with stuff like this. I feel like it may have been a lot worse if we were in the restaurant."
"All I try to do in the press--especially for Twilight--is be honest about something that I really care about."
The actress skyrocketed to fame with her role in Twilight (based on Stephenie Meyer's best-selling book) as Bella Swan, a mortal girl who falls in love with a dashing vampire played by Robert Pattinson. Although Stewart had recently done quite a few other movies--In the Land of Women, The Cake Eaters, and Into the Wild, among them--her roles were either too tiny, or the projects too niche (or in the case of The Messengers, too critically panned), to earn her widespread recognition. But of course, the Twilight series is a different beast altogether, one which comes with a built-in legion of young, screaming, die-hard fans. The press junkets and premieres for the movie overwhelmed Stewart. "Anywhere we'd go for Twilight was a psychotic situation. The sound was deafening, and it's thoughtless, as well. It's so manic that you're just pushed and pulled around…" she trails off. "You get a slew of all these bullshit questions like, 'What's it like to kiss a vampire?' and 'How much do you love Robert?' Then you'll get one that's actually real, but you're like, 'No, I can't right now--I can't even consider…'"
Stewart is not big on completing her sentences. She labors over every word, the frustration evident in her furrowed brow, long pauses, and deep breaths. It's clear she doesn't want,
or even know how, to give sound bites, a trait that has earned her a reputation as being either standoffish or ungrateful. But the furrows, the pauses, and the deep breaths are actually because she almost cares too much. "All I try to do in the press--especially for Twilight--is be honest about something that I really care about. And all it ever turns into is that I think I'm better than it, that I'm snobby," she says, sounding genuinely confused and a bit defeated. "I've had so many of my quotes twisted around--quotes are devilish little…nobody should ever take what I say and put it in a magazine."
It's not that Stewart's opposed to playing the game--it's just that she seems at a loss as to how to do it. On her awkward Late Show With David Letterman appearance: "I feel like I have nothing to say on those shows, because they are not for the purpose of talking about your movie. It's weird when people want to know things about you. I'm like, 'I made a movie called Twilight, and that's about the most fucking interesting thing about me, unfortunately.'" She laughs. "It's not a deeply insecure or self-deprecating thing, like, 'I'm not worth it.' I'm perfectly fine with it. It's more like the next 10 minutes of my life are gonna be, like, 'What am I doing? Why am I here?' And also, I'm not good at the funny thing--most people are really great on those shows. I don't have a contrived personality that [I can] just pump out [for] a five-minute segment, so I end up sitting there and looking kind of baffled. Embarrassing." Stewart lights up a cigarette as the room service we ordered arrives. We sit on the floor, splaying out the dishes. She takes a few spoonfuls of tomato soup, tears off a few bites of grilled cheese, sips a Coke--but is mostly too preoccupied by the conversation at hand to eat. Her legs are crossed; one of them still bobs up and down.
Born in Los Angeles and raised in Woodland Hills in the Valley, Stewart has been around the film business all of her life. Her father, John, is a stage manager and TV producer, and her mother, Jules, a script supervisor and, soon, a director. Her brother, Cameron, is a grip. But the industry ties go even further back to her mother's godparents, who are like grandparents to her: Michael D. Moore was once an assistant director to Cecil B. DeMille, and Moore's wife, Laurie Abdo, "basically ran Paramount" for 30 years in her role as assistant to head of production Howard W. Koch. "Everybody that I've grown up around has been a veteran filmmaker," Stewart says. "I mean, my parents are totally crew. But my mom, being a script supervisor, sits next to the director all day, every day, so I basically grew up on sets."
"I couldn't deal with being girly, like, at all. I couldn't wear tight jeans, that meant showing your ass. I was so not into that."
However, Stewart's mom and dad never pushed her into acting. Instead, she was discovered by an agent, who, after seeing Stewart sing in a Christmas play, contacted her parents about sending her on auditions. They were hesitant at first, but their eight-year-old daughter persisted. "I don't even remember saying, 'Yeah,'" Stewart recalls, "but I remember thinking that I could totally do it." Even if the agent hadn't pursued her, to hear her tell it, her foray into Hollywood was only a matter of time. "I was always really proud to go to school and say, 'My parents make movies.' It was just the family job. And everybody who grows up that way--they fucking always inevitably wind up doing something in the business. It's like, to do anything else is too normal. It's a circus, you know? And it's weird to break out of that." She got her first part a year later in a Disney TV movie, The Thirteenth Year, but her big break came in 2002, when she starred as Jodie Foster's daughter in Panic Room. The veteran actress's unflappable, down-to-earth attitude evidently rubbed off on her. "Jodie doesn't let anything phase her. She's so strong in that she's so unfaltering," Stewart says. "And being so young at the time--you're a sponge when you're a little kid, so impressionable. I think if [I worked with] somebody else and not her when I was younger, I just would've thought of things differently. A lot of actors think that what we do is so important, like we're saving people's lives or something."
As Stewart's acting career took off, she dropped out of school (in the seventh grade), opting instead for independent study. "That was a necessity. When I would go away to work, my teachers would only give me a portion of my schoolwork, and I would come home and they'd fail me. I made too much work for them; they resented the shit out of me," she says. "I was very happy to leave." Stewart didn't have any friends there, and the atmosphere was trying. "If you didn't wear the right pair of jeans--and I was so not that kid--then you were totally scrutinized and persecuted," she says. "It would've been so obvious if I tried [to fit in]--my whole family would've looked at me all of a sudden like, 'Why are you a different person?'" Growing up, she was pretty much a tomboy. "I couldn't deal with being girly, like, at all. I couldn't wear tight jeans, that meant showing your ass. I was so not into that," she says.
"I've always had sort of an aversion to looking sexy--it's gross, you know?" She winces. "I mean you could read into that, too, like, 'Oh, she's fucked up. She's got problems.' [Laughs] But I've grown out of it a little bit."
"I've only played characters that are like…me,"
Spend a few hours with Stewart, and you quickly come to realize why she's able to play complicated teens so wholly: She deliberately chooses characters whose personalities don't stray too far from her own. "I've only played characters that are like…me," she says. "I've never played a character that was any different from what I would do in that situation. I've always been completely…honest and--blegh—right there."
Her role in Adventureland is no exception. Based on a summer Mottola spent working a crap job at a run-down amusement park in 1987, the film is a quietly sweet and funny tale about the love and friendships that develop among a crew of young misfits. Stewart plays Em--a troubled girl whose mother died of cancer and who has a vile step mom--with her usual outcast sensibility. "My character is sort of inept at life, just, like, closed down," Stewart explains. "She's got issues with men, she lost her mom when she was really young… She can't deal. And at the same time she has a really dry wit, amusing the shit out of herself and nobody else."
It's spot-on casting. "Her character carries all the dramatic weight of the movie, and I needed somebody who was that young and could make that compelling," the director says of Stewart. "Kristen is quite bold as an actress. She's really interested in the psychology of human behavior--in finding the truth. It's really interesting to watch her think. I know this sounds like bullshitty actor talk, but some actors make thinking a dramatic action. And she just has that with her eyes: Her personality just comes through her face."
During the film, Em falls in love with James, played by adorably geeky Jesse Eisenberg (The Squid and the Whale).
"Jesse is the cutest… You wanna eat his face off, basically," Stewart says of her costar. "And he's so smart it's intimidating, but not in a way that is remotely patronizing. He's an incredibly admirable, righteous person, and at the same time, he's kind of a nutbag, too."
Though the two share kissing scenes, it's unlikely that the tabloids will have nearly as much fun cooking up stories of an on-set romance as they did with Stewart and Pattinson.
"It's just totally false," Stewart says of rumors, laughing. "Rob and I are good friends. We went through a lot together, so we feel very close. But if we go out in public, every little detail is scrutinized, like the way I stand next to him. And it's like, I know the guy really fucking well [laughs]. It's only natural that we're sort of leaning on each other, because we're put in the most fucking psychotic situations."
Stewart met her actual boyfriend, Angarano, in 2004 when the duo starred in the Lifetime movie Speak. They immediately became best friends, but only started dating two years ago.
"He's older than me--he's 20 now--but when you're 13 and he's turning 16, it was always sort of an out-of-reach thing. Then you get a little older, and you realize, 'Oh, What the fuck am I thinking? I can have you, like, lickity…'" she snaps her fingers, laughing. "He's awesome."
Stewart tries not to let her newfound fame dominate her life. While not promoting Adventureland, she is using this winter break before filming the next Twilight installment, New Moon, to hang out with Angarano and spend time with her close friends, including her Twilight costar Nikki Reed.
"My parents are very good at living life," says Stewart, who still lives at home with them. "They're cool. They don't necessarily understand everything that I do, but they [support] it."
The family is joined by three dogs (two of which are actually wolves) and a Bengal cat, Max, which Kristen calls Jella because "his little alter ego for me is this little, soulful, blues musician from the South." Stewart, meanwhile, is brushing up rock 'n' roll.
"As long as you care as much as I care, you can't be ashamed of anything."
Stewart has played the guitar for eight years and is already preparing for her role as Joan Jett in The Runaways, music-video director Floria Sigismondi's movie about the groundbreaking, all-girl teenage band in the '70s. She's throwing herself into the part, even learning all of the band's songs so that she could potentially play them live in the movie.
"There's an immense, massive, super fucking heavy pressure," Stewart says, of playing a badass like Jett. "You can't do this wrong. If I do this movie and see it and hate it and think that I just totally fucked her up, I'll publicly apologize to Joan." Still sitting on the floor--she has somehow managed to scoot herself into a corner of the room--she lights another cigarette.
"But at the same time…nah, I'm not going to say that, that sounds so fucking arrogant," she cuts herself off. There's a pause before she continues. "I was gonna say, as long as you care as much as I care, you can't be ashamed of anything." -- STEPHANIE TRONG