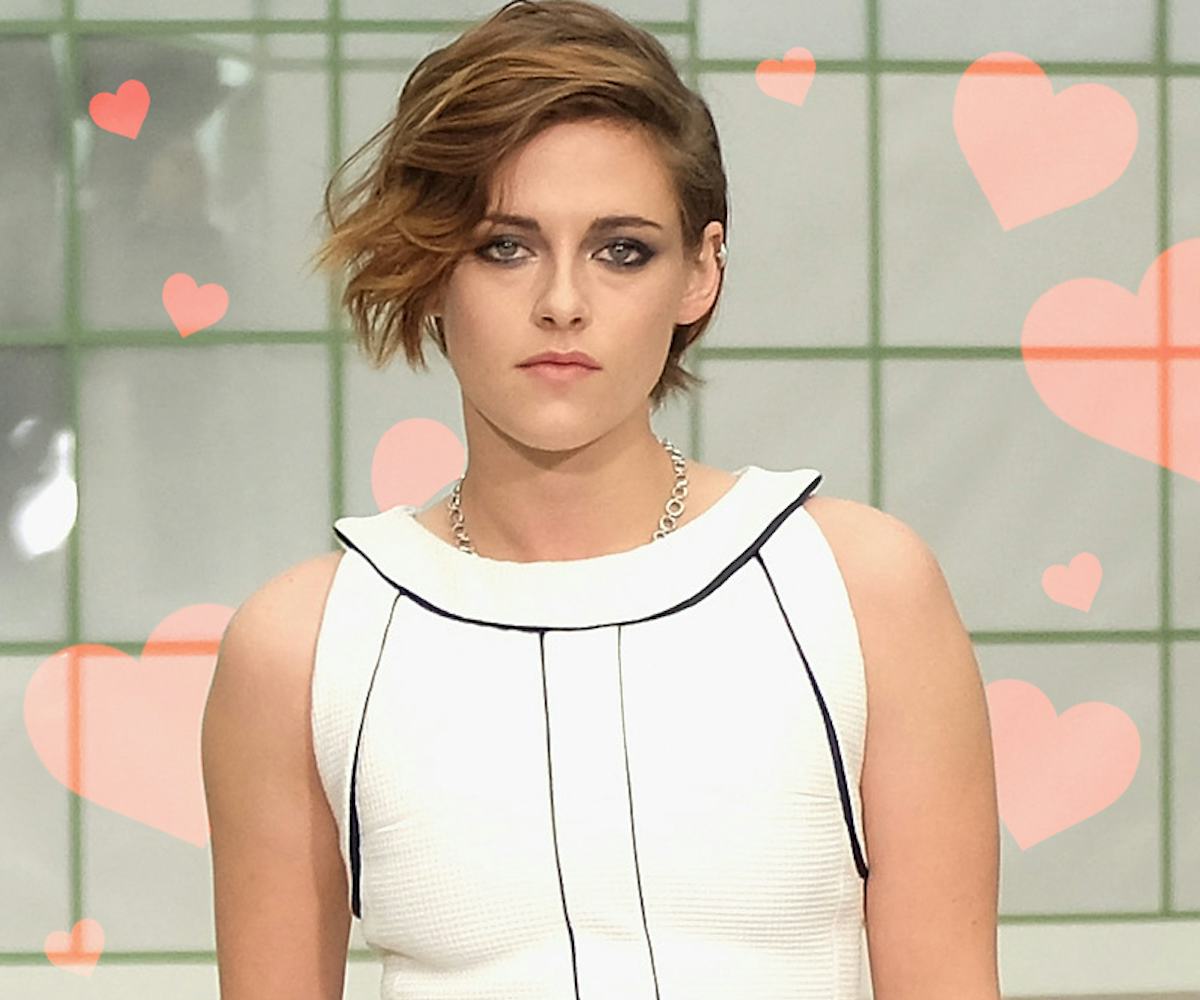 Photo by Pascal Le Segretain/Getty Images
Kristen Stewart Is More Open + Public Than Ever
Thanks to her girlfriend Alicia Cargile
When you choose a profession like acting, there's the automatic notion that you are choosing to become a "public figure." If you're successful, you will undoubtedly find yourself thrust into the frenzy of the spotlight, and your right to privacy becomes skewed, both legally and sociologically. While Kristen Stewart has been acting since she was a child, she, quite obviously, is not someone who enjoys having her personal life shared with the world. As is her right, she has continuously attempted to skirt questions about her relationships, wants, and desires in the press and at public events. Now, though, the 26-year-old is living her most authentic life away from, and in front of, the schools of paparazzi.
After years of rumors about her relationship to producer Alicia Cargile, she told us that she's no longer concealing her true self or sexuality. As she put it in our September 2015 cover story, "Google me, I'm not hiding." And while she's been photographed with Cargile and smooching Soko, she hasn't officially come out as someone who is romantically attracted to women and men. That is until her September Elle UK cover story.
"I think also right now I'm just really in love with my girlfriend," she said, in reference to Cargile. "We've broken up a couple of times and gotten back together, and this time, I was like, 'Finally, I can feel again.'"
As she also told the magazine, her relationship with Cargile has also helped her become more open to sharing pieces of herself in the public eye. "When I was dating a guy I was hiding everything that I did because everything personal felt like it was immediately trivialised, so I didn't like it," she said. "We were turned into these characters and placed into this ridiculous comic book, and I was like, 'That's mine. You're making my relationship something that it's not.' I didn't like that." 
"But then it changed when I started dating a girl," she continued. "I was like, 'Actually, to hide this provides the implication that I'm not down with it or I'm ashamed of it,' so I had to alter how I approached being in public. It opened my life up and I'm so much happier."
Going on record will undoubtedly help reduce the stigmas that somehow still exist with being LGBTQIA. Sexuality, like gender, is fluid, and hopefully, we are moving forward with having this truth become more widely accepted.