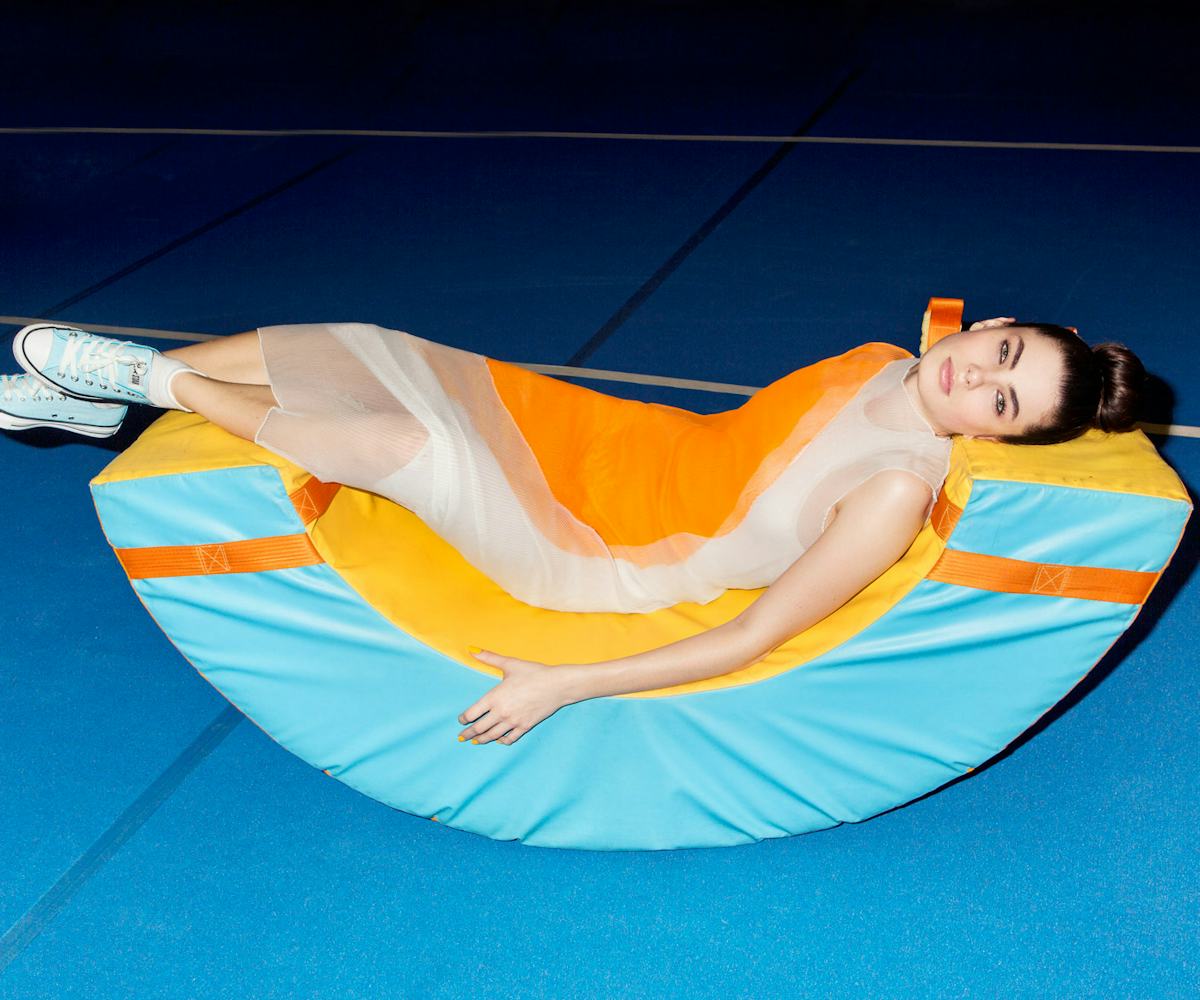 photographed by charlie engman
sporty spice
why you should be wearing sneakers with dresses.
Today is Election Day in the United States, meaning there's a lot of talk about hot button issues. Instead of rolling into a political debate (I'll save that for uncomfortable car rides with my extended family), I'm going to take on a divisive fashion issue: sneakers and dresses.
I know what you're thinking, "Sneakers and dresses, really?" Yes, really. There are a lot of reasons why pairing your kicks with your miniskirts is a great idea, starting with because it's comfortable, and ending with because Hailee Steinfeld, Dree Hemingway, and Kristen Stewart all do it so well. If you need a little more convincing though, check out Prada's resort '14 ad campaign, starring model Cameron Russell reclining in a floral dress and some canvas and rubber sneakers. It's the picture of a casual, comfortable, cool outfit that I'd like to wear every day from now until April to work, parties, and Sunday morning brunches. The brand even outfitted Adele Exarchopoulos in a similar outfit for a screening of Blue is the Warmest Color, furthering my obsessive quest to find the perfect kicks to pair with our winter dresses. 
I understand that taking the plunge into sneaks'n'skirts territory is scary, so take some tips on how to nail it from the best celebrities who've tried out the look. We've got all the best looks in our gallery below, so check them out and then take your Chuck Taylors for a test drive with your favorite dress. 
SNEAKER ICON: Katy Perry
TRY: Puma Sky-High Sneaker Wedge -- $89.95
SNEAKER ICON: Hailee Steinfeld
TRY: Converse High-Top Chuck Taylors -- $49.95
SNEAKER ICON: Joy Bryant
TRY: Nike Dunk Sneakers -- $85
SNEAKER ICON: Dree Hemingway
TRY: Vans Authentic Sneaker -- $44.95
SNEAKER ICON: Kristen Stewart
TRY: DC Womens Chelsea TX Sneaker -- $50
SNEAKER ICON: Katharine McPhee
TRY: Puma Slipstream Studded Sneaker -- $90
SNEAKER ICON: Adele Exarchopoulos
TRY: PF Flyers Center Classic Sneaker -- $24.94
SNEAKER ICON: AnnaSophia Robb
TRY: Converse Chuck Taylor Low-Tops -- $65
Prada resort '14 campaign starring Cameron Russell