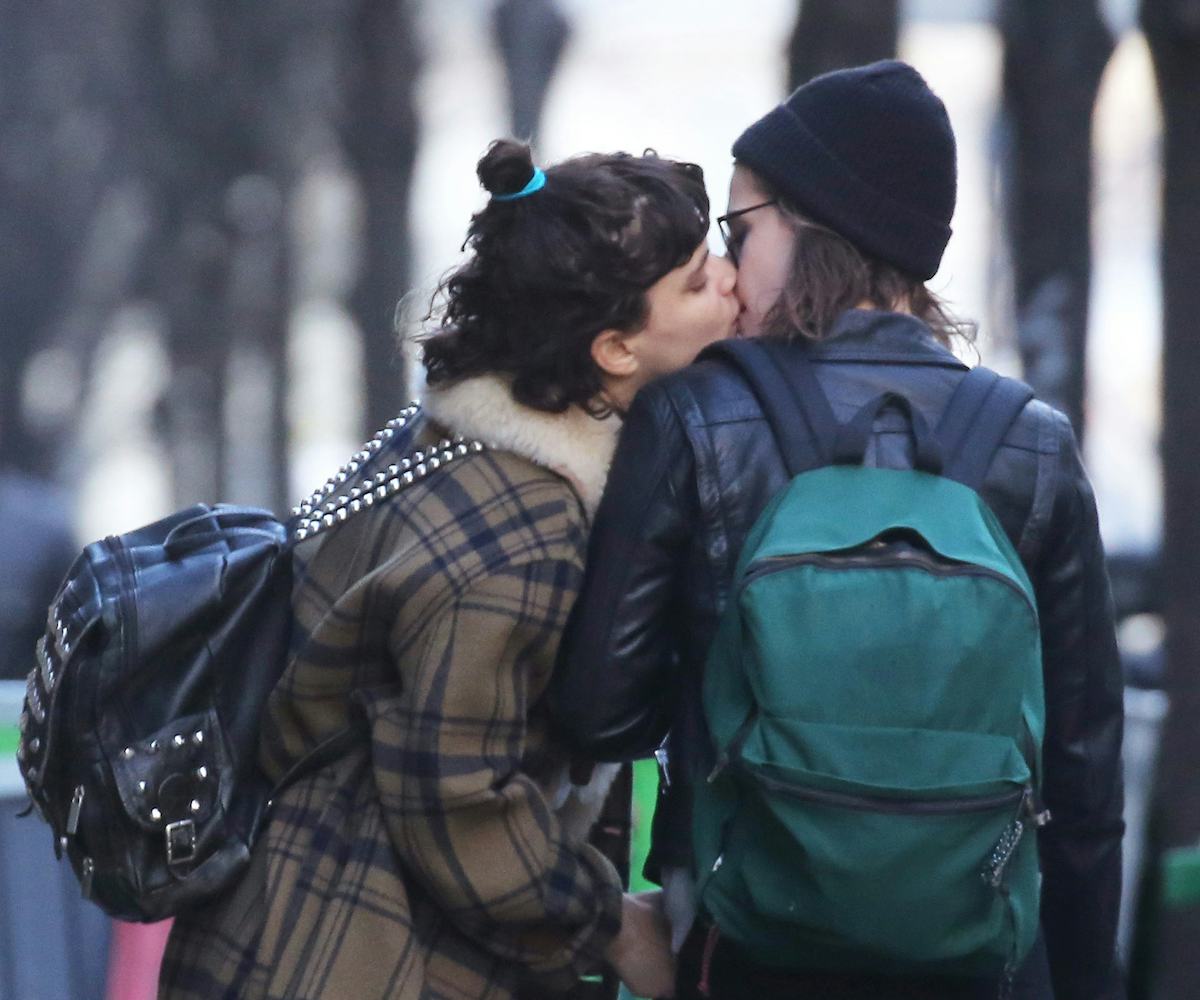 Photo by FameFlyNet
Kristen Stewart + SoKo Are Making Us Not Hate PDA So Much
we never thought this day would come
Throughout my brief 23 years on this planet, my feelings towards PDA—that's "public displays of affection" if you're new to acronyms—have somewhat shifted. During my early years, I was conditioned to erupt in a series of drawn out "ewws" every time I saw a couple (parents, mainly) kiss. My feelings somewhat cooled off, until I started going to high school and college parties, which were filled with sad, messy, mid-room hookups. Since they usually ended with someone either puking or snapping into reality (i.e. realizing an instant, crushing feeling of regret), engaging in PDA didn't seem like the wisest or tasteful decision. Nowadays, though, it doesn't bother me—make out, kiss, feel each other up, do whatever you want, wherever you want; it's cool—but it just still never seems necessary. So imagine my surprise when I came across this photo of Kristen Stewart and her rumored girlfriend SoKo kissing on the streets of the City of Love and felt my own, sometimes cold, heart leap.
PDA is a beautiful thing, I realized. It can be a way to finally show the world who you are, without blatantly having to state it.
Like Stewart told writer Margaret Wappler in our September 2015 cover story in reference to her sexuality, "Google me, I'm not hiding... If you feel like you really want to define yourself, and you have the ability to articulate those parameters and that in itself defines you, then do it. But I am an actress, man. I live in the fucking ambiguity of this life and I love it. I don't feel like it would be true for me to be like, 'I'm coming out!' No, I do a job. Until I decide that I'm starting a foundation or that I have some perspective or opinion that other people should be receiving…I don't. I'm just a kid making movies."
While there were rumors that she was dating visual effects producer and coordinator Alicia Cargile last year—and there are certainly paparazzi photos that show they were close friends—Stewart has never publicly stated that she is attracted to women, which is her prerogative. Now, with SoKo, it seems as if Stewart really isn't hiding her feelings. And it's a beautiful thing.
Photo by FameFlyNet