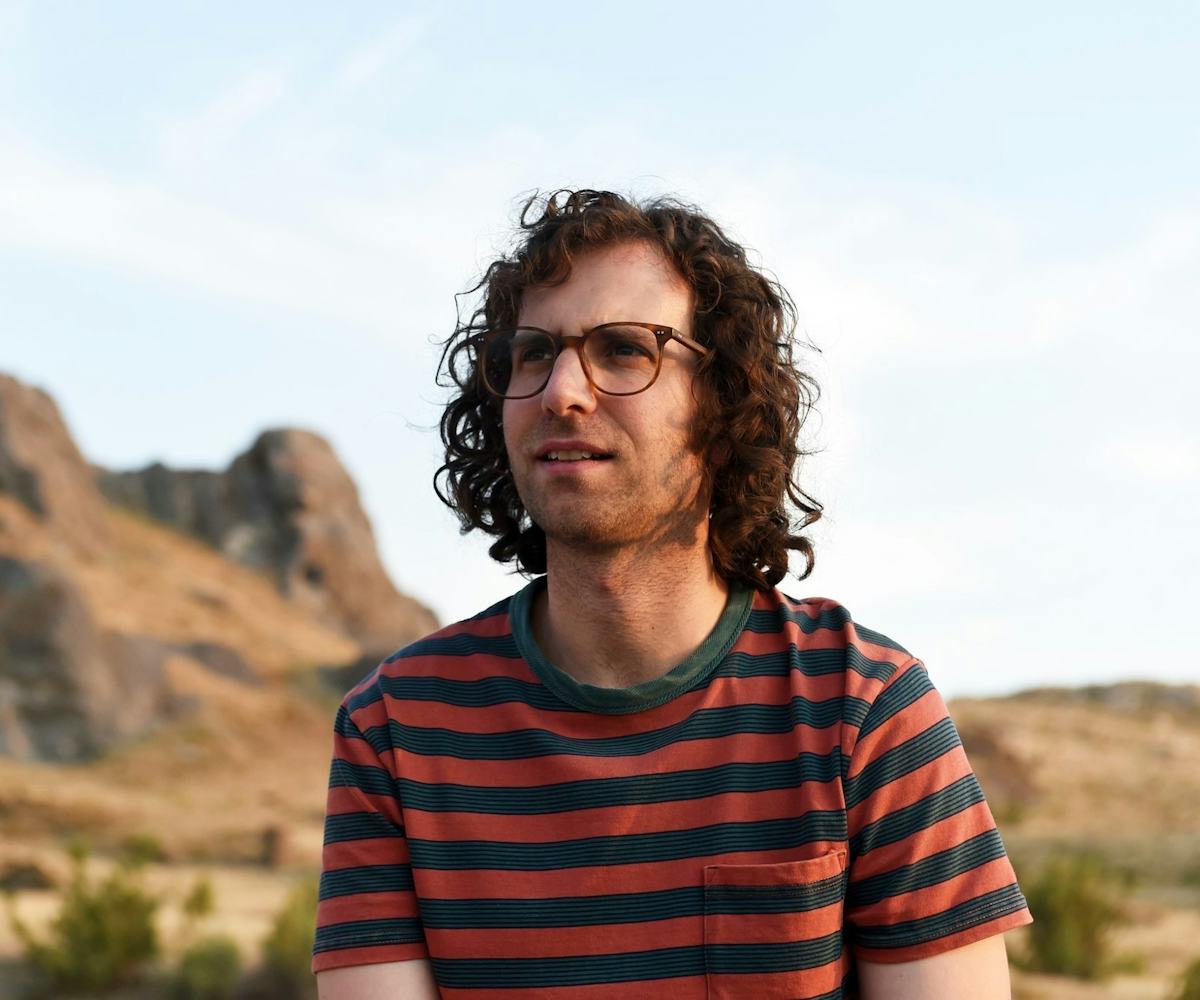 Photo courtesy of Sony Pictures Classics
Kyle Mooney On His Wonderful And Surprising New Movie 'Brigsby Bear'
The Sundance hit arrives in theaters this Friday
Before I saw Brigsby Bear at the Sundance Film Festival, the only thing I knew about it was that it starred and was co-written by SNL's resident weirdo Kyle Mooney and that it involved a giant bear. That is also how I recommend you see this very special movie. The less you know about it, the better, thanks to a major twist relatively early in the film that sends the story into completely surprising territory. In that spirit, that's all I'll say about the movie, except that it's funny and warm and emotional and you should go and see it.
As for Mooney, it's no surprise that he has crafted something that feels totally original and accessibly weird. Along with his comedy partner Beck Bennett, Mooney made a name for himself on SNL by inheriting the Digital Shorts responsibilities from The Lonely Island (Andy Samberg, Jorma Taccone, and Akiva Schaffer) and creating characters so strange that they were often relegated to the show's last 30 minutes. Brigbsy Bear, which Mooney wrote with Kevin Costello and was directed by his longtime friend Dave McCary, still has many of Mooney's skewed sensibilities but reveals an emotional sincerity we haven't really seen before from the comedian. Here, we talk to him about creativity, his pop culture obsessions growing up, and Saturday Night Live in the age of Trump.
Did you make this movie with intention of the audience knowing as little as possible when they see it?
Absolutely, because there is obviously a big turn that takes place within the first 15 or so minutes, and ideally we would want people to not know anything going into it. It's inevitably going to happen. 
Does that bum you out at all?
I mean yes and no, I just want people to see the movie generally, so if they see it and know stuff going into it, fine. But I think as a moviegoer, you'll have a better experience not knowing a single thing.
Were you taken aback by how well the movie was received at Sundance?
We tested the movie for a handful of audiences just as a way to learn what cuts we should make or what changes. I would only hear secondhand, but it seemed like people were responding pretty well. With that being said, nobody entered Sundance being super confident. And also, we didn't even know that we were going to get into the festival, we didn't feel so great about it that it was going to be a sure shot. It was rad. I sat with Dave, and we were truly sitting in our seats next to each other kind of cringing.
Is the final version of the movie the same one you had in your head when you wrote it?
It's pretty close to the last version of what the script was, but I started conceiving the seed of the idea a while ago, and it was so many different things at points. I think the main thing that Dave brought to it was that he really wanted everything to be played as earnest and as honest as possible. I owe that to him. I think people are generally surprised by the heartwarming nature of it, and I don't know that I foresaw that that's how it would end up. 
This movie has some powerful messages about creativity and the spirit of collaboration. Are these themes you explicitly tackle when writing the script, or do they naturally surface when telling a story like this?
I think it comes out somewhat naturally, but with that being said, the movie and the story within the movie, it feels like there are parallels to what I do in my life. I have built somewhat of a career out of making internet videos with my friends, that's what James is doing, he's making a movie with his friends.
And he has very specific intentions of why he wants to make these movies. What were your intentions when you started making videos with your friends?
There certainly was this somewhat practical aspect of, oh, we could maybe one day have our own TV show. We started making videos probably in '07, and there was already somewhat of a template for that. The Lonely Island started making videos, and they ended up on Saturday Night Live, so it seemed like something that was somewhat feasible. With that being said, we also just enjoyed the process.
What were your motivations to make this movie?
It's the romance of making a movie—who doesn't want to do that? And it feels like you're gearing up for it. We made all of these shorts, and this is what it's leading towards. But in terms of SNL, I couldn't tell this story on SNL, so it's a chance to do something uniquely ours. 
Was it a challenge to stretch it out to feature length, since you're so used to writing shorts?
I wrote it with my friend Kevin Costello, and he's written scripts. I have never written a feature, so I would for sure struggle on my own. Fortunately, he was there to stretch it out. But there were things to think about that I never thought about; like you've got to build this character, and besides the main characters, the other characters have to have something about them.
Do you think this movie could have been made without your SNL clout?
Maybe it could have been made on a much lower budget with less high-profile people involved, but I think it was one of the selling points for casting people: "Oh, it's this guy from SNL."
It's interesting how the business works that way. 
It stinks, but also I was working on things up to this point, so it's not like I was totally dry. 
What was your pop culture obsession grown up? 
I feel like I have so many. I was really obsessed with cartoons. I always loved He Man, Transformers, Popples, Care Bears—there's not much of it that I didn't like. I was super into Saved By the Bell, that's probably my favorite TV show of all time. There's this show I really, Bug Juice. It was on Disney Channel, it was a reality show about kids at summer camp, I think there's threes season of it. But I could have done with a few more seasons of that. There's this show Dave and I got really into a few years ago that was airing on HBO Family, it's called Freshman Year. It's a docuseries about kids in their freshman year of high school, and it takes place in 2000, 2001, approximately when we were freshmen in high school. It's such a time capsule.
If you could make a movie about any of your SNL characters, which one would it be?  
I don't wanna disappoint you.
I would say Bruce Chandling.
I think if it's going to happen, that'll be one.
You're not opposed to that idea?
I'm not.
What is your favorite SNL movie?
Wayne's World.
As a comedian, are people expecting you to always be "on"?
Yeah. At this point, it's something that I'm used to, but the tough thing, when I'm walking down the street I get a lot of fans who sometimes will start quoting my own material to me in character, and I just don't know how to respond. Do I need to inhabit this character for you right now?  
People have this expectation.
Well, they're constantly going to be disappointed when they interact with me.
When you write a sketch for SNL that doesn't make it to air, is that a crushing disappointment that you eventually become acclimated to?
Totally, you get used to the process, but also we make weirder things a lot of the time, and when you put that to the dress rehearsal audience, sometimes it just won't play, that's just the reality of it. And you never know what will play and what won't play. You never really know what you're going to get with that show. It's nice that that stuff can find a way online and that people can appreciate it. 
There was a lot of attention on SNL this year because of the political climate. Was that palpable at work?
Yes, certainly you could hear it around the halls, like, "Oh, we've got the highest rating we've had in 20 years." But when you're in the thick of it, obviously it's an intense moment in history right now. You kind of know there's a level of importance to the whole thing. You're also just trying to get through the week. What was fascinating, in terms of the evolution since I've been there, was now these cold opens are becoming kind of important and they also have to take up a certain amount of time in the show. The show became a way to respond to what was happening.