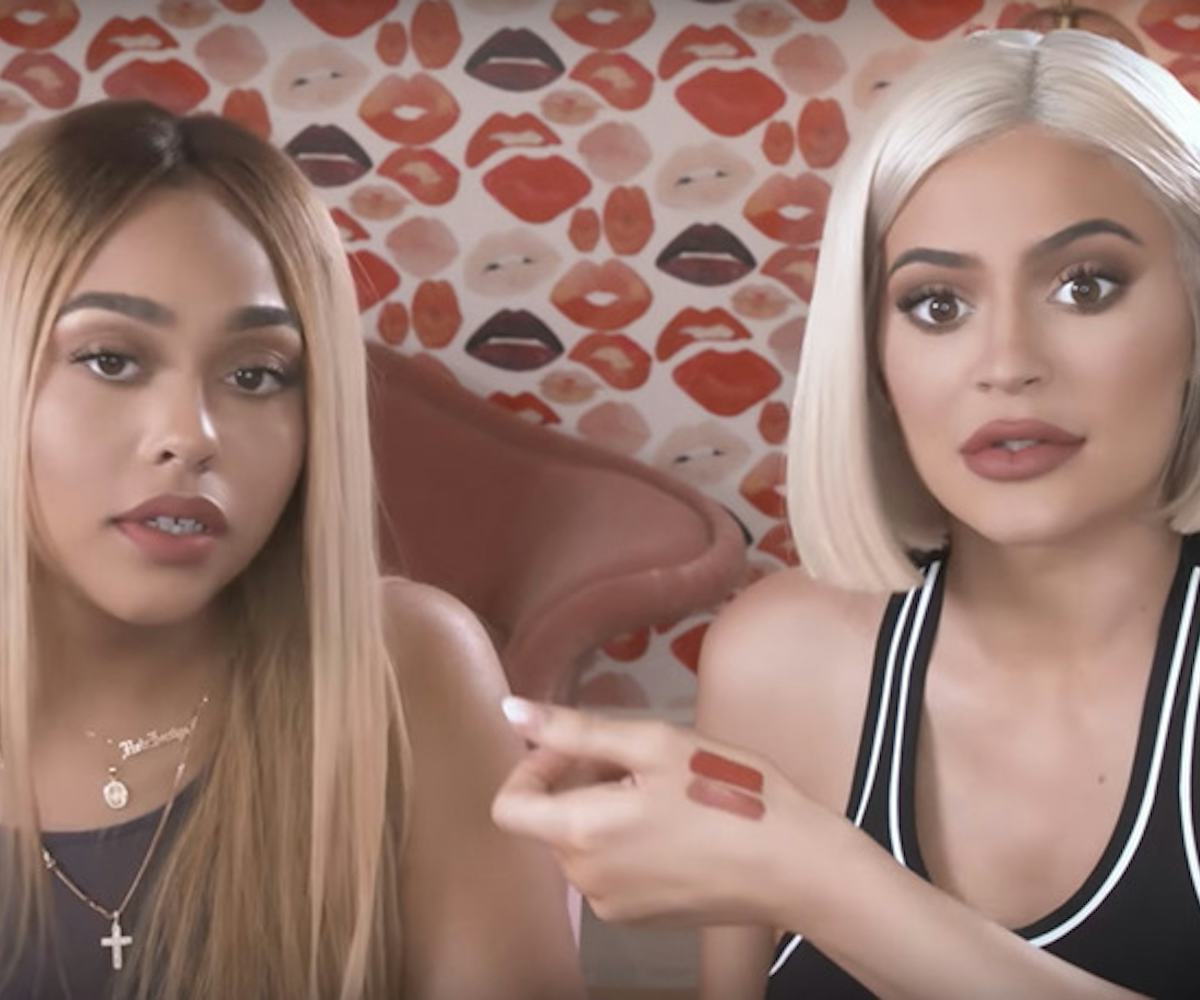 Image via YouTube/Kylie Cosmetics
Kylie Jenner Enlists Jordyn Woods To Reveal New Lip Kits In Her First Beauty Vlog
And gets some mixed reviews
Kylie Jenner released her first YouTube video on Thursday, revealing Kylie Cosmetics'
. She and her best friend and model Jordyn Woods filmed the vlog in Jenner's "glam room," which is wallpapered in illustrations of lips. Sitting in front of a pink lip-shaped couch, the two tried on the new shades, and Woods gave mixed reviews.
In the video, they start by applying the color "Autumn," a muted red, which ends up being Woods' favorite. The next color, "Butternut," is "literally the color of butternut squash soup," Jenner says. "I can genuinely say I've never seen this lip color before," Woods says, adding that "it's different." 
"Wicked," which has "very true purple vibes," is the boldest color in the new collection. "Who knew a purple lip could be cute?" Woods says in shock. "Libra," named after Woods' sign, is the "lightest color I've ever done," Jenner says, warning Woods that it's not "for everyone." It's an off-white that Woods immediately decides is "not for her." 
The last color they try out is "Hazel," a brown sugar shade, which Jenner says looks "so pretty" on Woods. At the end of the video, Woods says "Wicked" is the best for "being out there," and that Hazel is "growing on her." 
You can check out the new kits for yourself in the video, below. They launch Friday, October 6, at 3 pm at Kylie Cosmetics.