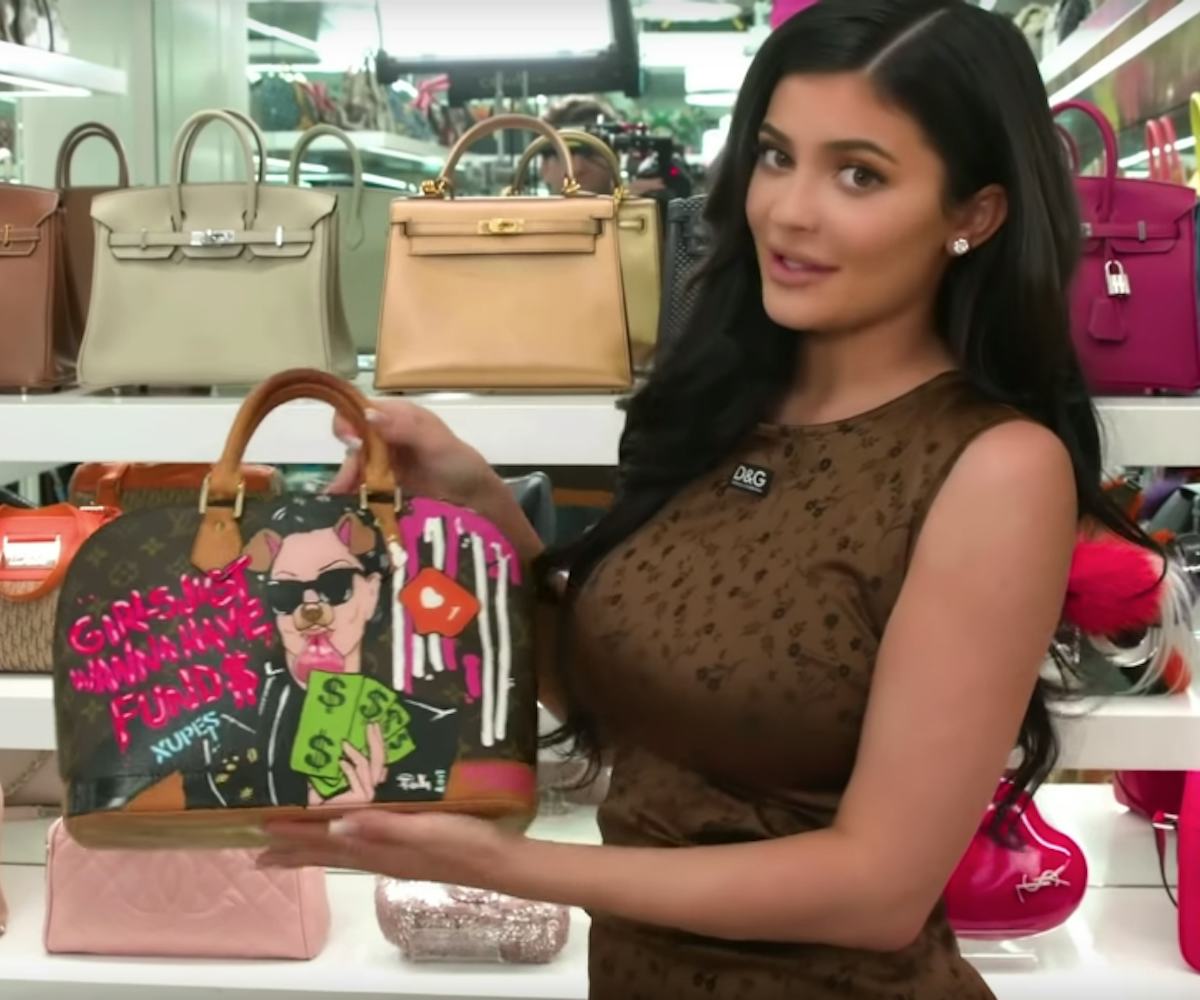 Photo Via YouTube.
We Need To Know More About This Louis Vuitton Bag Kris Got Kylie
Kylie Jenner has a whole room in her house for her purses. How do we know? She gave anyone who pressed play a tour of it on her YouTube channel.
"I made a little room in my house, and I did this all custom so they all could have a little home and be lit up really pretty," she explains in the video. Because when you're an almost-billionaire, money knows no limits! Her favorite row is the Hermés one, she shares, and she's been collecting bags from the brand for a "minute." She plans on gifting a mini hot pink one—that's reportedly worth $27,000—to her daughter Stormi once she's old enough to want to carry a purse.
The rest of her collection consists of brands like Chanel and Dior and Gucci, but our personal favorite is a present she received from none other than mother Kris Jenner. It's a painted bespoke Xupes x Year Zero London Louis Vuitton with Kris' face and the Snapchat dog filter painted on it. The text on it reads: "Girls Just Wanna Have Fund$." Kylie explains: "She knows how obsessed I am with her, so she got this really cool piece from an artist." She quickly moves on to other bags her momager has given her over the years, not spending nearly enough time on the backstory of the LV bag. Like, who came up with the idea? What was her reaction when she got it? Does it cost as much as we owe in student loans? Probably.
Fashionista editor-in-chief Alyssa Vingan Klein first brought the masterpiece to our attention this morning, and we've been thinking about it ever since.
As Klein points out, at least it's not as bad as Khloé's Alec Monopoly Birkin purse.