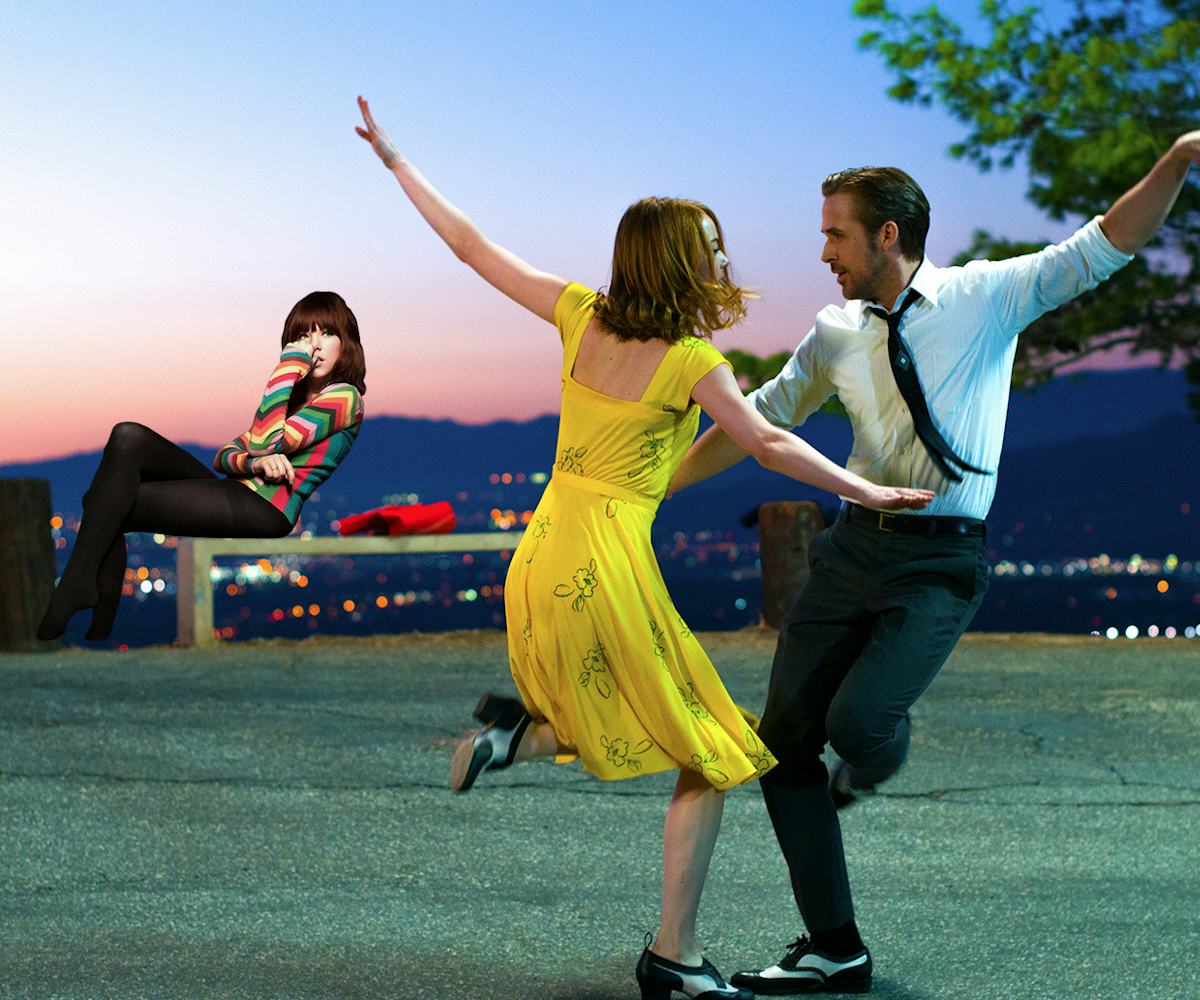 Photo courtesy of School Boy Records; Summit Entertainment
'La La Land' As Told Through Carly Rae Jepsen's 'Emotion'
Let me start with this: La La Land is a very good movie. It deserves all the awards it has gotten and will predictably get. Yes, there are other movies that came out last year that are equally as deserving but comparing them to La La Land is like comparing Rihanna to Beyoncé, apples to, uh, lemons; they both are outstanding and exist on the same road just in a different lane. But that is a story for another time and one your social feeds will undoubtedly be filled with after Damien Chazelle and his happy-go-lucky, "they just don't make 'em like this anymore" movie sweeps the Oscars this weekend.
I have a different, less zeitgeisty story to tell about La La Land, which is a movie I truly wanted to see but held off from seeing after a few friends, whose opinions I genuinely trust, were iffy about it. (La La Land? More like Blah Blah Land, amirite?) Then I saw it and guzzled that Kool-Aid like my life depended on it. "I LOVE LA LA LAND!!!!!!!" I shouted into the void. And do you know what the void did? It whispered back, "Run away with me."
Of course, I thought. Carly Rae Jepsen's iconic 2015 album, E•MO•TION, featuring the meme-able anthem "Run Away With Me," is exactly why La La Land is great. It's bubblegum, surface-level, escapist pop. As Peggy Lee would ask, "Is that all there is?" Yes, Peggy! That is all there is. Emma Stone and Ryan Gosling pluck the audience's romantic heartstrings just like Jepsen does throughout E•MO•TION's 12 tracks (18 if you, like any true Jepsen fan would know, have the Japanese bonus edition). They're hopeful and hopeless, lost and longing, loving and consumed—everything Jepsen's lyrical content touches on. They live the story Jepsen tells in E•MO•TION. Woah.
Indeed, La La Land can be told through a rearranging of E•MO•TION's songs. (Warning: major spoilers ahead.)
You begin arriving in Los Angeles, wide-eyed and basking in the sun ("LA Hallucinations"), before going into the night where Mia (Stone) attends a fancy house party and winds up in a meet-cute with Gosling's Seb ("I Didn't Just Come Here To Dance"). They keep the meet-cute charade for a minute, slowly but surely fanning those crush flames ("I Really Like You"), but Mia has a boyfriend who just doesn't thrill her like Seb does ("Boy Problems"). Embracing her inner romantic, Mia leaves her boyfriend for Seb and embarks on a whirlwind, technicolored love affair ("Making The Most Of The Night" and "Let's Get Lost") that's bright, innocent, and irritatingly infinite feeling. Careers begin to take off ("Your Type," which is more about Seb selling out to a Top 40 band gig) and the distance between them grows ("Never Got To Hold You"). The spark between them pulls Mia and Seb back together ("Warm Blood" and "Gimmie Love"), but time and truth tell all, and their relationship is not the same. As much as they want to be together, both Seb and Mia know their time as a couple is over ("Run Away With Me"). La La Land culminates in a blissful epilogue of what could have been, where Mia imagines how life may have planned out had her and Seb opted to remain together ("Favorite Color"), before reality sets back in and they go on their respective ways, on their own separate paths ("Love Again"). How simultaneously sad and hopeful. 
Unlike La La Land, E•MO•TION was snubbed from most awards ceremonies despite it landing atop many a critic's year-end best-of lists. Whether it's coincidence or fate, La La Land being nominated for a staggering 14 Academy Awards feels like justice for Jepsen—whether Chazelle realizes or not. After all, E•MO•TION evokes the same feeling the movie does: wistful and romantic. It's a fantasy, sugary and relatively uncomplicated. A win for La La Land is a win for Carly Rae Jepsen. @me, maybe.
(For the record: I think Moonlight should win.)