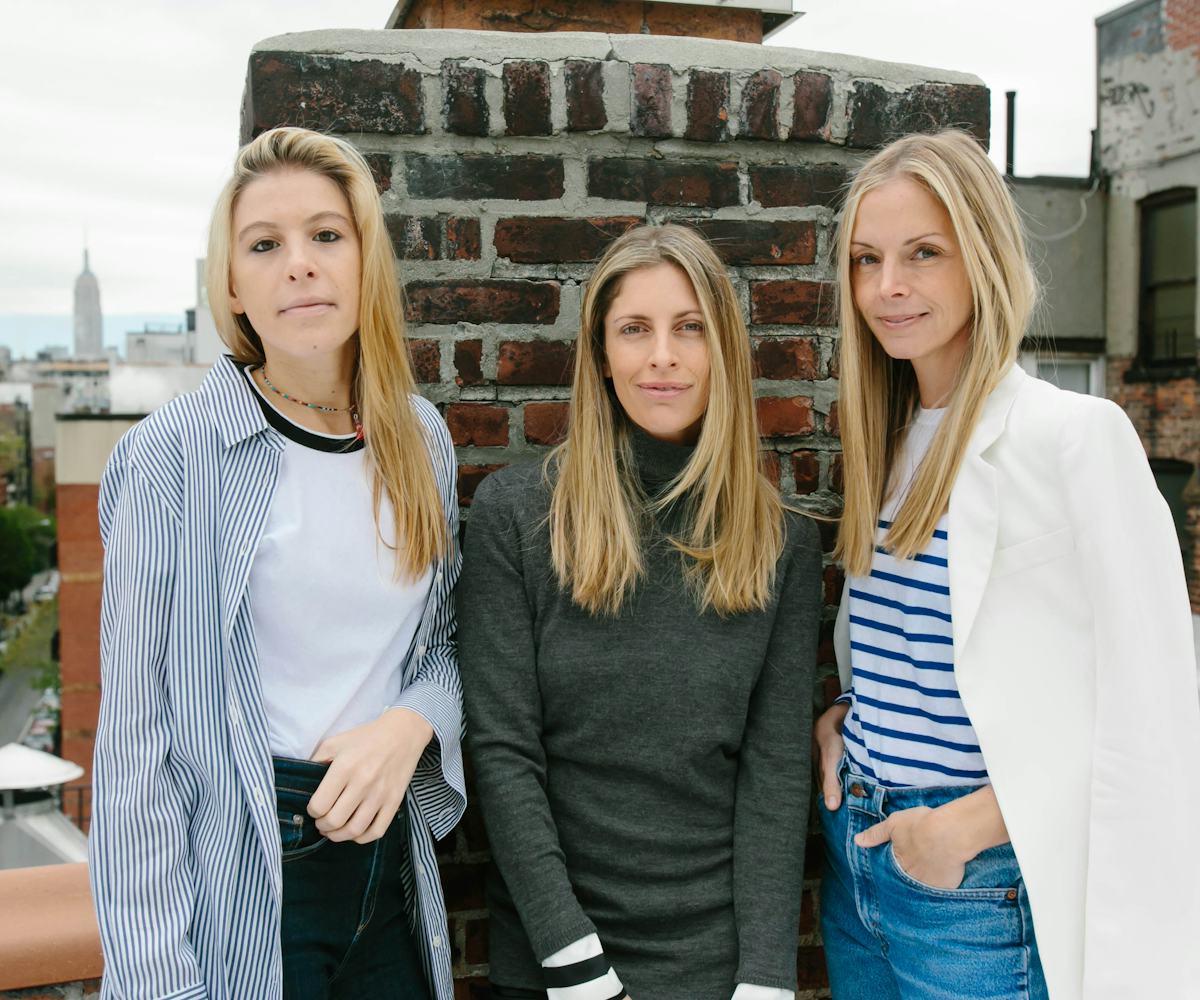 Photo by Aaron Purkey
Meet The Three Women Behind Rising Fashion Brand La Ligne
Stripes on stripes on stripes
The stripe is timeless, democratic, and malleable—with a European sensibility à la Bridget Bardot or Francoise Hardy. It's a graphic that can be minimalistic or busy, like plaid or chevron. But finding a one-stop stripe solution didn't exist until La Ligne, an ascendant clothing line out of New York, which debuted its first collection last month, and is entirely dedicated to the stripe.
Founded by three women with loads of collective fashion industry experience—Meredith Melling and Valerie Boster are both former Vogue editors, and Molly Howard is a former investment banker and head of business development for rag & bone—La Ligne marks one of the anticipated brand launches of the season. The line is comprised of two collections: Essentials (wardrobe staples) and Edition (this season's take on the line). "The stripe feels fresh in the way you can manipulate it," says Boster. "The idea was to design clothing so comfortable that you could eat, sleep, drink, and dance in it. We don't want to be too precious with fashion."
The shopping experience on LaLigneNYC.com is expertly editorialized, thanks to Boster's and Melling's adept styling instincts, and it's easy to imagine how a shirt-dress or a flight suit can transition from the bedroom to black-tie (Melling, Boster, and Howard all wore La Ligne to this year's Met Gala). The translatable pieces are ideal for city women who may not have time to go home and change between work and play, or for travelers looking to make a statement with as few items as possible.
La Ligne was first conceptualized when Boster and Melling were riding the subway one day and noted that one in five people were wearing some variation of the stripe. The idea was executed when the duo brought on Howard—the business-savvy brains behind the operation—as the CEO, who decided on a direct-to-customer model. La Ligne's sole wholesale partner is Net-a-Porter.
With everyone from Mindy Kaling to Dianna Argon already rocking—and posting—La Ligne's products, the brand seems destined for big things (their first meeting was with Anna Wintour). They've even launched their "In Line" narrative portrait series featuring celebrities like Allison Williams, Sofia Sanchez de Betak, and Olivia Wilde, all members of "La bande," an ever-expanding group of influencers curated by the founders. 
Here, we chat with the the women responsible for pushing the line and reinventing the stripe.
What does the stripe mean to you? Why is it universally appealing, timeless, and ageless?
Valerie: During our time at Vogue we saw a lot of stripes come and go. Stripes seemed to become a connecting thread throughout the editorial stories. We see stripes as a neutral that can be paired with just about any pattern, color, or cut.
Meredith: Women have wardrobes full of clothing, but we tend to wear the same six pieces. We aim to be one—if not all six pieces—in their life. Stripes are a classic design with a versatility that allows for endless interpretation. No matter the season, stripes have always proven to be a staple. La Ligne is French for "the line" and our design inspiration comes from a European slant and attitude. Our muses include icons like Francoise Hardy, Jane Birkin, and Bridget Bardot.
What are your favorite items in the collection and how are these pieces perfect for the traveling woman?
Meredith: My favorite piece is the jumpsuit because of its versatility. For a dressed up look you can wear it buttoned up with heels or you can keep it casual layering over a t-shirt and pairing with sneakers. Having a flight suit as part of our Essentials collection was definitely important to me—it's so utilitarian. It's an easy transition piece from day to night to bring along on any trip.|
Molly: The Fluid Line dress is just so comfortable! My favorite way to dress is in something that can take you from morning to bed if you wanted it to. You could wear it open over jeans, on its own with sneakers, belted with heels, or as your pajama. We want to make clothing that feels so good to be in, something you can travel anywhere in without having to change. That's how livable our pieces are.
Valerie: If I could sleep in the Boudoir Top and Pants I would! I resist calling them pajamas because you can easily wear them for a black tie event if you pair it with the right blazer and heels. They're that luxe in terms of quality, design, and the way it feels on your skin. They're clothes you can eat, sleep, drink, and dance in. Perfect to have on-hand for any trip.
What is each of your favorite type of stripe?
Meredith: A nervous line that is wavy and unsure. A bit flawed, with a human element.
Molly: A punch line.
Valerie: The never-ending line.
How do you plan on continuing to "push the line" with the evolution of the stripe via your Essentials and Edition collections?
Molly: The Edition collection is a gut reaction to this season's interpretation of the stripe. It keeps stripes feeling fresh.
Valerie: The Essential collection includes wardrobe staples. The Edition collection reflects the season's take on stripes. It allows us to push the envelope to experiment in endless ways, through color palates, heritage fabrics, designs, textures, pleating or fringe. We are interpreting the stripe to reflect the current mood, but we are not chasing trends.
Who are some of the members of "La bande" and how do they represent your brand's image/message?
Meredith: We have fun marketing concepts that push the idea of the stripe. La bande styles their favorite La Ligne piece through their own wardrobes, to push the boundaries on how to communicate our concept.
Valerie: La bande is our community of partners who have really helped us build La Ligne. From investing to participating in our In Line portrait series by modeling their favorite pieces from the Essentials collection, these women embody the spirit of La Ligne. They're innately stylish and inherently sexy, conveying a natural elegance that is active, fun, successful, adventurous, and outgoing. For the In Line portrait series, we shot over 40 different women—they're all different ages, ethnicities, body types, and all women we admire. Our youngest is Ruby Watts, who is six years old, and we have Phyllis Mailman, who is 91.
Who is on your advisory board?
Molly: Our board of advisors is really a testament to those who have helped us build this brand by advising us on everything from where to source materials to where to find the best local manufacturers. It's comprised of leaders we admire in fashion, design, ecommerce, and retail, including Andrew Rosen (Theory, Helmut Lang, rag & bone, Proenza Schouler, etc.), Andy Spade (Partners and Spade), Leandra Medine (Manrepeller), Barbara "Babs" Burchfield (Conscious Commerce), Neil Blumenthal (Warby Parker), David Neville (rag & bone).
What made you choose a direct to consumer model?
Molly: Selling directly to consumers via LaLigneNYC.com allows the brand to completely own the entire customer experience: product, service, and most importantly our relationship with shoppers. Through this model, we're also able to adapt quickly and not necessarily adhere to a strict fashion calendar. We can introduce products when consumers desire them most.
What is your best advice (given your backgrounds) for anyone out there who wants to start their own fashion line? 
Molly: There are so many different aspects to a business like ours. The business plan, sourcing products, production, web development, creating content, producing it, the admin, the design elements throughout—there are so many moving parts. The hardest part is staying the course, and at the end of the day, getting the clothing out of the door. We've had a lot of collective experience and have seen how unglamorous fashion can be. We're tasked to do things we've never done before. Every day something happens that can be discouraging, but you just have to move forward. If you are starting a business from scratch, you are likely producing every aspect of it. Don't sweat the small stuff. To be successful, you have to be excited by the less glamorous parts and don't be afraid to get your hands dirty. One of the things I'm impressed by is the people who have no ego despite how established they are. And nail your elevator pitch.
Valerie: You're never too young to explore entrepreneurship. Know your strengths and weaknesses. Know what you can contribute to your brand or job and know where you have to ask for help. That will make you better at what you do. Ask yourself: Why are you doing this? Why should people care? Is your idea going to stick? Can you describe it in one sentence? I think taking risks in life is a necessity. Learning early on to get back up and try again is a good lesson. The worst thing is to have a great idea and to never implement it. We are all taking an emotional risk in this endeavor, and just because you're a teenager doesn't mean your idea is any less good. Go for it.