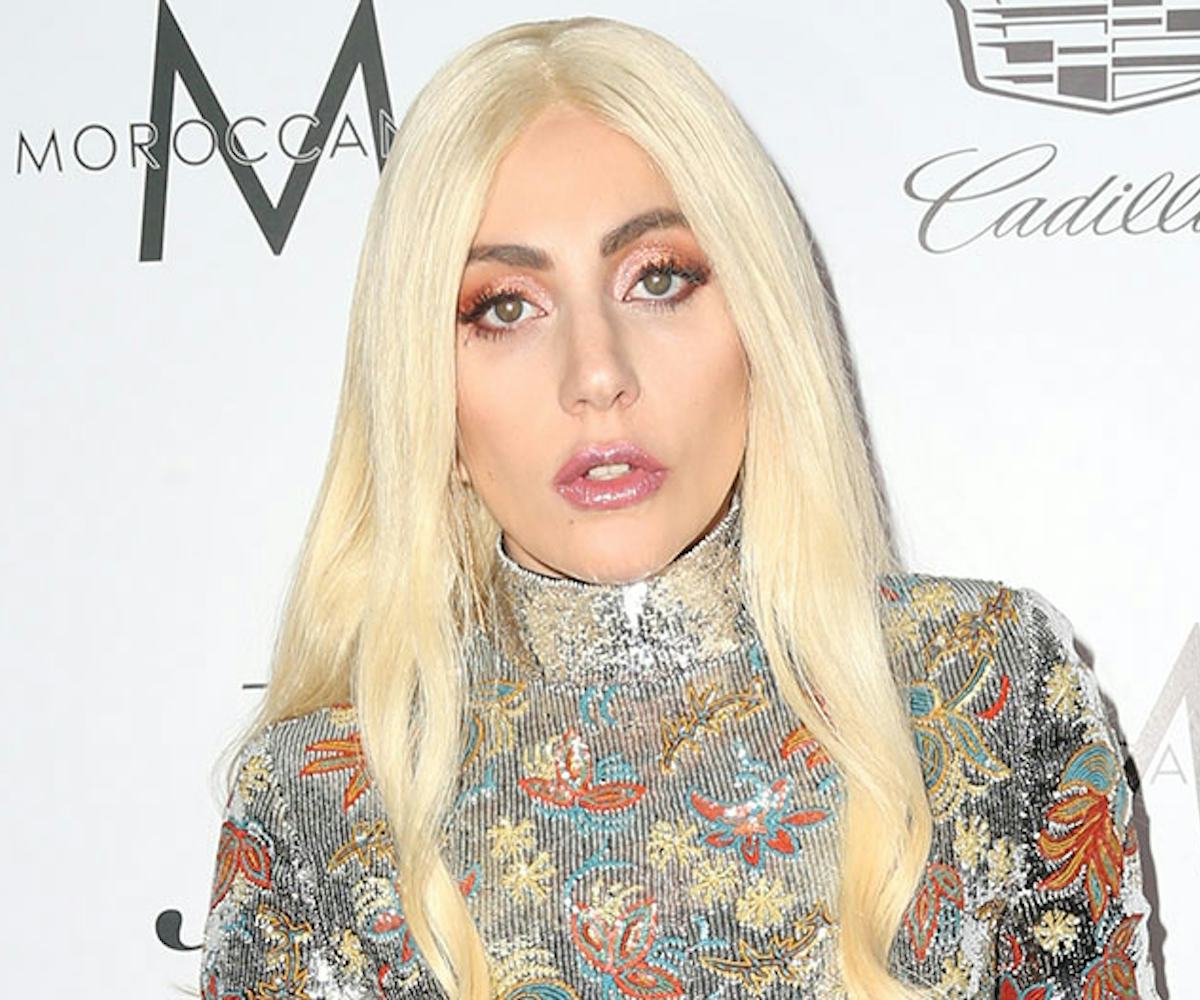 Photo by Frederick M. Brown/Getty Images.
Lady Gaga Turns 30 With A Few Dozen Of Her Best Friends
'cuz we gotta taste for champagne and endless fortune
Although Lady Gaga doesn't turn 30 until tomorrow, March 28th, her family, friends and about half of Hollywood came together to celebrate the starlet early at the super-hip No Name restaurant in Los Angeles, as reported by The Daily Mail. Although her style has been somewhat more demure lately, in comparison to her earlier days, Gaga went all-out for her big night in a gold textured Saint Laurent mini dress, featuring enormous puffed sleeves and a wide leather belt. The singer paired the dress with black platform heels, a side-swept updo, a thick diamond choker and a slick of red lipstick that made her look like an '80s glam queen in the best way possible.
Gaga's beau, Taylor Kinney, went with an all-black jeans, button-down and jacket, which looked a little too casual next to his fiancee's look but definitely allowed the starlet to shine. Her friends, unsurprisingly, brought their A-game. Taylor Swift showed up in a dazzling, black sequined jumpsuit, while Lana Del Ray opted for a floaty floral dress, and Kate Hudson preferred a sheer sheath with a plunging neckline and high-cut slit in the skirt. Also in attendance? John Legend and Chrissy Teigen (fresh from the baby shower?), Kylie Minogue, Lisa Vanderpump, Kathy Bates, Pharell, and more.
While the party on the whole was kept on the DL, Gaga reportedly sang at least one tune, and TMZ reports one of the party guests gifted her with a drawing by Michael Jackson valued at over $25k—way better than the gift card to Macy's we got from mom this year. It makes us wonder what's in store for when the singer's wedding comes around, likely later this year. Although she's kept rather mum about the affair, it's never to early to start thinking about what you'll gift her. Possible ideas: Bubbles the Monkey, a lock of Napoleon's hair, or maybe the original iron throne?
Check out some of the best looks from the party below.