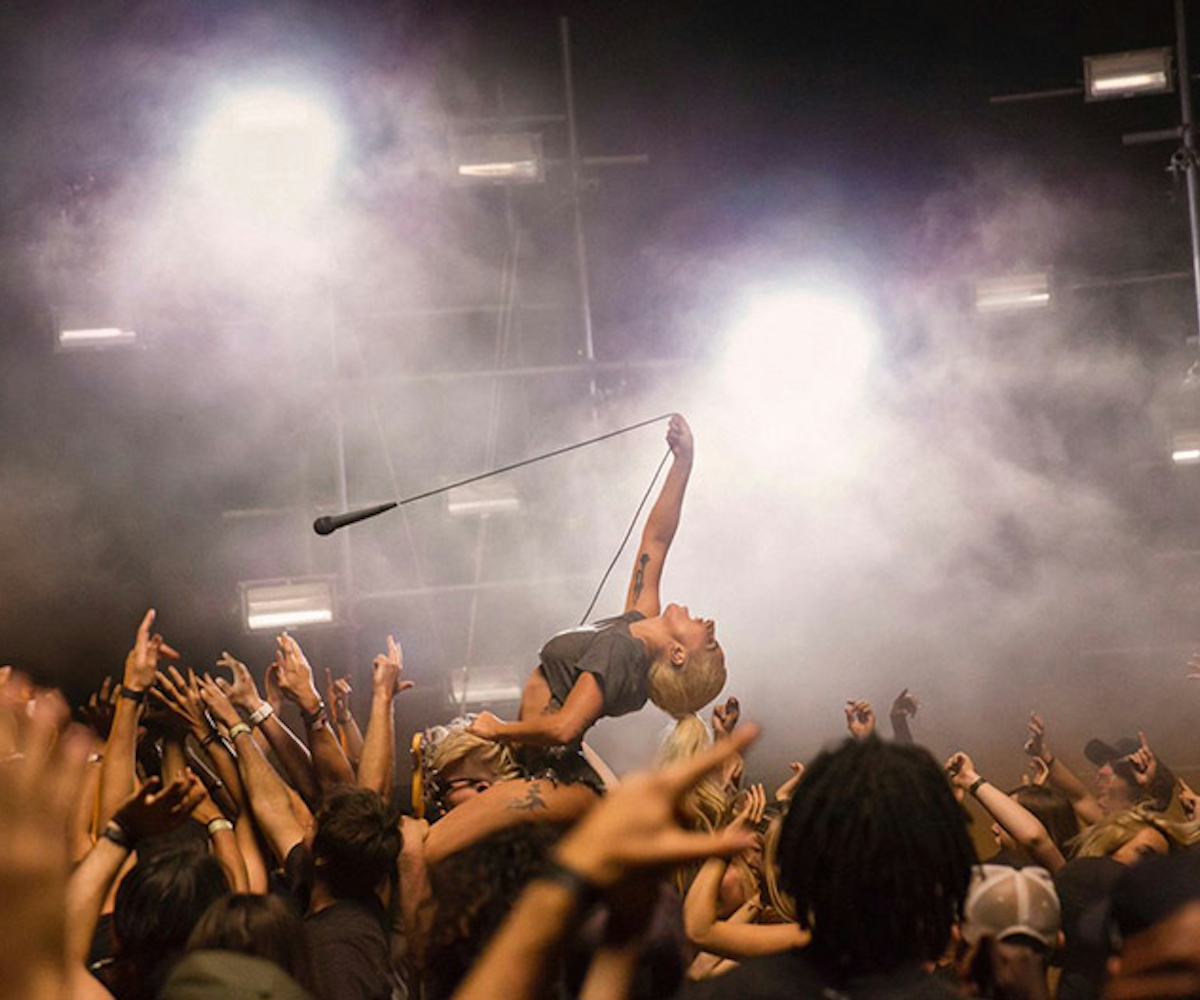 Photo courtesy of Lady Gaga
What It's Like To Be A Little Monster In A Post-Gaga World
What feeds Little Monsters these days?
Lady Gaga polarizes people. Since she skyrocketed to fame in 2008, Gaga has shattered records and challenged what it means to be a pop star in many ways, including the way she interacts with her fans.
As Mother Monster to her Little Monsters, Lady Gaga's devotion to those who look up to, idolize, and seek comfort in her was unheard of when she started. Her tours are meccas for love, acceptance, and self-expression—chances for Little Monsters to gather, meet, and experience one another in the flesh. Despite arguably messy eras and quasi-rivalries with other fan bases, they've kept their paws up. Now, with the release of her first pop single since 2013—the brilliant and unexpected "Perfect Illusion"—and the LG5 era officially underway, Gaga's Little Monsters have something to truly look forward to. But what has kept them occupied all these years? We spoke with a few about their love and appreciation for all things Gaga.
Kevin, designer in NYC
What about Lady Gaga inspires you?Lady Gaga is a true artist—an artist's artist, a visionary that I respect and admire both visually and audibly. Her ability to top herself and continually grow while pushing the limit is incomparable. As a creative myself, her music not only inspires me but also fuels my creativity and thought process. I was lucky enough to meet her here in NYC, and she was the nicest, most down-to-earth person. They say don't meet your heroes, but I couldn't be happier that I did! She is the real deal.How long have you been a Little Monster?From the absolute beginning!
Have you ever felt embarrassed to be an out and proud Monster?The whole aspect of being a Little Monster is to be out, loud, proud, and true to oneself, so there is little room for embarrassment. I have for sure been given a hard time and ragged on for being a Little Monster by those who simply don't get it, those who only know Gaga for what is being played on the radio, and that's fine—not everyone should get it and this, in turn, makes those that do get it a collective, accepting, and creative community that is all the more special because it is genuine at its core.
Have you ever lost faith in Gaga? What keeps you excited?Lost faith? No, never. Have I selfishly wanted new music the second the ARTPOP era ended? Yaaasss. But that's because I can't get enough. What keeps me excited is that she is unpredictable, whether it be in her award-winning role on American Horror Story or the most recent pop music emergency release of the single cover for #PERFECTILLUSION. Who expected an image like that? Not me, and probably not you either, which is exactly why being a Little Monster is so exciting. Lady Gaga is forever evolving, forever changing the way the way things are done—which, in the end, is quintessential Gaga at her best.
Ryan, photographer from PhiladelphiaWhat about Lady Gaga inspires you?What inspires me about Lady Gaga is her determination and edge. Since her debut, she has revolutionized pop music and took many daring moves that many artists were too afraid to do themselves at that level. Despite ARTPOP not being received all that well, she really does bring art to the forefront of pop culture. That is something I've always appreciated since pop culture can be so sterile and uncreative. She also fights incessantly for LGBTQ rights, which I find inspiring since not many pop stars make time to be genuinely political. She is ever-changing and unpredictable—always leaving her audience on the edge of their seat.
How long have you been a Little Monster?Summer of 2008: I had just finished my freshman year of high school and was at a house party when "Just Dance" came on. I knew I enjoyed the song, but it wasn't until I watched the music video on YouTube that I became obsessed. I've remained here for the journey ever since.
Have you ever felt embarrassed to be an out and proud Monster?Yes and no. Deep down, I have no shame for loving someone so talented. However, once her fan base became so huge, many attached the "Born This Way" mantra to all of her fans—assuming we're all the same. For some people, Little Monsters might suggest being insecure or needing empowerment (which is okay), or that we blindly worship everything she does. On the contrary, there are judgmental fans who go against what Gaga stands for. They hold her to rigid expectations and nitpick what she does. So in some cases, I don't always identify as being in the same group as those fans. But if a stranger asked me, "Are you a Little Monster?" I'm gonna say, "Yes!"
Have you ever lost faith in Gaga? What keeps you excited?I think that once her "imperial phase" ended post-The Fame Monster, it became a lot harder to be a Lady Gaga fan. She's gone through issues with previous management and creative partners; of course, her fans will react to that. What keeps me excited is knowing that she always finds ways to impress me. Whether it be through her vocals, fashion, visuals, or even the music itself, I never truly feel let down. Sure, maybe her marketing and other things might have let down fans, but that's not what I focus on. I've even witnessed Monsters on Twitter calling certain fans "Little Managers" as a joke because they think they know better when it comes to promotion. I think Gaga has a firm grasp of what she's doing.
Brendan Jordan, activist and YouTuber from Las Vegas 
What about Lady Gaga inspires you?
The thing that inspires me about Lady Gaga is that she is 100 percent authentically herself every single day of her life. I love that so much about her. Gaga's visionary sense for art and the way she sees the world are big reasons why I admire her so much.
How long have you been a Little Monster?
I have been a little monster since I was in sixth or seventh grade. I am a junior now in high school, and I'm still going strong!
Have you ever felt embarrassed to be an out and proud Monster?
Hell no, girl, do I ever feel embarrassed about being an out and proud fan to one of the most talented artists of our generation! I sometimes remind people of how much I adore her.
Have you ever lost faith in Gaga? What keeps you excited?
I can honestly say I have never lost faith in Gaga. Of course, I do listen to different artists and different songs—it isn't just only her that I listen to. But I have honestly never lost faith in Mother Monster. Her constant drive and passion for what she does keeps me excited. It is so thrilling to see all of the ideas that she comes up with.