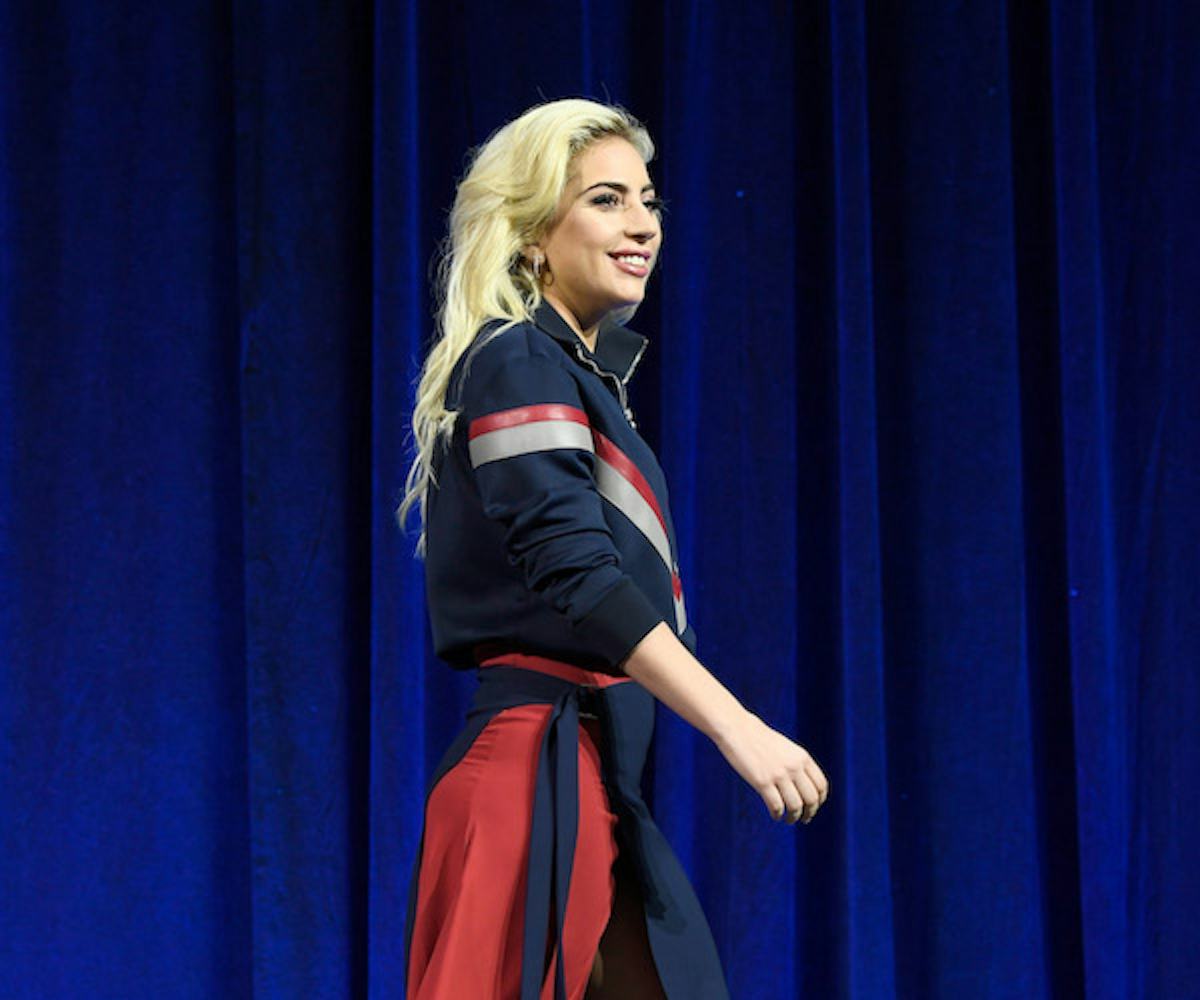 Photo by Frazer Harrison/Getty Images
Lady Gaga's Super Bowl Performance Will Be All About America, Inclusion, And… Hundreds Of Drones?
"The show is coming from my heart to everyone in America that I love so much"
People have been speculating as to whether the famously-outspoken Lady Gaga would take on Donald Trump during her Super Bowl half-time show. The singer has long been a vocal supporter and activist for LGBT rights, and her Born This Way Foundation promotes mental wellness, spreading kindness, and creating more positive and inclusive environments, particularly in schools. Since our current president is the opposite of all of these things, fans and spectators alike assumed she'd use this massive platform to speak out against the positions the two-week-old administration has already taken against many vulnerable communities in the U.S. Well, turns out Gaga's keeping mum—she's explicitly stated that her show won't mention the president, but will be all about America, equality, and inclusion. And, it's reportedly going to have drones. Hundreds and hundreds of drones.
Gaga flatly said, "No, that's not what the show is about" when explicitly asked by Atlanta's 98.5 KLUC whether or not she'd mention Trump during her performance. Rather, she says, "The show is coming from my heart to everyone in America that I love so much. This is my country and I'm proud to be a pop star from this country." She went on to explain. "Because I know I have a bigger stage that day and that I've had a lot of really big stages that I'm grateful for, you know the power of your voice. And I would like to use to that voice to bring people together on that day. Saying anything divisive would only make things worse. And that's just not what I want for my country." Oh No They Didn't mentions a rumor that Lady Gaga's contract prevents her from making a political statement, though the NFL has denied this.
That being said, expect Gaga's half-time show to be nothing short of a spectacle. At a recent press conference, she described the show as "tremendously athletic" and said it's taken months of preparation to get it right. Tony Bennett, who she famously collaborated with during her Cheek to Cheek period, will also make an appearance at some point. Also in attendance? Hundreds of lit-up drones, according to CNN Tech Report. Recently, an observer took video of drones flying over the stadium, and the Federal Aviation Administration has issued a "no drone zone" within a 34.5-mile radius around the stadium through tomorrow evening. Maybe Gaga will finally be putting her old drone dress to use and will airlift herself on stage. And remember, even if for whatever reason Mama Monster can't or won't make an explicit political statement, using the Super Bowl to promote inclusion and equality is a huge rebuke to the current administration. Expect a new Twitter meltdown in the near future from you know who.
Check out the video of Gaga's rumored drones below and tune into her Super Bowl halftime show tomorrow evening.
(Via Oh No They Didn't, Rolling Stone, and The Verge)