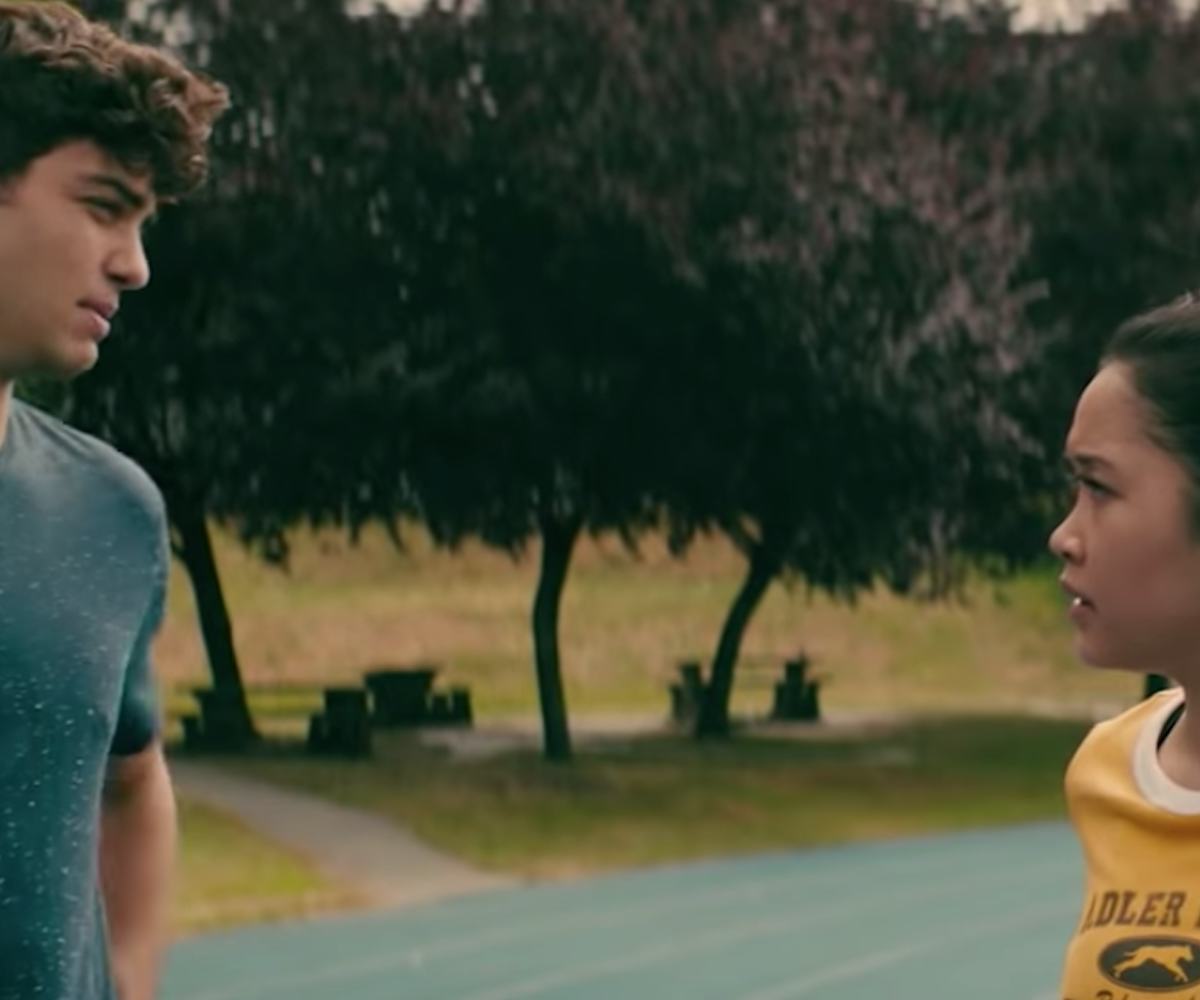 Screenshot Via Netflix YouTube.
Lana Condor On Flipping The Stereotype Of Asian Femininity On Its Head
'To All the Boys I've Loved Before' drops on August 17
Lana Condor is not new to Hollywood. However, her first starring role is as Lara Jean Song Covey in Netflix's adaptation of Jenny Han's best-selling YA novel, To All the Boys I've Ever Loved Before—and it's a job she considers one of the most important she's had so far. And that can mostly be attributed to the fact that it's one of the few Asian-American roles that doesn't force you to consider a character's heritage as a defining aspect of their personality. 
What's so remarkable about the character of Lara Jean is that she's a normal high schooler—experiencing something that could happen to anyone—whose entire narrative trajectory isn't based on the fact that she's Korean-American. So ahead of the premiere of To All the Boys I've Ever Loved Before, we sat down with Condor to talk about everything from her hopes for this new wave of Asian media representation to how the film eschews normal Hollywood tropes of Asian femininity and fetishization—and what exactly that means for a new generation of young Asian-American girls. Read our Q&A, below.
What's it been like for you to be front and center of this huge film?
Last time I was in New York, I was with a huge cast, and people were really focused on everyone else, and I was just there for the ride. Now, this whole experience has been a lot different, because it's just me, and I never, in my wildest dreams, ever thought that I was gonna be a lead of anything. Like, I woke up in tears one day, because I was like, "Oh my god, my movie is coming out." It's been a really out-of-body experience. As a little girl, you just dream of this experience, but I never thought it was going to happen.
What initially drew you to the project?
I have always really been fascinated with bringing preexisting material onto the screen; I've done [movies based on] graphic novels and comic books. That is my safe place. With this, I knew of the book when I got the audition, and that was exciting for me.
Of course, the opportunity to be a lead was also a big draw. And then the fact that she happens to be Asian in a rom-com is major, because that doesn't happen. So lots of things, but initially, I was just excited that it was after a book.
Speaking of the film's representation push, I think what I really liked about the movie was the fact that being Asian wasn't even a talking point in the narrative. She was just a regular, American girl.
Yeah, that is what I'm most of the proud of the movie: that it's not an Asian rom-com. It's a rom-com that happens to have an Asian actress as the lead. It normalizes, because, unfortunately, this is still a groundbreaking thing. But I did love that this movie was about a girl going through universal experiences and problems. She just happens to be Asian. That's what we should see in life. We're not making jokes. She's not stereotypically written. She's just your average girl. 
I think it's cool because, for so long, even if you did have an Asian character in a Hollywood movie, it would have such a distinct aura of othering.
That's the issue. Like, so many people ask me, "Is it hard for you, because you're Asian?" And I'm like, the more you continue to focus on the way that we look, the more you're inadvertently continuing to put us in a box. Instead of just being like, "Hey, how's your day, what's up?" you're talking about this super-specific aspect that becomes this thing [that defines us to you]. You're right, the idea of otherness is still an issue, but we're making baby steps.
Another thing I really liked about the movie was the way it didn't fetishize the women, which is always a risk when you're dealing with rom-com stuff—especially if it's done through a white, male lens. When you first signed up for To All The Boys I've Ever Loved Before, was there a moment when you were like, "Why did it take so long to get a non-fetishizing romantic movie about an Asian woman?"
Absolutely. It wasn't during production. It was after production when I started getting facts, and I realized that, "Oh, this hasn't happened in 25 years." And then when younger girls started coming up to me and, like, saying they appreciate being able to look on screen and see someone that they look like—those have been the most impactful experiences. I thought I was just shooting a rom-com, and then I realized after that it's so much more important than just that.
It makes me want to cry, and it makes me nervous. But it's a really beautiful responsibility to have young girls and older women come up to me being like, "I wish I had seen this when I was a kid." 
Why do you think it took us so long to get to this point? 
Our generation is so vocal now, and we're not stupid, you know? So now, people are speaking up. Now people are like, "No, dude, your movie's whitewashed. We don't stand for this." And I think now Hollywood is finally realizing that they can't keep doing this. But for a really long time, people just accepted the stereotype, and no one worked hard to fight against that.
But the thing about [Asian media representation becoming a] big talking point this summer is that I hope it continues. We have so many movies with dope representation, I hope it's not just going to be this summer. I hope that it continues on to the fall, and the winter, and the spring, and next summer, and it keeps going. We're in an awesome time right now, but we still have a long way to go.
You mentioned before that when Jenny Han was shopping around the story to production houses, some people were really gunning for Lara Jean to be white. Why do you think that was the case? Just because whiteness is the default experience in media and a studio thinks a white protagonist will connect more with a mass audience?
I think maybe yeah, we know rom-coms work with white people, so let's just do it… because that's all we know. But that's just stupid. I don't even get that. That's really frustrating. Like, when people's first instinct is, "Great, love the concept, but I think we can make this girl white." I don't get that, but I'm really happy they didn't, because that would just piss off everyone. Jenny's fans are the most loyal readers, ever. A studio that would whitewash would just be pissing over everything that they love. 
But, I think what you said about it being default is true. Even though there's all this rhetoric right now about diversity, sometimes it just feels like when shit like that happens, you feel like, "Wow, is a scam?" I think it's disheartening when I hear these stories, because like, "Do people actually care, or is this just smoke and mirrors?" But I still have hope. I choose to be positive, because if not I'd be super-depressed.
[I think from this we should learn to] speak out. Demand representation. But similarly, I just went to a gender diversity talk—but it was only women there. So I thought to myself, "We're talking gender diversity, but if 80 percent of the people who make decisions in Hollywood are men, then they need to be here too so we can educate them."
As women, we're all on the same team—we're all trying to do the same thing. But we have to bring these men in to have these conversations, because they're the ones who don't know shit, but they're the ones making the decisions. You have to continue educating everyone.
Out of curiosity, do you kind of wish there were more Asian cultural elements in the film? Or do you think that would have detracted from the mission?
I've actually thought about that, but I'm really happy with the way it turned out. I mean, this is Jenny's story, and Jenny's novel is very similar to the book in terms of... Lara Jean is just living a universal experience. Maybe that's why studios thought that they could whitewash it so easily—because its Asianness is not "in your face." So maybe they thought, "Oh, well, it's just an American experience." 
We're just trying to normalize. We're not some weird species. We're normal fucking people, and I think that's what we were trying to do with the movie.
To All the Boys I've Ever Loved Before is available to stream on Netflix starting August 17.