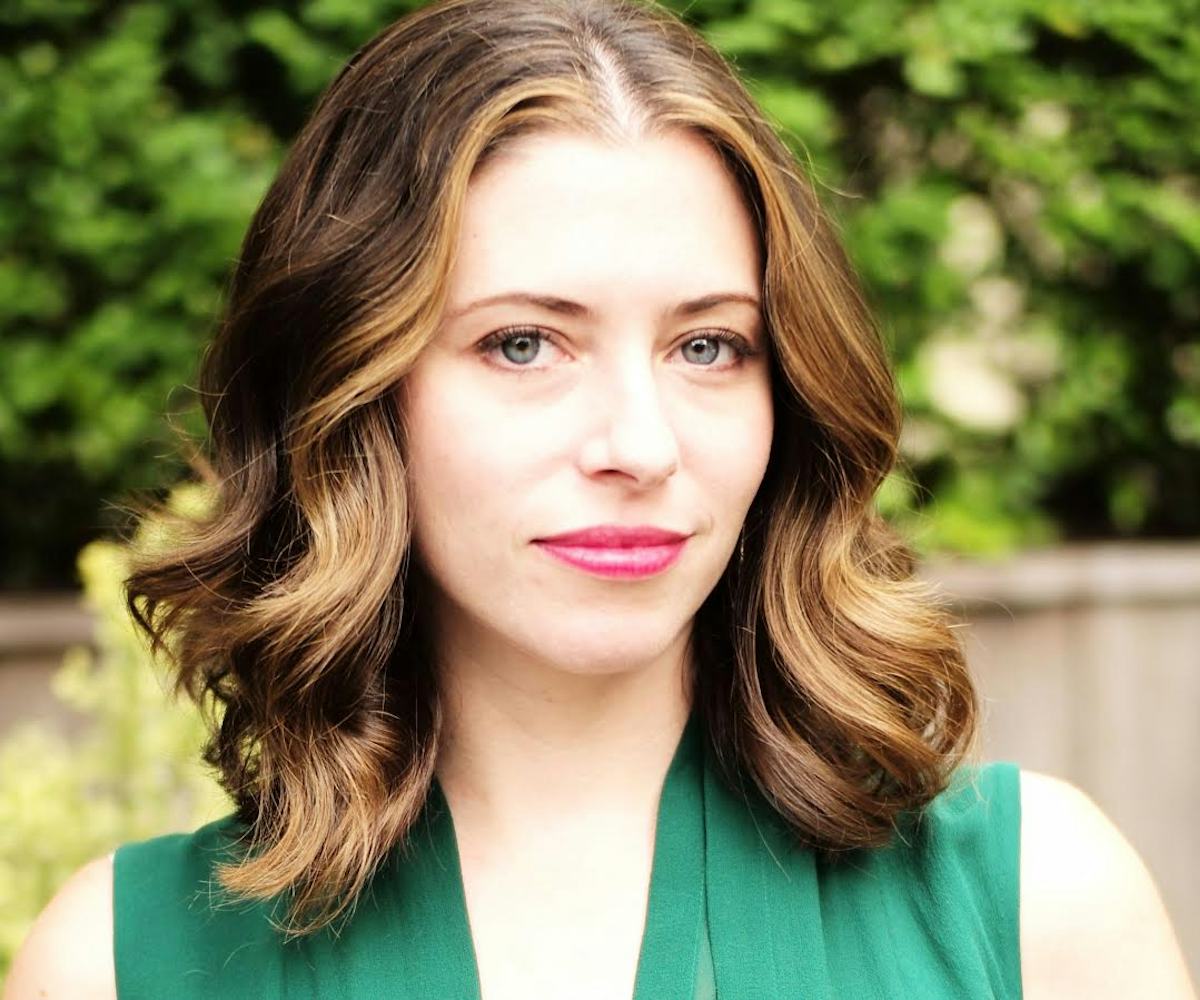 Lauren Miller On Her Alzheimer's Charity, James Franco, And Her Very Normal Marriage To Seth Rogen
How the actress and writer turned personal tragedy into something positive.
Last October, James Franco became a man. The not-so-13-year-old actor made his way to the Hollywood Palladium in L.A. where he was greeted by Seth Rogen, serenaded by Miley Cyrus, and circumcised by Jeff Goldblum. The event, which raised more than $2.5 million for Alzheimer's research and care, was one of the many initiatives of Hilarity for Charity, an organization founded by Rogen and his wife Lauren Miller.
Nine years ago, Miller's mother was diagnosed with early-onset Alzheimer's. While supporting his wife through the dark days following the diagnosis, Rogen became an advocate for the disease, testifying about the epidemic to the United States Senate Appropriations Subcommittee on Labor, Health, and Human Services, appearing on Larry King, and speaking to outlets such as CNN. He and his better half have since used their celebrity status to arrange campaigns geared towards educating millennials about the widespread disease, and to raise funds for Alzheimer's treatment and research. And hosting Franco's Bar Mitzvah was just the beginning of their plans. Miller tells us that Hilarity for Charity has a whole slew of upcoming initiatives, including contests that involve a college campus visit from Rogen as the prize, and an array of eclectic variety shows, which are currently in the works.
We caught up with the actress, writer, and philanthropist to discuss how she transformed a personal tragedy into something positive, made Franco a man, and what's life like with one of the biggest stars in Hollywood. 
Tell us about founding Hilarity for Charity and the decision to combat Alzheimer's with humor.
My grandfather had Alzheimer's on my mom's side. My grandmother on my mom's side had dementia. And then my mom was diagnosed with early-onset Alzheimer's when she was 55 and I was 25, which is much younger than I thought I would be when facing losing a parent. I spent the first five years of her diagnosis really sad, really dark, really angry, really depressed. I would go online for hours and hours, which can never be helpful. You read the worst things, and it's really sad. But then, a dear friend of ours, Matthew Bass, came to me and said, "I had this idea to throw a variety show. I want to do it for charity. Why don't we raise money for Alzheimer's?" As a writer with a comedian husband, our circle is very much in the comedy world. It felt like a very natural way for us to bring attention to something that was really affecting my life and really needed some attention brought to it. So we had the first show in 2012 and it was a big success. Even more so than the money raised, was that we were being contacted by other young people who were my age or even younger who were saying they were losing their parents to Alzheimer's. My husband began talking about it and people were like, "Well what is that guy doing talking about Alzheimer's?" So it just sort of happened naturally and grew from there. 
I love that you guys threw a Bar Mitzvah for James Franco last year as part of your fundraising efforts. What goes into planning Franco's Bar Mitzvah? Did he have any special requests?
No, he didn't because he's so cool. He's such a nice guy. He's up for anything and he's so creative. I'll say this: his one request is that he really be Bar Mitzvahed. His mom's Jewish and he wasn't necessarily raised practicing Judaism, but he was aware of it and it was a part of his life. We try and make the variety show a different theme ever year, and so that was the theme. So it was just like, 'What would James Franco's Bar Mitzvah be like?' Well, perhaps the décor would have his face all over it. And we'd have someone really awesome performing. So that's what it was about. 
He's an actor/model/author/artist/world dominator. Are there other talents we should be aware of to add to his resume now?
I've known him a while. I worry that he's going to try and steal my husband from me one day! He's just a fascinating guy. He's one of those guys where it's annoying. He's good at whatever he wants to do. Whatever he does, he does it and he does it well. And he seems to be nice and happy along the way, which is the craziest part. He's one of those guys that you can't say a bad thing about him except maybe he does too much. That's not a bad thing. That's an amazing thing!
What are some of the next Hilarity for Charity priorities?
We have our HFC U program, which provides everything college groups need to raise money and have their own fundraisers. The prize is that Seth will visit your school, which is neat. We're also going to have a kickball game between our board and another big charity board. So we have different incentives going on. If you raise x amount between now and a certain date, for instance, Seth will join your organization. We have our L.A. variety show which is annual. We did one in New York the year before last and I think we're going to do one this year again. We have another program called HFC Presents, where anyone can throw their own Hilarity for Charity event and we support them, and we give them help and fundraising tools. This past year, we started a program with Home Instead Senior Care and 50 percent of everything we raise goes toward home care for people that need it the most. We've given away over 24,000 hours of care in a year, which is pretty special; I know my mom would be really proud of that.  Another thing we do is we have an online support group for people under 40. I joined a group two months ago, and one of the guys in it was saying his mom was diagnosed seven years ago and until this group, he had never talked about it. He kept it in and it was tearing him apart. So now with this group, he didn't have to!
What do you have in the works acting and writing wise?
I have lots of things in the works. I actually have a movie that premiered at the Santa Barbara Film Festival that I am an actor in. It's very funny and cute, called Stereotypically You. I'm in an episode of Grey's Anatomy in the next few weeks. It looks like I'm going to shoot an episode of another period in this next little while. And I'm hoping to make another movie later this year, I'll say that.
What are the dynamics like for you as the wife of one of the biggest stars in Hollywood? 
I think we're pretty normal. We probably talk about work the same amount like if we were both teachers, accountants, lawyers. If I'm working on something, I ask his thoughts, he asks mine. We go to each other's screenings and read each other's scripts. But I would say we're sort of a disappointingly normal. We watch a lot of television at night. Eat a lot of buffalo wings and french fries. We're pretty calm. We're not too crazy. We're not constantly out. We're just very normal. We're just sort of boring.
So your lives are not as wild and crazy as we'd imagine?
I would say we really savor our down time. Yes, there are moments that are just crazy. Seth is off shooting Preacher now and he comes back on the weekends or I'll go there. We're moving around a lot, that I would say. Otherwise, he's just a very wonderful sweet husband. I had something professionally unfortunate happen last week and he brought me flowers. That was very nice. 
What are you guys watching on TV these days? Do you have the same taste in shows? Or are you making him watch The Bachelor and he's making you watch guy shows?
I love that you brought up The Bachelor because I've never actually watched The Bachelor, and I've always wanted to. And he actually had watched it the first or second season before we were together, and so we actually just this season were like, 'We're watching The Bachelor together.' And so we've only watched the first episode but I was really into it and we have to catch up on it. So we're watching The Bachelor, but that's not usually our normal fare. We're usually into the big one-hour dramas. We love The Mindy Project, we love Modern Family. But we're also into Making a Murderer. We loved Fargo! There is so much good television. We watch a lot of television. Oh, and we love Top Chef. That's a quality reality show. That's our favorite.
You've said that laughter is the recipe to a successful relationship. Is that easy being married to Seth? 
I mean I always have to remind people that he's an actor because the characters he plays are characters, and he's much more quiet and reserved than I think people imagine him to be in real life. But at the same time, yes, I think we probably laugh a lot. And we are pretty goofy and silly with each other. He's a comedy writer, so once in a while he'll say something and I'll be like, 'God you're so funny! How did you think of that?'
Will we ever see you and Seth make a film together? And if you did, would it be more like Eyes Wide Shut, Mr. and Mrs. Smith, or This Is 40?
Oh, I like that idea! Definitely Eyes Wide Shut! I don't know. Hard to say. We talk about it. I'll say that. No definite plans. We each have our own very different ideas. Perhaps one day, they'll sync up!