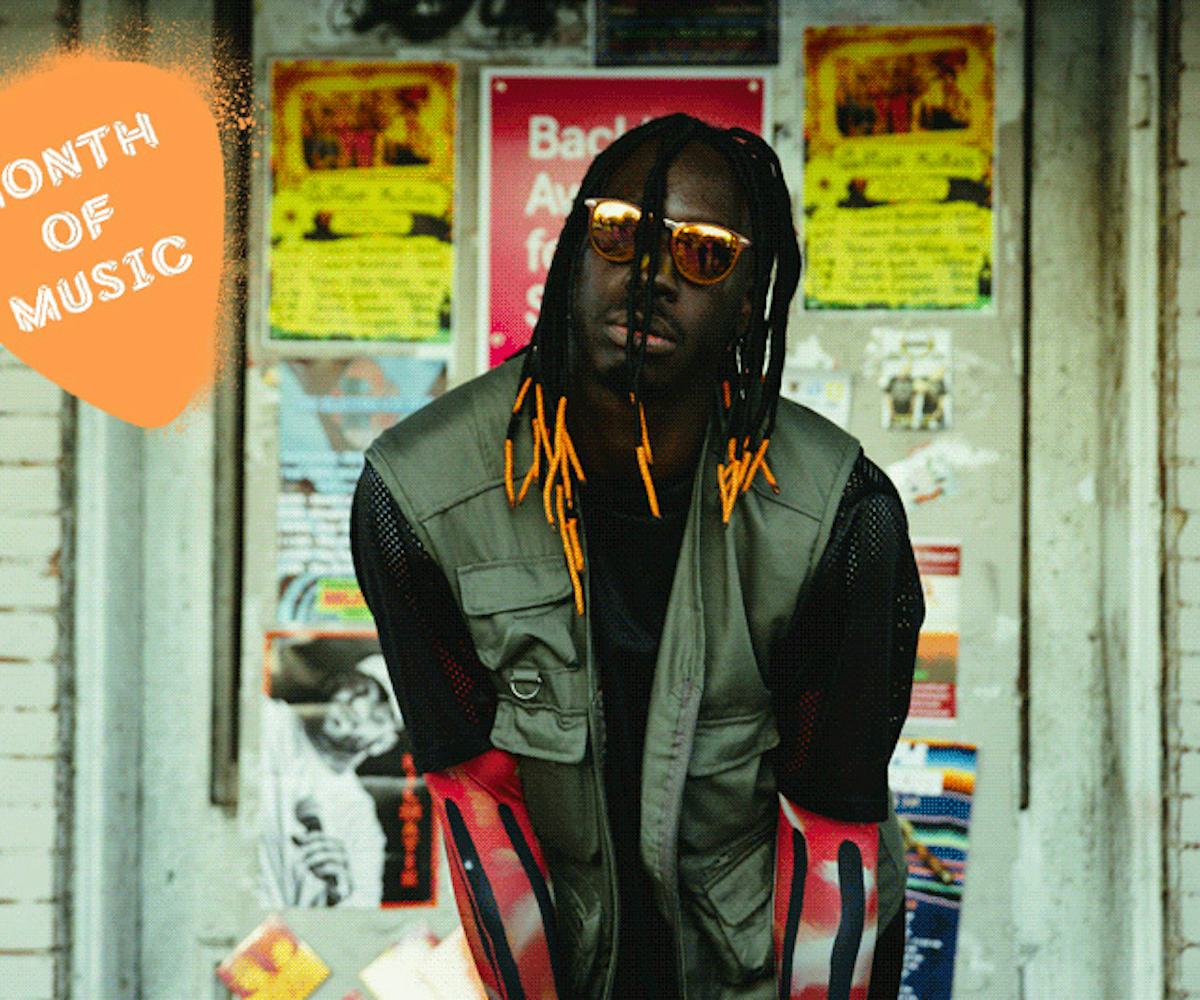 Photographed by Kara Smarsh
Le1f Is Our 'Riot Boi' From The Future
We share music because we want to connect with others on a deeper level. We want to relay and relate to a message that can't be said with just words. This April, NYLON is dedicating six days a week to introducing you to new artists and budding favorites. With interviews and GIF portraits done down at SXSW, NYLON's Month of Music is an exercise in finding aural pleasures outside of the Top 40. It's an exercise in challenging you and ourselves to not stick to one genre. But above all, it's a celebration of bold voices and sheer talent. Enjoy.
The queer rap scene experienced a watershed moment in 2012. New York City and the rising social media clout of downtown's LGBT club scene helped amplify artists like Mykki Blanco, Azealia Banks (never forget "212"), and Zebra Katz to new, influential heights. With his runaway smash "Wut," Le1f was among the top tier. Six years, three mixtapes, two EPs, and one very recent debut LP later, Le1f is basking (or voguing, you never know) on top. Everything he does is two steps ahead of everyone else. "Koi," his 2015 summer banger, saw the rapper link up with electronic producer du jour SOPHIE, months before Charli XCX's SOPHIE collaborations surfaced. His debut LP, Riot Boi, is personal, political, a little campy, and forward-thinking. It should go without saying, it's dance floor magic, too. That's the mad genius of Le1f—a rapper with the keen ability to fuse downtown cool with politics, ballroom culture with tongue-in-cheek fun. Though it can't be proven for sure, he's been to the future, and now he's taking us there too. That's "wut's" up.
What song of yours fits the following situations?
Getting ready in the morning?
"Spa Day," because I take really long showers.
Me time?
"Chops." I love my instrumentals. If it's me time, I need to not hear my own voice.
Hooking up?
Probably also "Chops," so I don't hear my own voice.
Can you recall a moment in your life—whether it's a song, a show, a video—that convinced you, you wanted to be doing music?
M.I.A.'s "Galang."
What about it?
I just remember seeing the video for it and thinking the way she incorporated so many mediums into a pop-rap-avant-garde thing was really cool. I was really into her printmaking, as well; so that really stuck with me. It really inspired me to make all the things I wanted to do into one musical project.
You saw that it was possible.
Yeah.
If any artist, dead or alive, could cover your music, who would you want it to be?
Rae Sremmurd
Have you ever been starstruck?
Yes. Björk came to one of my shows about a year or two ago, and I forgot all the words to a verse in a song, ran off stage, and I had to fix myself before going back on.
Did you meet her afterward?
Yeah, yeah definitely. It was awesome. She's amazing.
What was she wearing?
She was wearing—I don't know if it was neoprene or something like it, but it was very like… if a geodesic dome house was made out of white and lime green plastic, you know? But like a mini dress.
At the end of the day, how do you wind down and ground yourself?
I smoke and pirate television.
Photographed by Kara Smarsh