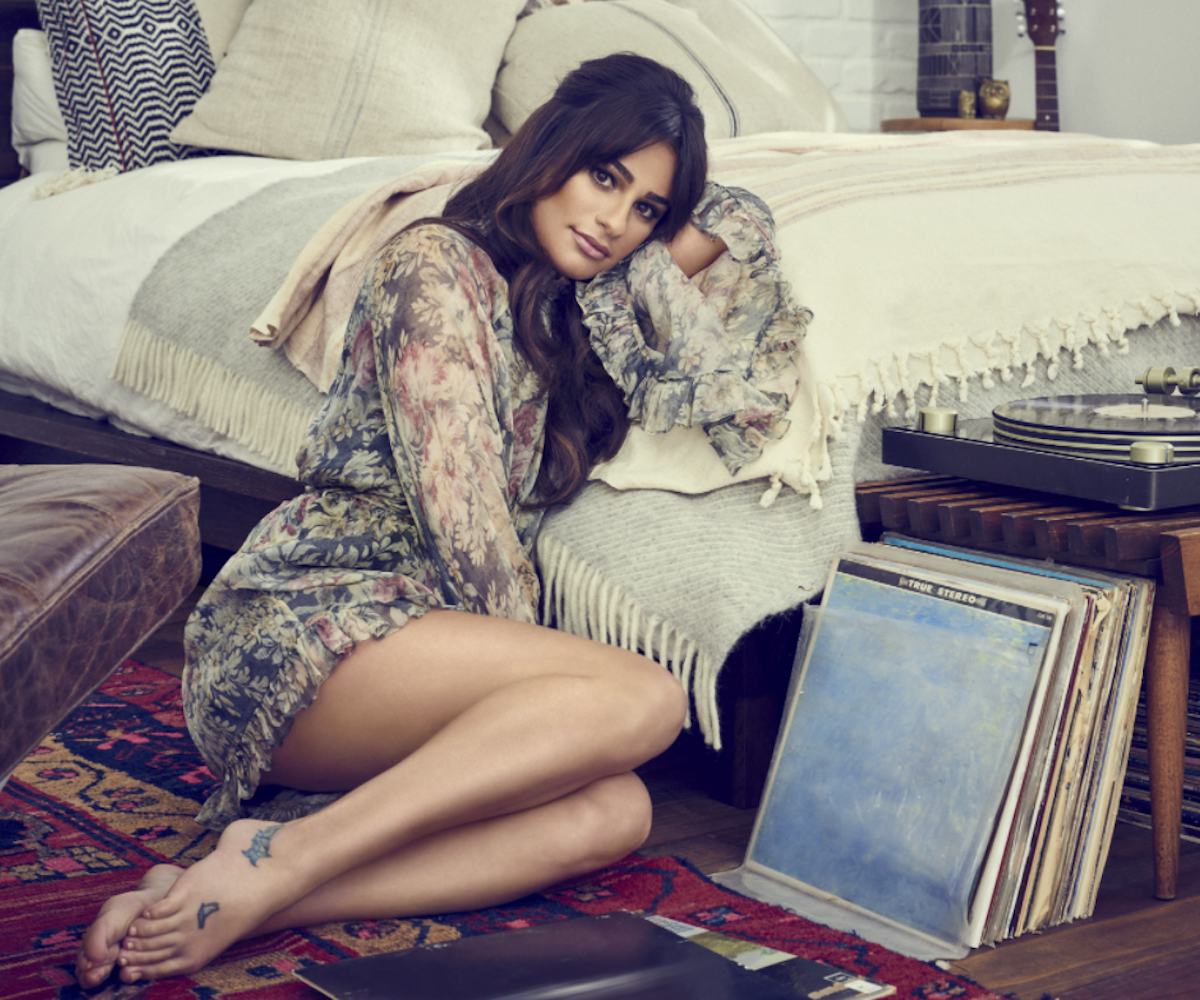 Eric Ray Davidson/Sony Music
Lea Michele Finds Her Voice On 'Places' And Channels Her Inner Céline Dion
"I hope that these songs give people the strength that they've given to me"
Though she's only 30, Lea Michele has pretty much done it all. She began her career on Broadway at the age of eight (where she spent 15 years of her life), then transitioned into TV playing lead characters on the hit series Glee and later Scream Queens (which we're crossing our fingers will be renewed for another season), and made her debut album Louder in-between. It's clear that the singer-actress' life is her art and vice-versa. 
While her first record strived to be more mainstream pop, Michele has taken a different approach on her sophomore album, Places. Instead of striving to be the next Britney Spears or Ariana Grande, Michele focused on what came naturally to her, what she enjoyed the most and what showed her most authentic self. Michele wanted the focus to be on the strength of her vocals for her second LP. Taking cues from Barbra Streisand and Adele, Michele crafted a record that sounded like her, something that would be representative of her ability to perform. Along with the central focus on Michele's voice, she centered Places around personal anecdotes that she could share with her audiences during her performances, since her fans are so important to her. And at the heart of it all, is the concept of love in all its forms, something Michele dives into with her powerhouse vocals on her 11-track album.
Places comes out today, April 28, and before its release, we caught up with Michele about not making a pop record, collaborating with Darren Criss, and whether or not she'd head back to Broadway. 
You had said this record was more of a Céline Dion-esque record. How do you think it will resonate with your fans?
For me, I think that when I made my first record it was obviously a little more pop-heavy. Taking this turn into making a new album that's focused on my voice, that's similar to the records that I used to listen to growing up, like Barbra Streisand and Céline Dion, it definitely comes with a lot of nerves because it's not the traditional pop route everyone is taking. It's a risk, but I really wanted to be true to myself and hope that my fans love it. I think there is this desire in me for people to hear good singers and good voices. I hope that they love it. I think when people listen to it they're going to be like, "That's Lea Michele. That's the voice I've been wanting to hear." 
Do you regret releasing Louder?
Not at all! I still listen to Louder all the time. At the end of the day, I regret not having enough time to promote it or perform. This is what I do. This is what I was born to do. That's why even releasing Places, I've started doing live performances to show people that this is what I love the most. I really love it, and I'm proud of it. It means so much to me. Like everything in life, you move on to the next thing and make better choices and with that education and you can only grow and become better. 
You said at the listening party that this record is a lot more personal for you. In what ways will we see that?
I think it's the most personal because I really sound the most like myself. It's more vulnerable for me. I talk about a lot of things on this record, there are a lot of songs about love. Even if I didn't write the song, I contributed to the concept, everything came from group writing sessions, where I'd tell these stories about my life. That's where all of these songs came from. I didn't want to put anything out there that I couldn't perform or talk about that's so true and personal to me.
What were you listening to when you made Places?
Just the record. I can get influenced by different sounds and you can hear that in my first record. That's why when I was making this album it was important for it to sound like me and no one else. I couldn't listen to too much without it blurring the lines for me. Personally, I listen to tons of music though.
One of the most devastating parts of your life was losing your ex-boyfriend and co-star Cory Monteith. Did that play into this record?
I think that with that subject... at the end of the day, when I say one thing people make it into 100 things, so I try to keep a lot of that stuff pretty personal.
In a perfect world, when we talk about legends, who would you want to be compared to?
I think at the end of the day there are so many incredible performers. For me, I'm so inspired by women who have the ability to stand there and sing and have the greatness of their performance focused on the sound of their voice. I just went to Adele's concert and was in awe of how she commanded her performance. If I could do something like that, I would be so pleased.
Do you plan to focus on your music the rest of 2017?
Yeah! I'm also working on another television show right now, an ABC pilot. But I'm so excited about these tour dates I have coming up. I want to play as many places as I can before I go back to either Scream Queens or this new show.
How did Places become the title of the record?
The album is really coming back to my form, my true self and my true sound. I grew up on Broadway and one of the biggest broadway references is 'places' at the top of the show. It's what's said over the intercom before it's time to go onstage. For me, it means showtime. It's going back to who I am and where I'm from.
What will surprise fans on Places?
I really think I pushed myself beyond what I thought could do vocally I think some songs are more vulnerable than others. I thinkm at the end of the day, I hope people say, "That sounds like Lea Michele. That's a Lea Michele record." That's really my biggest goal here.
Would you ever make a straight-up pop album again?
I kind of think that's like saying how would you raise your next child before you even have one. I think I learned a lot from my first record that I applied to my second one. I'm so happy with this one that I have to give it all of my attention before I think about the next thing. Maybe I will find another sound, but I think you have to step away to get inspired. It took me three years to make a second record. Maybe the next one won't. Who knows?
Do you see yourself going back to Broadway?
I get asked that a lot, and I would absolutely love to get back to Broadway. Broadway is the hardest thing you can do. I consider it such an accomplishment that I was on Broadway for so many years. Right now I'm just focusing on my album, but if Broadway were to call, I'd be there in a heartbeat. 
What's your advice for up-and-coming artists?
I think it's so cheesy, but you have to just be true to yourself. You're going to be encountered by so many people giving so many pieces of advice. At the end of the day, you're the one you have to be comfortable with. When the lights go down, you're the one on the stage. 
What was it like collaborating with Darren Criss again on your album?
It was so incredible. I adore him; he's such an awesome guy. After Glee, we all stepped away to work on our own things. We're all obviously still close friends, but we all focused on our own stuff. We just thought it was a good time to do something together. We just wanted to do something for our fans. We both feel so grateful to be where we are, and we wanted to reminisce on such an important time in our lives. 
Were there any songs you were on the fence about putting on the record?
There wasn't anything I was going to put on the record that I didn't feel was 100 percent right. Again, it took three years to make the album—some things got added and some things got cut. "Love Is Alive" is the first song I recorded for Places, and it's the first track on there. I feel really confident in the album, and they all represent me. They all have different stories and if you come to my concerts that's where I break down what the songs mean to me and what the backstories behind them. It's cathartic and kind of like therapy in a sense. 
How do you hope this album will help other people because it's been so cathartic for you?
For me, I've been placed in this position as a role model for some of my fans. It's not a position I take lightly—I hold it with a lot of respect and be the best role model can be. With this album, I made sure these songs were inspiring and had a lot of light and hope to them. When I heard "Anything Is Possible," I knew it had to be on the record because it's so inspiring. I think my first record has a lot of heaviness to it, but even on some of the darker songs, there is light underlying theme on the entire record. That makes me really proud. I hope that these songs give people the strength that they've given to me.