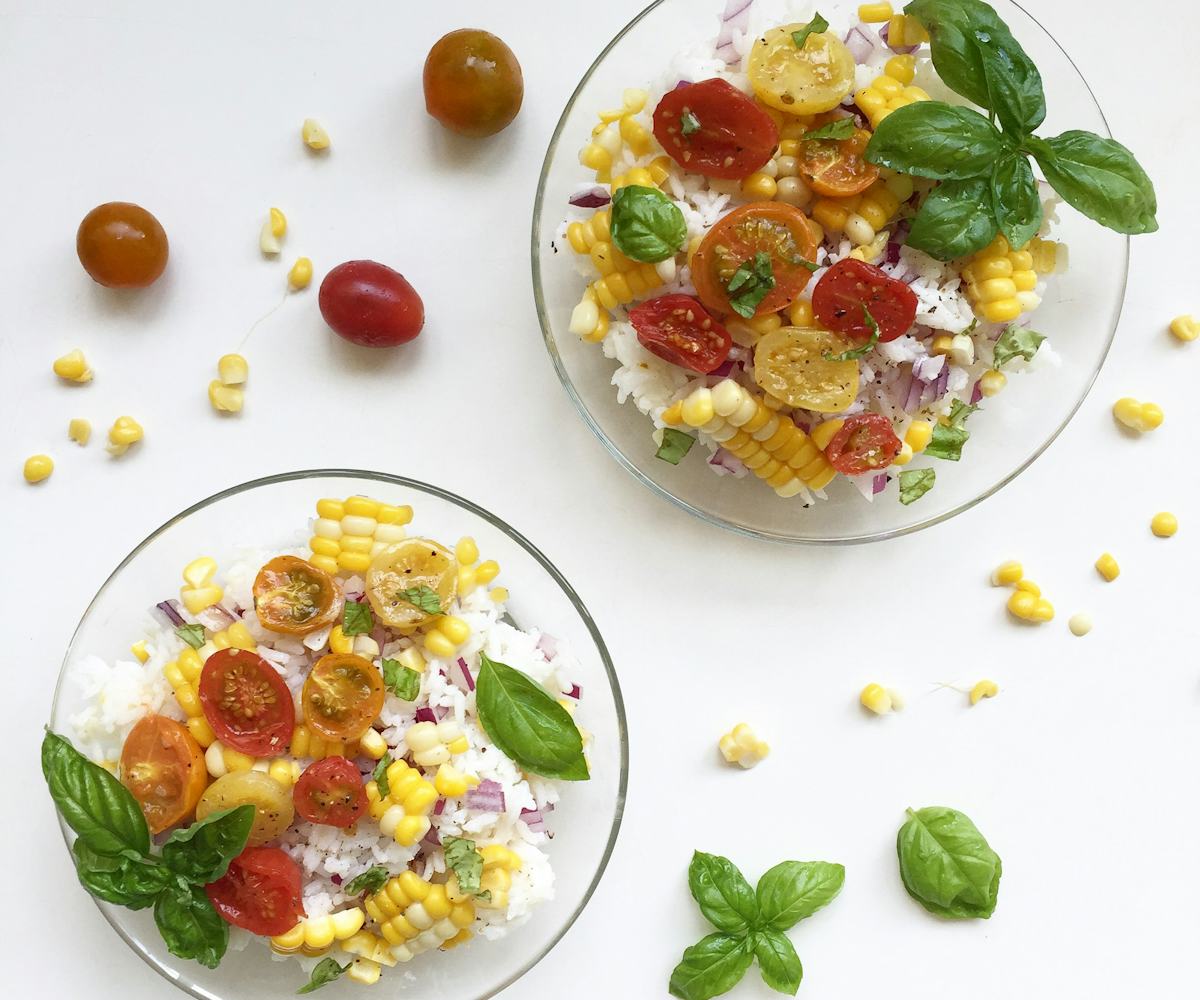 Photo by Brittany Bennett
Three Delicious Ways To Use Up All That Leftover Rice
For when you're all out of ideas
It's a workweek night, and there's next to nothing in your pantry but the sack of rice you use more for DIY home workout weights than meals. But when the Seamless order minimum is too high for one person, it's that five-pound bag of rice that will provide your next meal.
We buy rice with the best intentions. To be healthy (and maybe experiment with making our own sushi) or to save on those biweekly dinner splurges. But things come up, and spicy tuna is best left to the professionals anyway, and so the bag of rice settles into the far, dark corner of the pantry.
You might not know what to do with it or how to dress it up, but there are plenty of easy ways to turn grains into gold for breakfast, lunch, and dinner. Served hot, warm, or cool, it's simple to transform rice into key elements featured in sandwiches or salads. 
We promise you'll be out of rice before you know it and might even stock up on two bags during your next grocery trip. (One for weights and one for cooking, obviously.) Find some inspiration in the gallery below.
Rice Salad with Old Bay Corn and Roasted Tomatoes
Ingredients:
1 cup roasted cherry tomatoes, halved
2 tbsp olive oil, divided
1 tbsp Old Bay seasoning
1 ear of corn, boiled
2 cups cooked rice
juice of 1 lemon
zest of 1 lemon
½ red onion, diced
basil leaves, to garnish
salt and pepper, to taste
Directions:
Pre-heat oven to 420 degrees F.
On a tinfoil-lined baking sheet, toss cherry tomatoes with one tablespoon of olive oil, salt, and pepper. Bake for 15 minutes.
Meanwhile, bring a pot of water to a boil with salt and Old Bay. Carefully lower the husked ear of corn into the boiling water and cover. Let cook for five minutes. Once cool enough, remove kernels with a sharp knife.
In a serving bowl, mix rice with the remaining tablespoon of olive oil, lemon juice, lemon zest, salt, and pepper. Top with roasted tomatoes, boiled corn, red onion, and basil.
Acorn Squash Rice Cakes
Yields Four Rice Cakes
Ingredients:
1 small acorn squash
1 cup cooked rice
2 tsp parmesan, freshly grated
1 tsp rosemary, minced
3 tsp sourdough breadcrumbs
1 tbsp olive oil
salt and pepper, to taste
Directions:
Pre-heat oven to 375 degrees F.
Slice acorn squash in half, scrape out seeds (but keep to roast for later!), brush lightly with olive oil, and season with salt and pepper. Place flesh side down on a tinfoil-lined baking sheet and roast for 45 minutes. You should be able to pierce the squash easily with a fork when it's ready.
Once cooled, scrape squash flesh into a mixing bowl and mash with a fork until little or no chunks remain. Add rice, parmesan, rosemary, breadcrumbs, salt, and pepper. Stir with a spoon until combined. Shape into pucks.
To a skillet over medium-high heat, add olive oil. Cook cakes until browned, about 5 to 6 minutes per side. Serve on a bun or with a salad.
Sausage and Egg Fried Rice
Serves Two
Ingredients:
1 tbsp vegetable oil
½ red onion, sliced into half moons
1 breakfast sausage link, cut into pieces
2 cups cooked rice
1 egg
2 tbsp soy sauce
1 tsp sesame oil
Green onions, to garnish
Directions:
Over medium-high heat, add olive oil and red onions to a skillet and cook until translucent. Add sausage and cook through.
Toss in rice, breaking up any chunks with a spatula, and cook until starting to crisp, about 2 minutes. Push skillet contents aside and crack an egg into the skillet, scrambling it until done. Combine everything together.
Add soy sauce and sesame oil, and stir until everything is covered evenly.
Serve with sliced green onions.