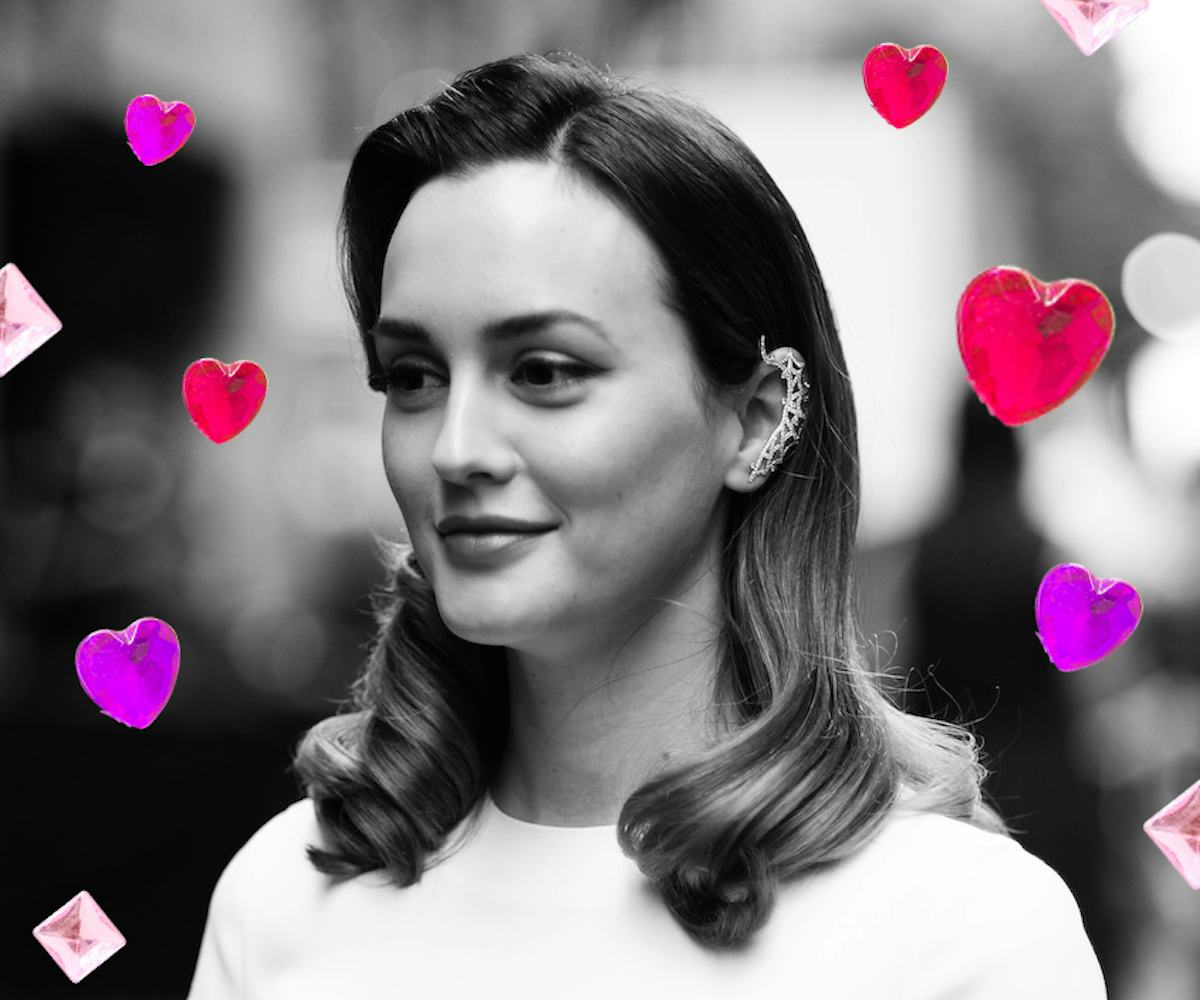 photo via getty
leighton meester's life advice is the best
+ she's all about the girl power
When your introduction to the hearts and minds of Americans comes in the form of an acid-tongued, unscrupulous Upper East Sider who takes pleasure in bossing around her maid and playing with the lives of others, you've immediately got a hard sell. But it has been two years (almost...the anniversary is in December) since Gossip Girl went off the air, and in that time, Leighton Meester has had a lot of practice shedding her Waldorfness. A bunch of indies, an award-winning movie, and an IRL marriage later, Leighton's in sharp contrast to the back-stabbing, deliciously devilish Blair. The fiercely protective star has no interest in being known as a "former Gossip Girl," and as her singer-songwriter predilections prove, Leighton's about as down-to-earth and DIY as a famous person can be.
Yet, it was this year, during her stint on Broadway for Of Mice And Men, that we got to see another side of an actress who has spent her career showing us new facets of her work: Leighton, the feminist thinker. Her intellectual unpacking of the feminist subtext of Steinbeck's work for Huffington Post was incredible, and it proved that Leighton wasn't just a woman to be watched, but a voice to be heard, as well. Because she has so many notable quotables, here are the 9 best, empowering pieces of advice Leighton has given. Take them all to heart, because, well, Blair wouldn't...
Hear more from our November cover star here.
1. "It's so important to always be yourself. If you do that, you will be successful as you, instead of worrying about trying to conform." You Know You Want It: Style Inspiration-Confidence by Eric Daman
2. "If this woman is purely a victim, why is she so hated? And if she is truly harmless, why is she so threatening? Without question, it was a commentary on the social climate at the time, which still surprisingly applies today. But if sexism is one of the featured themes, why not say it?" (I'm Not a Tart: The Feminist Subtext of Steinbeck's Of Mice and Men)
3. Who is your role model and why? "The American writer Betty Friedan — she fought for gender equality and wrote the great book "The Feminine Mystique" which sparked the beginning of a second-wave feminism." (OOTDmagazine.com)
4. "But why is Curley's wife's presence so disturbing? And why does the audience agree? It's the subconscious and inflammatory nature of Steinbeck's writing that makes the viewer join in on the bashing of this woman, punish her existence, snicker at her mishaps. The genius and relevancy behind Steinbeck's mission in writing this piece is that, to this day, it forces you to see yourself, to expose the depth of your own intolerance, prejudice, cruelty, and naiveté." (I'm Not a Tart: The Feminist Subtext of Steinbeck's Of Mice and Men)
5."You can take what is handed to you and use it as an excuse to mess up. But I've always handled what was given to me by life. I consider myself lucky. I was never lied to. And I was loved." (Marie Claire)
6. "It's changed everything for the better. It's different, but I'm happy. This is the best life that I could ask for, and it's more than I thought it could be. I remember looking through magazines or watching movies even just a couple of years ago and being like, 'I really want to be part of that,' but not realizing what that was. I didn't understand it and now this is my life and it's so funny! I couldn't be happier." (E! News)
7."The way I become friends with somebody is a slow process. You can't just spill your guts and tell them everything about yourself and expect them to listen and understand you because you don't know them. It's the same thing with a relationship." (seventeen)
8."Any fear of aging, I think, is simply vanity," she says. "Because what comes with age is so many wonderful things: wisdom, understanding.... Every year, I'm always happy to be done with the previous age." (Harper's Bazaar)
9."There's something to be said for talking about feminism as it comes from within. It's a total topic of discussion with my friends, how, as you grow up, as you get to know yourself, as you start to have the consciousness to have self-respect, self-confidence, and really make your own decisions, it's undeniable and unavoidable that you will start to agree with the feminist point of view." (Cosmo.com)