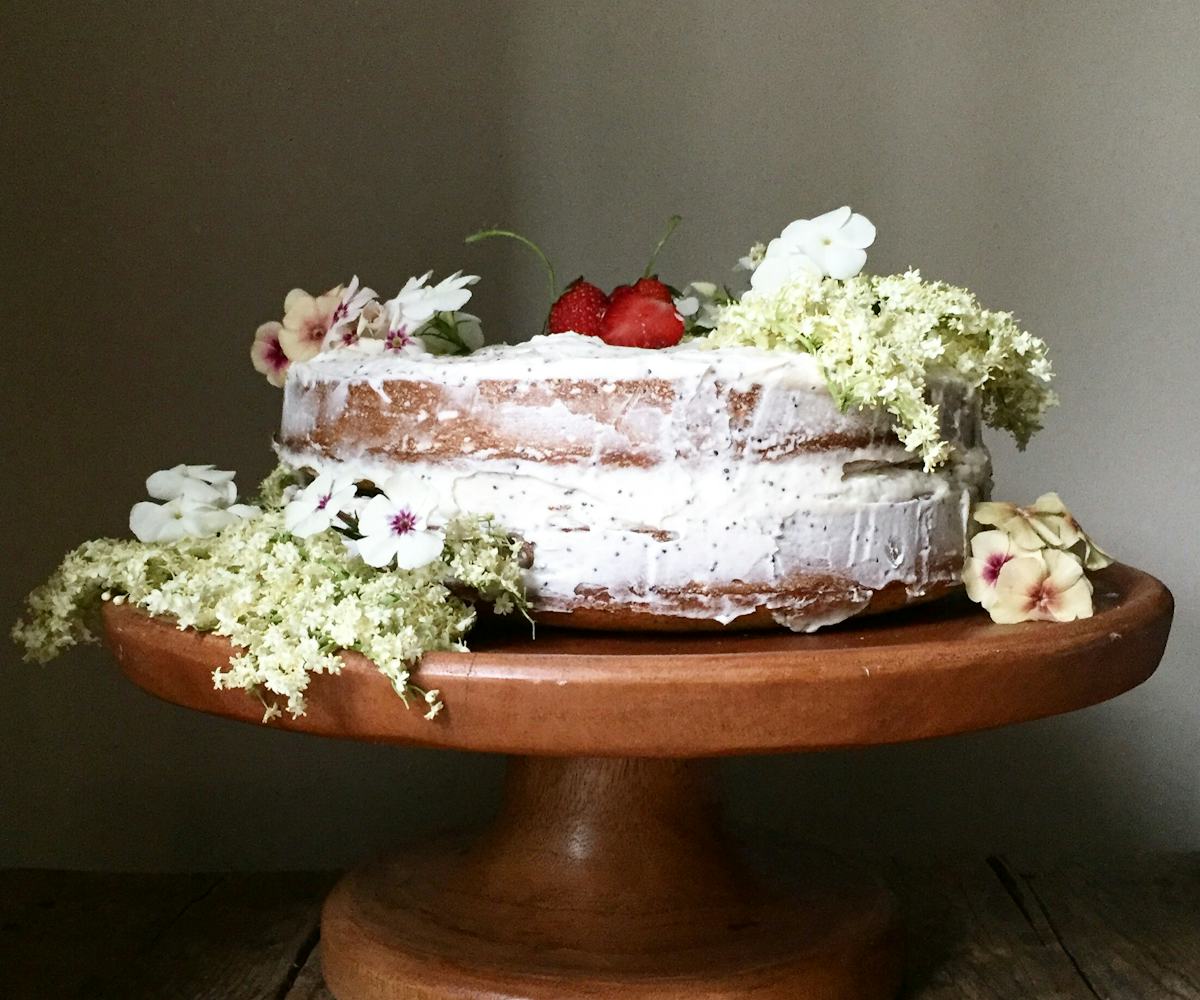 Photo by Brittany Bennett
Life Gave Us Lemonade, So We Turned It Into Lemon Cake
Nothing says summer like a scoop of ice cream plopped on a cone. Streams of chocolate flood down your forearm as you try, unsuccessfully, to eat it all before the heat wave turns the scoop into soup. Life is sweet. And while we love the melted mayhem, we think we know a way to make life sweeter mess-free this summer.
Lemon poppy seed cake is basically baked lemonade. And what's better than guzzling a glass of lemonade and releasing a sigh announcing your quenched thirst? The sour punch of lemon combined with the sweet pinch of sugar creates a flavor balance so harmonic, you'll literally sing "mmmm" after each bite.
The preparation of this cake may be a little more involved than stopping by your local ice cream shop, but at least your hands won't be sticky. Measure ingredients beforehand and be the sous chef of your dreams. Crack the eggs into one bowl, put the flour mixture in another, and the liquid ingredients in a third, and you won't end up wearing too much food in your hair by the end of it all.
Hit your sweet spot by giving this cake a try with the recipe below.
Double Lemon Poppy Seed Cake
You will need a hand mixer or stand mixer to make this cake. If there's not one stowed away in your pantry, you can easily purchase one on Amazon or ask your neighbor to loan you theirs. (With the promise of a slice, of course. It's all about manners, people.) 
Ingredients
2 ¾ cups of cake flour
1 tsp baking powder
½ tsp baking soda
¼ tsp salt
¼ cup poppy seeds
¾ cups buttermilk
¼ cup lemon juice
1 tsp vanilla
2 sticks butter, softened to room temperature
1 cup granulated sugar
½ cup brown sugar
zest of 2 lemons
3 eggs
3 egg yolks
For the Lemon-Poppyseed Buttercream Icing
1 ½ sticks butter, at room temperature
4 cups confectioner sugar
Juice of 2 lemons
2 tbsp poppy seeds
Directions
1. Pre-heat oven to 350 degrees F.
2. In a medium sized mixing bowl, combine cake flour, baking powder, baking soda, salt, and poppy seeds. Whisk until all ingredients are thoroughly combined.
3. In a separate mixing bowl, combine the buttermilk, lemon juice, and vanilla. Set aside.
4. To the bowl of a stand mixer, or a large mixing bowl if using a hand mixer, add the softened butter, sugar, and brown sugar. Mix on high until combined. It should be smooth and light in about 3 minutes. Make sure to scrape the sides of the bowl with a rubber spatula so that no bit of butter or sugar is left behind. After combined, fold in the lemon zest.
5. Once the butter mixture is ready, add the eggs one at a time followed by the egg yolks one at a time. Keep scraping the sides of the bowl so everything gets mixed in. Mix on high for 3 to 5 more minutes, until everything is incorporated and the batter begins to come together.
6. Reduce the mixing speed to medium and add 1/3 of the flour mixture. Add 1/3 of the buttermilk mixture after that, and continue adding in these intervals until everything is combined. 
7. Grease two 9-inch cake pans with cooking spray and line the bottom with parchment paper. Split the batter between both pans. 
8. Place in oven and let bake until done, about 40 to 45 minutes. 
9. For the icing, in the bowl of a stand mixer, or a large bowl is using a hand mixer, combine butter, sugar, lemon juice, and poppy seeds. Mix on medium until completely combined and light. Add more sugar if necessary, ¼ cup at a time, until desired consistency and taste. 
10. The cake will be done when you stick a toothpick into the center and it comes out clean. Let cool in pans or invert onto a cooling rack. Once completely cool, ice, slice, and serve.