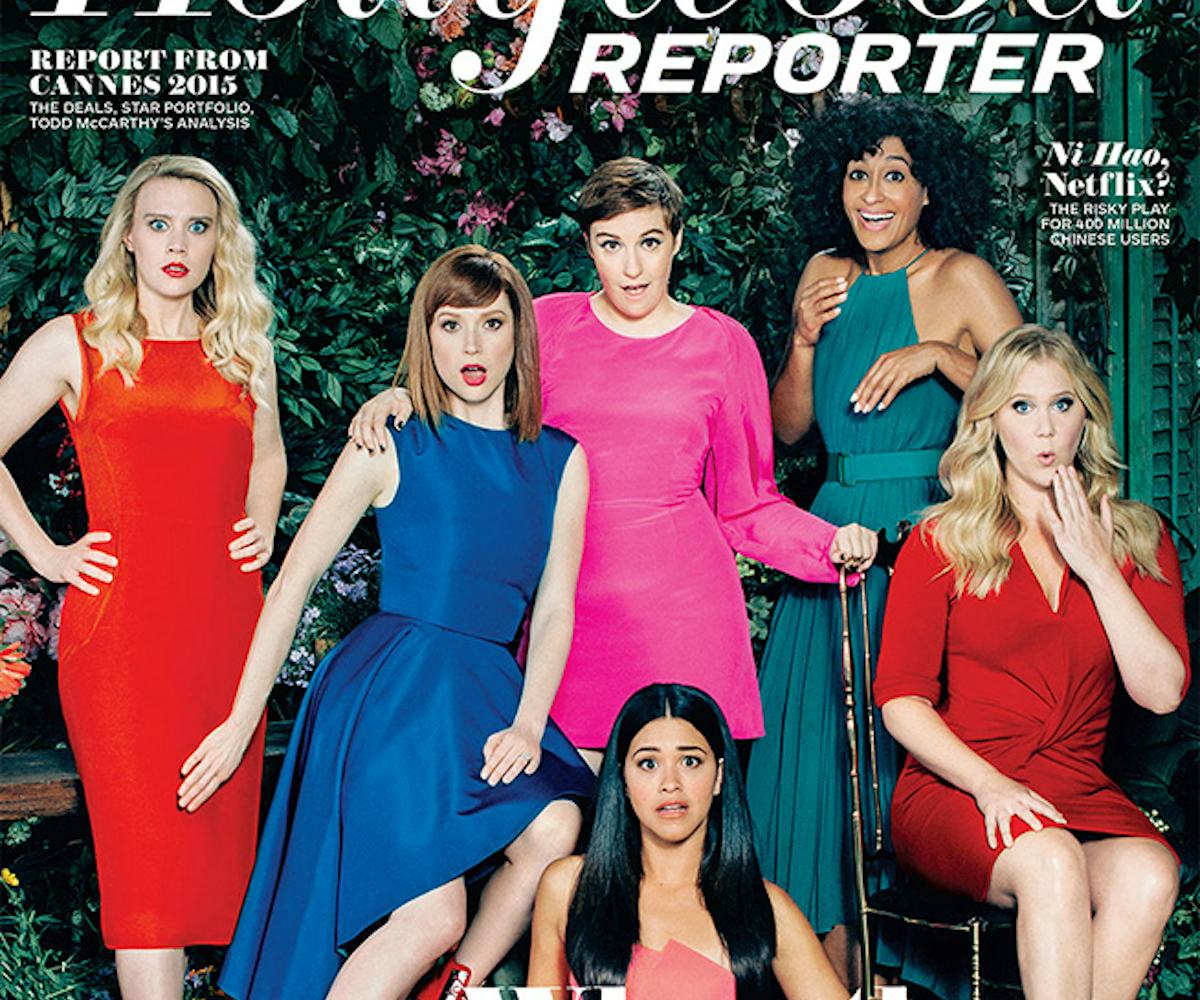 photo courtesy of the hollywood reporter
your fave female comedy stars have a conversation for the ages
inspiring, hilarious, and depressing
Take a bow, Hollywood Reporter. For their June 5th issue, the entertainment magazine put Lena Dunham, Amy Schumer, Ellie Kemper, Gina Rodriguez, Kate McKinnon, and Tracee Ellis Ross in a room together and let the magic happen. What THR is dubbing a "raunchy, R-rated roundtable,"—which it certainly is—is actually so much more. The women—who have all enjoyed career years—engage in a sprawling conversation that touches on sex scenes, racism and sexism in Hollywood, social media, the lack of women in late night, income inequality, Hillary Clinton, and fame.
Among the highlights—or lowlights—are Lena Dunham putting a male costar on blast for gross comments he made on set ("He's the worst person alive. I hope he reads this, which he won't because he's drunk.") and Amy Schumer describing her swift rise to fame ("Three years ago, I'm begging for half-off potato skins, and now I'm like, "This jet is wack."). Rodriguez and Ellis Ross also dropped serious knowledge on what it's actually like being a woman of color in the industry, and in spite of their success, it's not great (obviously):
RODRIGUEZ I remove myself instantly if something's perpetuating a stereotype. But the only way to stop stereotypes is to say, "I'm going to wait for a journey that suits me."
DUNHAM I got into Jane the Virgin after reading your early interviews. You were obviously grateful, but rather than going, "I'm so lucky to have this part!" you took back the power and said, "I waited for something that spoke to me as a Latina and didn't feel like I was compromising."
RODRIGUEZ When you compromise, you don't do your best work.
ROSS I can't sleep at night.
RODRIGUEZ You're only left with your integrity. You can't take those Jimmy Choos with you!
SCHUMER [To Ross and Rodriguez] I never thought how bad it could be for you guys until I had a TV show and we had to do auditions. Many black women who auditioned thought that we wanted them to be "sassy."
RODRIGUEZ "Get me someone more urban!"
SCHUMER We're like, "No, just be yourself." I thought: That sucks. It meant they'd been in a lot of rooms where they were like, "Uh, can you be more like (snaps her finger)."
ROSS Hey, I don't sound like that.
And in case you're too lazy to read, the entire discussion was captured on video, a snippet of which you can watch below.