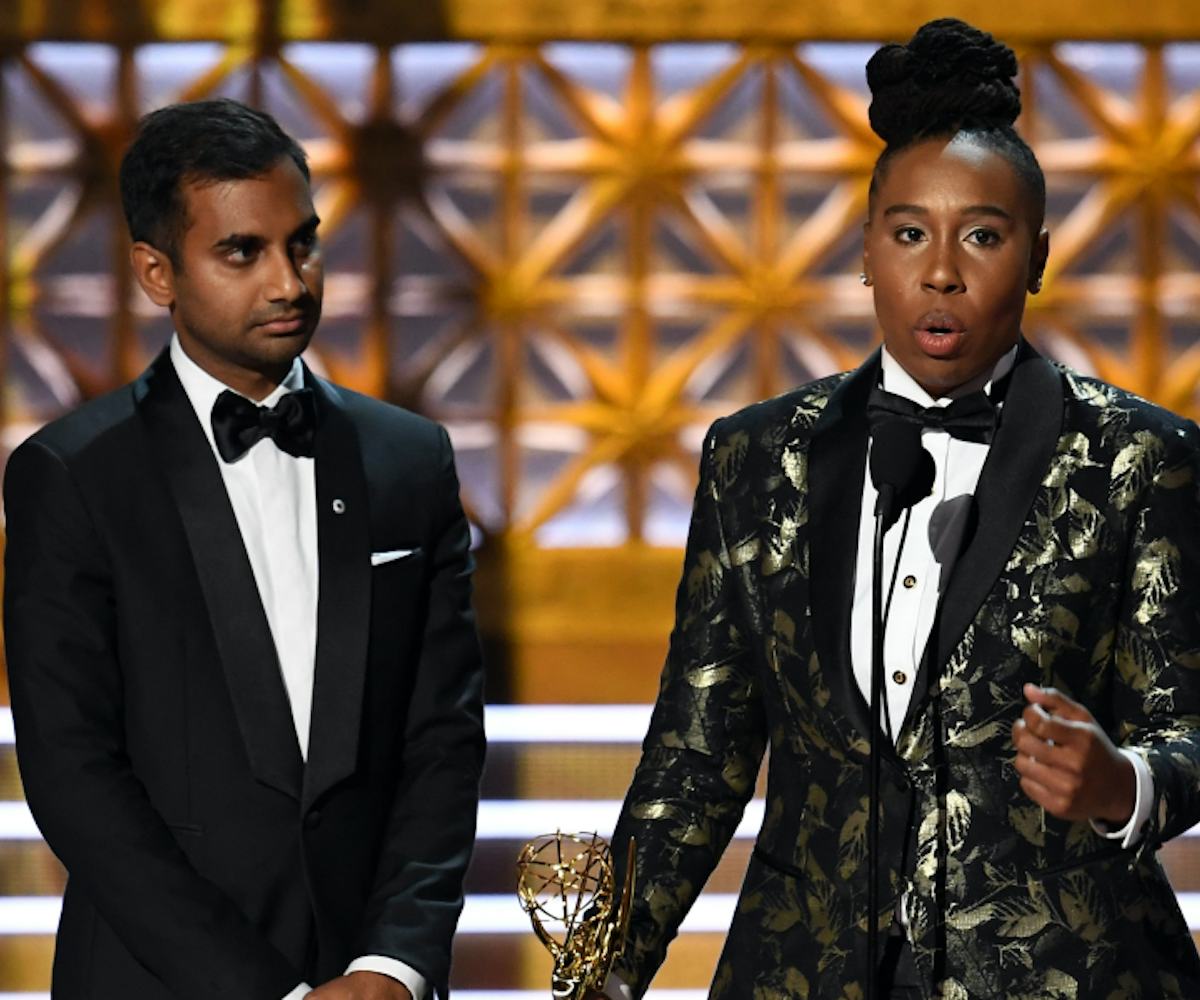 Photo by Kevin Winter/Getty Images
Lena Waithe, Amy Schumer Respond To Allegations Against Aziz Ansari
"It's not always black and white"
Days after Diane Keaton once again stood up for Woody Allen (ugh), Master of None actress Lena Waithe and comedian Amy Schumer walked a tricky line when it came to discussing allegations against men they've been publicly associated with. Both shared comments about Aziz Ansari, who was accused of sexual assault last month. Waithe explained to The Frame why she doesn't believe it's a "black and white" situation:
"Here's the truth — in every situation, it's not always black-and-white. And I know that's simple for people, and it's easy for people to [ask], Whose side are you on? There are no sides, really, in some of these scenarios. I'm not on Harvey Weinstein's side, I'm not on Kevin Spacey's side. But I think you have to take each situation [individually]. You can't just say, 'Well, I'm on this person's team or I'm on that person's team.' It doesn't work that way."
She went on to say how society needs a "dialogue" and "codes of conduct" to help inform men who aren't "aware of the rules." 
Schumer had a related take in regards to Ansari, saying that "I think now there's no excuse" but she also went on to not-so-subtly blame women for giving men the wrong impression in the first place:
"I want to come up with a little bit of a code of conduct for us as women because I think a lot of men are really confused right now, and are like 'Wait, this has been cool for so long.' Our dynamic at the office, or the gym, or whatever, it's been...we kind of flirt. And we have all done this, we just flirt back with them so it's not uncomfortable. Or maybe we have some sort of advantage: 'Oh you know, this guy has feelings for me, so I kinda prey on that.' We've all been there. And we can't do that anymore."
Naturally men should be better-educated on reading consent, but guess what? That's not the responsibility of women. Waithe and Schumer want to establish more clear "rules" for men to follow, but women have been trying to enforce these rules—which basically come down to "treat us like humans"—for literal centuries. 
It's great that dudes are finally becoming aware of basic propriety, but it's not up to women to teach them to be human, or lay out a nice "codes of conduct" playbook. There's plenty of source material already around, and with a little self-education and introspection, men can figure out how to act themselves.