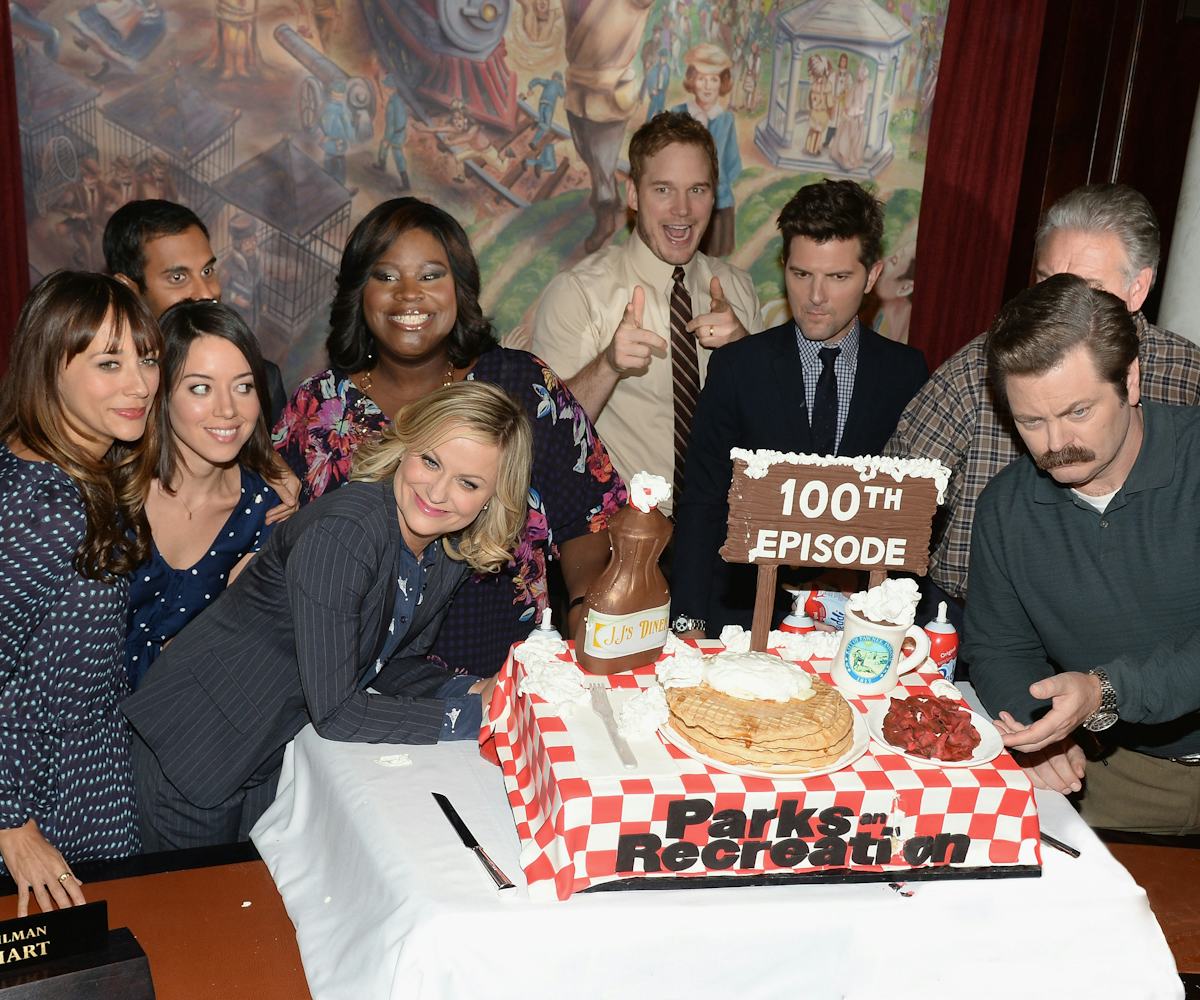 Jason Kempin/Getty Images
Leslie Knope Reminds The World "We Will Overcome"
A Parks and Rec writer took on the voice of Leslie Knope to comfort us amidst the madness of the 2016 Presidential Election
Many Americans have been living in a haze of confusion, dissapointment, frustration and sadness these past two days. As we all try to make sense of both what has happened and what is to come, it's been difficult to wake up from this comatose state of sorts, to genuinely smile and laugh, to channel a democratic resilience, or to feel a glimmer of hope. Here at NYLON, one of the comforting factors that has helped us through has been the resounding voices that have stood strong in calling out injustice, taking a critical lens to all that has been happening, and most of all, reminding us that we are not alone in the things that we believe and the ways that we feel. Voices we can trust—everyone from Samantha Bee to Van Jones to President Obama—have been instrumental in helping us through the last two days. Now, another voice—a fictional one—has been added to the mix: that of Leslie Knope.
Yep, that's right. Knope, of Pawnee, Indiana, head of the Midwest Branch of the U.S. Department of the Interior, main character of Parks and Recreation has some wisdom she wants to share with us all. Well, actually, a member of the Parks and Rec staff took to Yahoo to address the nation as Knope probably would have done the show still been on the air, including the mandatory reference to Knope's eternal Ann obsession.
In the letter, Knope starts by recalling a memory that stuck with her as a child, where the kids of her elementary school all voted for a T. Rex named Dr. Farts, full of empty promises, lewd jokes and disastrous plans for their imaginitive school president, beating out Leslie's preferred candidate, a well-read cartoon tortoise named Greenie. Astounded that her friends and fellow classmates could make such an illogical choice, Leslie learned a very important lesson that day, that "people are unpredictable and democracy is insane." We're with you on that one, girl.
But in utter-Knope fashion, "Leslie," pulls a 360 with a resounding "No. I do not accept it," vowing to "fight and reject" the bigoted narrative America has taken on, and to remind the little girls across this country that they "are going to run this country, and this world, very soon."
If there's one thing to remember, it's this:
He is the present, sadly, but he is not the future. You are the future. Your strength is a million times his. Your power is a billion times his. We will acknowledge this result, but we will not accept it. We will overcome it, and we will defeat it.
Not quite as good as a hug from our mothers, but perhaps it will do for the moment. Of course, it is important to remember that there is important work to be done beyond reading admittedly amusing letters to fictional characters. If you're upset about Trump's election, go out there and make a difference—protest, donate, console those who are in need. There's work to be done here.