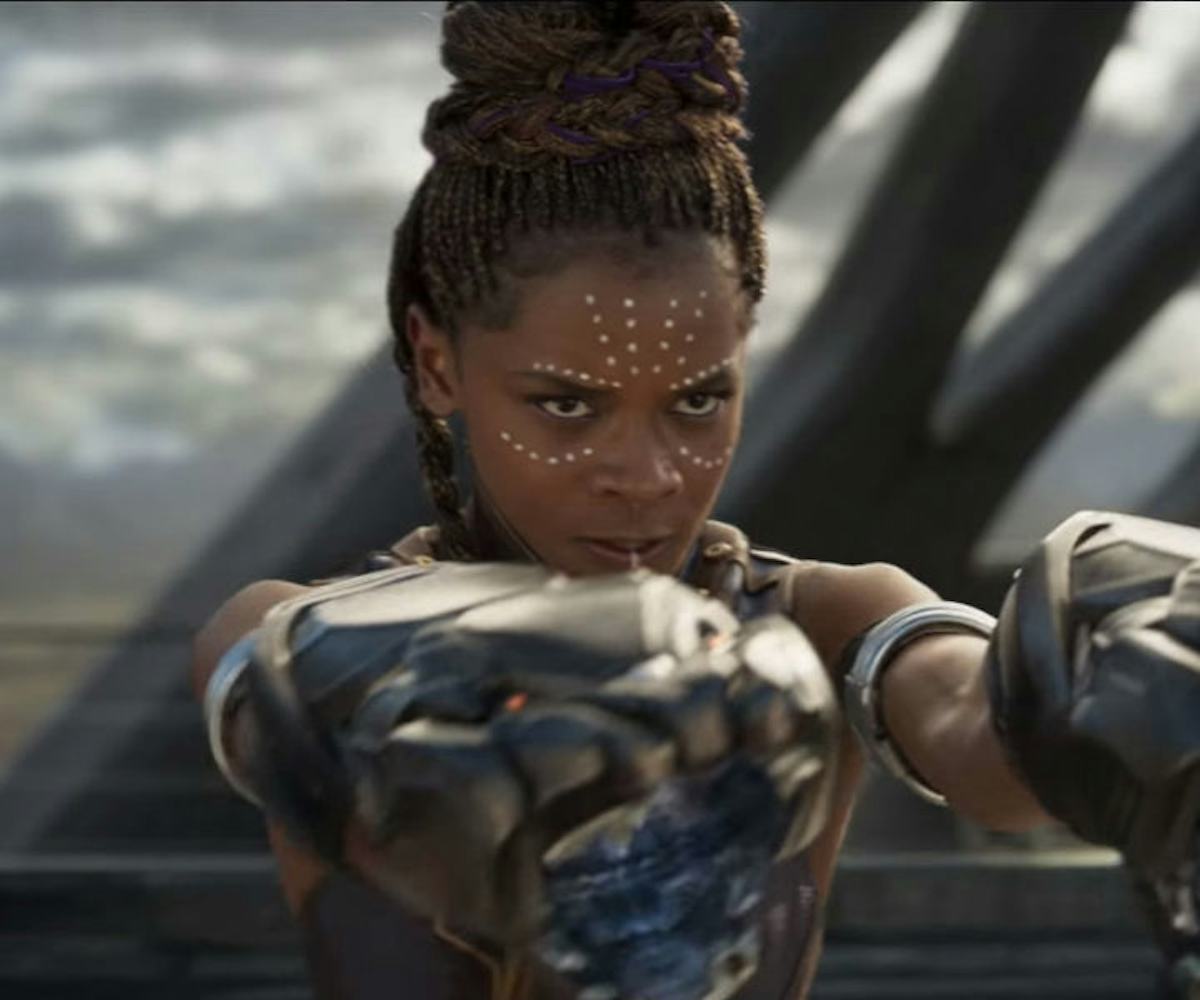 Letitia Wright Is Going To Be A Star
The 'Black Panther' actress shares how she plans on staying grounded
It's hard to write about Black Panther without giving parts of the movie away, but know this: You'll walk out of the film wanting to know more about Letitia Wright.
The Guyanese-born British actress plays Shuri, the sister to Chadwick Boseman's T'Challa (aka Black Panther), and though she's not the focal point of the movie, she manages to dominate every scene with her comedic timing and zeal. The movie is about the plight of Black Panther, obviously, but still, one thing is clear: It's the women of Wakanda who run the show. In fact, there would be no Wakanda without Angela Basset's guidance, Danai Gurira's warrior skills, or Lupita Nyong'o's stubborn pride. And there's definitely no Wakanda without the tech-savvy teenage princess Shuri, who producer Nate Moore has described as being the smartest person in the world—surpassing even Tony Stark and Peter Parker.
Prior to Black Panther, 24-year-old Wright mostly had British film credits to her name. She played the arresting Nish in one of Black Mirror's best episodes this season, "Black Museum." Before that, she starred in the indie film Urban Hymn, acted in the London play "Eclipsed" which was actually written by Black Panther co-star Gurira, and appeared in a handful of U.K. shows including Cucumber, Banana, and Humans. But Wright almost walked away from acting before her career took off. At 20, she took a break—even passing up a movie with Nicole Kidman and Elle Fanning—after suffering from severe depression. Christianity and her love of God helped, she says, pick up where she left off in 2015, setting the groundwork for landing a role in one of the biggest films of the year.
You've probably already heard a lot about Black Panther, and that's because it's really, really good. It's a thrilling, dazzling, marvel of a film that centers the black experience. It broke the Marvel record for most pre-sale tickets sold, has a 98 percent rating on Rotten Tomatoes, and is on track for a wild $165 million opening weekend U.S. debut. But what's Wright doing to prepare for her impending stardom? Stepping away from the spotlight. "As soon as it's out, I'm gonna disappear from everything for a while just to take things in," she tells us. We'll see her again soon enough, though, in The Commuter alongside Liam Neeson, Ready Player One, and Avengers: Infinity War, all out later this year.
Hopefully, we'll also see her at the forefront of her own feature film. In the comic books, Shuri succeeds her older brother and becomes the next Black Panther. When asked whether we could expect a Shuri movie, Wright says, "If that's a conversation that happens, it would be really, really cool." For now, though, she's awaiting the news of whether we're getting a Black Panther 2. Once that happens, we wouldn't be surprised if a Shuri movie is next in line.
Ahead, we speak to Wright about how her personality overlaps with Shuri, why a movie like Black Panther is so important, and how she's staying grounded.
How do you prepare for a role like Shuri, who's a fun, light-hearted character, versus someone more serious, like your character in Black Mirror?
They're two different stories, and they cause you to be in different mindsets. I feel like Shuri is serious about proving herself. So, I had to bring my own personality to it, because I would just be bouncing around on set, and picking on people, or picking on Michael B., so [Ryan] wanted some of that inside of Shuri as well. Like, people love the technology and medicine and engineering and all that stuff, but that's not me, that's all Shuri. I was able to add positivity to her, though, which is naturally in my own self—I try to be as positive as possible.
In comparison, some of the stuff that Nish has gone through, I've never gone through before. But I can take myself to that place where I can understand what she's about and why she feels those emotions. So, it varies, really. It's just pretty much trying to aim to tell the truth of each story.
Are you tech-savvy at all?
No, I'm not. There was a lot of cool technology during my time of doing the film, I researched a lot about it. There's a lot of things I want to get into a bit more, but, as of now, I'm good with the iPhone and my MacBook. As long as I can access Netflix, I think I'll be alright.
I didn't make this connection, but I read somewhere that Shuri is technically a Disney princess since Marvel is owned by Disney. Did you think about that when you were taking on the role? 
No! You can't think about those things or you won't get your job done. I'd probably be freaking out, like, "Oh my god, I'm a Disney princess!" So, if that's the truth, and Shuri is considered a Disney princess—because she is the princess of Wakanda—I guess that is very cool, and I hope that a lot of young girls can be inspired to like technology and stuff.
You've said that the film Akeelah and the Bee helped inspire you to pursue an acting career; what would it have been like for you to see a movie like Black Panther as a child? 
I think it would've been a wrap. Meaning, I would have been so confident—I would've walked like a queen, in probably primary school and nursery school. It would've definitely allowed me to see myself in a different way and have a little more confidence in myself. Yeah, it would've definitely inspired me a lot. I hope that's the same thing for young people right now that, when they see it, it really just takes them to another level of being inspired, and that bleeds into them figuring out their passions in life.
It's an important film for everyone, but especially for the younger generation. 
It's for everyone, no matter what your color is. Obviously, it's showing Africa in a different way, and that's something to definitely be proud of. Like, we're not gonna downplay that. But we definitely want everybody to go and have this experience because the story—the themes in the story—are so universal. It's not just about an African superhero running around in Korea or around the world, trying to help out. It's definitely got subject matters and characters that everybody can relate to.
Do you think you're prepared for the inevitable fame you're going to receive after the film comes out? Are you doing anything to prepare?
I guess I'm just really praying a lot and making sure I'm in a headspace where I'm really listening to where God wants me to go next. Also, really just staying close to my family. Being a bit more closed off, I guess, being a bit more reserved and really remembering that I came into this to tell stories and let that stay the reason why I'm doing it. And to not let the new wave of attention get to me, or make me feel anxious. Because, really, this movie is just what I've been doing all along, I've just been telling stories. It's just that this character is being recognized more than the other characters I've played. And it just means that more people are gonna watch my projects in the future.
So, yeah, I'm praying, I'm staying close to my family, my friends, and really remembering why I got into this in the first place. So that, when everything quiets down, I'm not like, "Oh my god, the attention is gone on and nobody…" Like, no, because I wasn't chasing that in the first place. I want it to just be like, "Okay, cool, next project. What's the next story I'm meant to be a vessel for?" I feel like that will keep me very grounded.