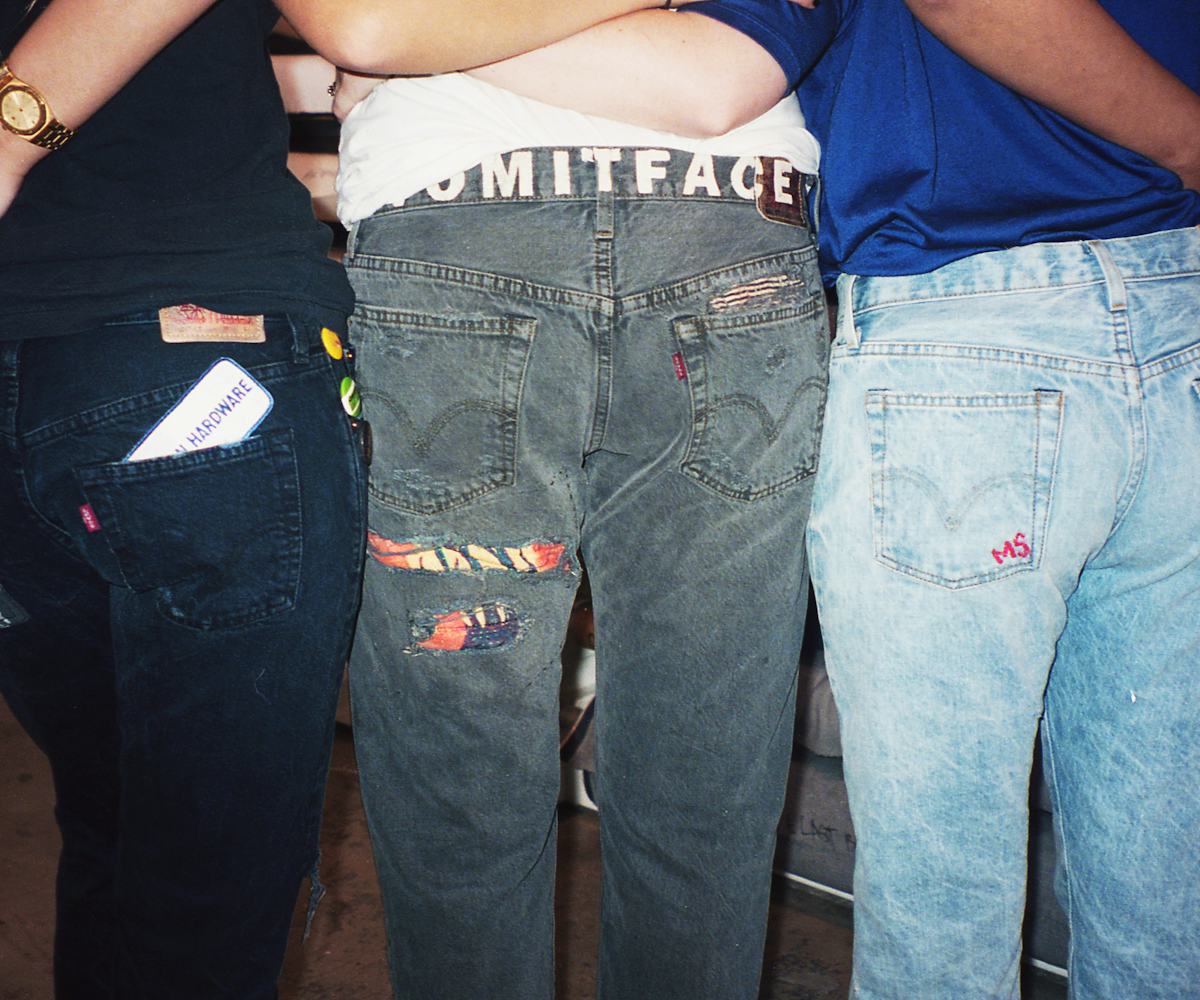 Photo by Hana Haley
this is how levi's makes its jeans
Inside Levi's Eureka Innovation Lab with our Editors
Like something straight out of science fiction, a laser beam slowly travels down the pant leg of a crisp blue jean, wisps of smoke billowing up off the surface and leaving behind a perfectly roughed-up look. Meanwhile, the denim washing machines nearby are generating ozone—O3 gas is a more powerful oxidizer than your basic bleach, and using it helps waste less water. Next door, pots of natural-fermentation indigo spill over like boiling stew. And across the room, a whole range of decidedly more lo-fi processes are taking place: a cluster of busy tailors sew away at their machines, swatches are strewn about for side-byside comparison, workers collaborate by the digital printing station, and rigid jeans are mounted on an inflatable mannequin contraption where sandpaper is applied by hand.
This is Levi's Eureka Innovation Lab, a breeding ground for creative ideas in artistic treatment and technology where the brand's product prototypes are made. To be clear, it is no factory—no automated lines or operators—rather, it is a place where a small team, headed up by director of global development Bart Sights, brainstorms and speedily brings to life technical, conceptual, and seasonal developments in fits, finishes, fabric, and prints. In layman's terms, the lab's staff is made up of a bunch of jean geniuses who play around with denim all day, test exciting new ideas, and ultimately create a sample product that can be tried out. Yes, they're living the dream.
Eureka is a relatively new establishment, opened in April 2013, just a short walk from Levi Strauss & Co.'s global headquarters in San Francisco. Before then, Levi's prototyping would happen mostly abroad at the company's facility in Turkey, or at vendor factories around the world. But the brand recognized the benefit of having such a space close to home; it would allow Sights and company to work more intimately with Levi's senior vice president of design Jonathan Cheung and his team, who come up with the specific product application ideas for the Eureka crew's innovations. "Think of Eureka as a music studio. We'll come here and see stuff and start to connect the dots—put a drum beat together with a melody, with a lyric. Eureka is where you play it, and you iron it out, do it over and over again," explains Cheung. "But even beyond production, Eureka is our heart and soul. It gives another spirit to the company; you can just feel the integrity of this place." He's absolutely right.
NYLON market director Preetma Singh, associate features director Lisa Mischianti, and associate market editor Marissa Smith got the exciting opportunity to visit this denimhead heaven and undertake their own next-level customization of a pair of spring'snew 501 CTs, a style derived from the world's first-ever blue jean, the 501, but which features a more tapered leg and slightly altered cut. Click through the gallery to see the exciting process and the awesome finished products.
Inside Levi's Eureka Innovation Lab
Imagine the denim possiblities.
We wish the NYLON Office looked this cool!
Editors Marissa, Lisa and Preetma looking at their raw denim before customizing.
BTS making of Preetma's custom jeans
BTS making of Marissa's custom jeans featuring Bart Sights Director of Global Development
BTS making of Lisa's custom jeans
Market Editor Marissa Smith's Custom 501 CT Jeans
Market Director Preetma Singh's custom 501 CT Jeans
Associate Features Director Lisa Mischianti's custom 501 CT Jeans