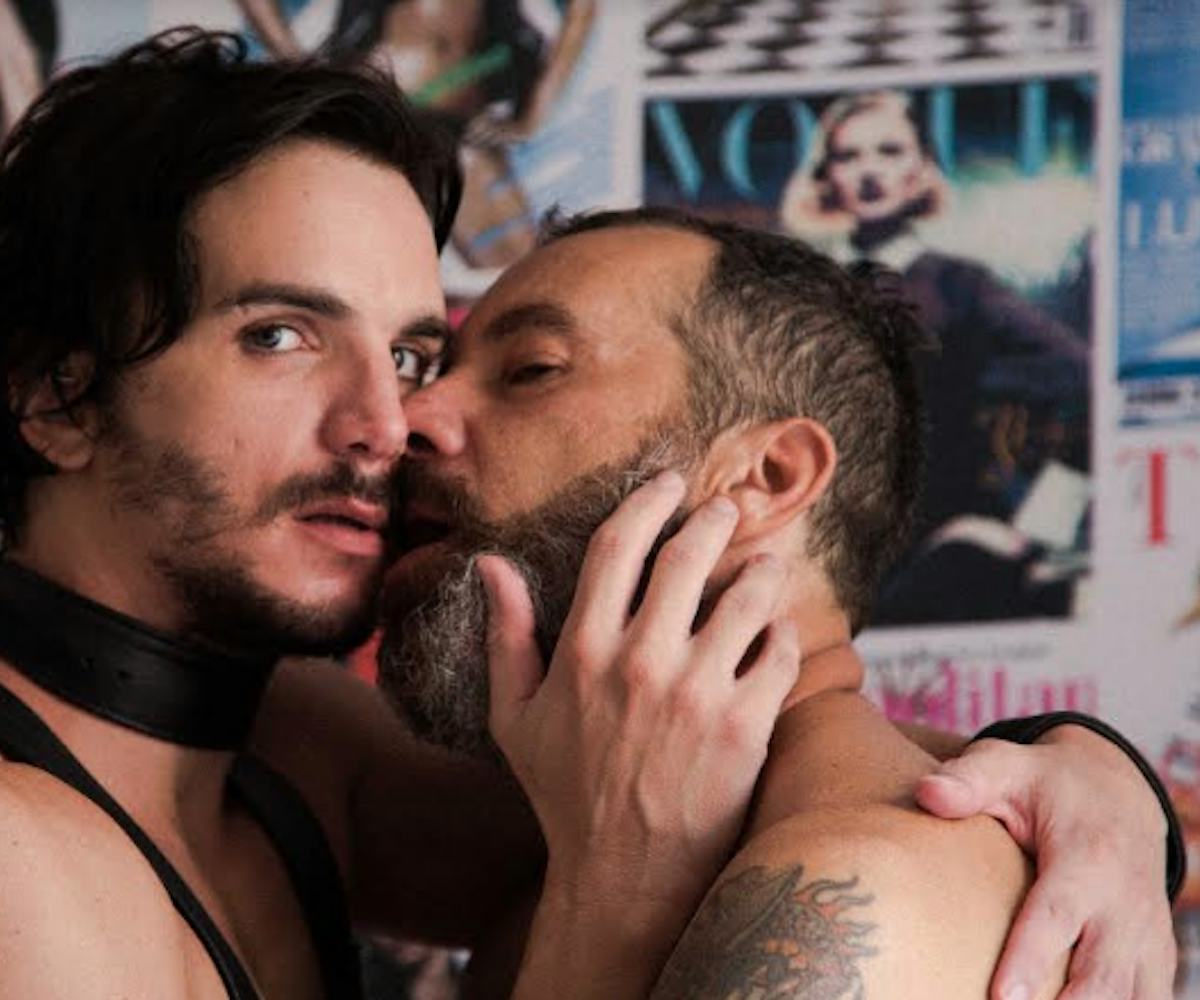 In Queer Brazilian Films, Everything Feels Possible
On the magic of "LGBTQ Brazil"
And just like that, everything possible happened. That's how it feels midway through Juliana Rojas and Marco Dutra's Good Manners, winner of a special jury prize at the Locarno film festival and the toast of New Directors/New Films, a showcase at Film Society of Lincoln Center. What had been a peculiar, laconic study of female friendship between Ana, a spoiled pregnant woman (Marjorie Estiano), and Clara, her maid (Isabél Zuaa), suddenly turns bloody and immediate. The two women become intimate, Ana gives birth to her baby—a small werewolf boy—and dies in labor. As Clara deals with the aftermath, whether to abandon the baby that killed her mistress or raise it as her own, a homeless woman nearby begins singing. Her voice fills the soundtrack, narrating Clara's thought process, and soon she's joined by a whole choir of voices, sweetly describing her crisis of conscience. The flowering of invention, the flaunting of broken rules, the pain of loss mixed with the warming excitement of the new, the cross-pollination of genres and ideas, moods and tones, death and life, everything possible happening at once. That's what it's like watching new Brazilian LGBTQ cinema.
Good Manners is just one of the more visible examples of the form, a movement that's arrived without fanfare or national precedent. The programmer Ela Bittencourt's series "LGBTQ Brazil," playing at the Museum of the Moving Image in New York on July 28 and 29th, notes that Brazilian queer cinema was a little late developing. Compared to similar movements in, for instance, the United States, England, or France, it's almost strange to think that a country as large and with such a rich cinematic history as Brazil took this long to produce a run of proud gay cinema. The late blooming has wound up working in the movement's favor.
By the time the directors featured in Bittencourt's series picked up their cameras, they were inventing in a world with fewer question marks over different sexualities. Conversations around sexuality and gender identity have become commonplace and sophisticated as anti-tolerance rhetoric has become louder and more incoherent. Much less is taboo or off-limits, allowing directors an intoxicating freedom. The highs and lows on either side of the movement are even more polarized in Brazil than those in the U.S. The São Paulo Gay Pride Parade is the largest in the world, but the number of anti-gay hate crimes committed in the country is also one of the largest in the world. In 2017, a Brazilian federal ruling stated that psychologists were allowed to use conversion therapy on gay patients. The moment Brazilians need art that is proudly queer is, thankfully, the moment in which a movement is becoming a wave.
The sense of what was missing from Brazilian film during the height of the AIDS crisis is highlighted in Carlos Nader's The Passion of JL, a meditative transcription of multimedia artist José Leonilson's recorded diaries. Throughout the movie, Leonilson, who died of AIDS in the early '90s, describes moments of clarity, of bonding with friends or discovering something about himself, through the movies he watches, most of them by director Wim Wenders. Wings of Desire and Paris, Texas become guides to the different periods of his short life, the would-be angel and perpetual wanderer searching for meaning that refuses to manifest. When watching Nicholas Ray prepare for his own death in Wenders' Lightning Over Water, Leonilson has to confront his own wasting away. Ray's weathered face has to stand in for Leonilson, who is only visible through his art and warped recorded voice. Ray is a touchstone for much of the series, his colors and genre-subversions in the DNA of most of the nine films in Bittencourt's series, and beyond. The new crop of films is radically different from one another, yet still feel united in theme, scope, and film language, in large part due to their shared love of insouciant grammatical gymnastics.
There are Nicholas Ray-styled cowboys in the gleefully sacrilegious Sol Alegria by Tavinho Teixeira and natives with headdresses and beer guts, working together to assassinate hateful pastors and throw cabarets in the jungle. Teixera's palette is right out of Ray's lesbian noir Western Johnny Guitar, with healthy doses of Pedro Almodóvar, Jonathan Demme, John Waters and their shared love of pastels. The movie's centerpiece is a sing-along of Brecht and Weill's Alabama Song conducted by a coterie of revolutionaries dressed as nuns, outing the film's abject provocation as both means and end, a proud disregard for the fourth wall and behavioral norms. It's the most flamboyantly distasteful of the new wave, but by no means an outlier in its genetic mutation of canonical rules and propriety.
Take the counterintuitively playful treatment of HIV in Uirá dos Reis and Guto Parente's Sweet Amianto, dedicated to Leonilson. One segment deals openly with the discovery of the disease, which appears in the form of yellow body paint and bright orange spots. The sufferer must walk through life with the neon paint differentiating them from everyone nearby, looking like the natives in Hugo Fregonese's Western Apache Drums. The paint others him, though the film celebrates him. Even death is beautiful. Sr. Raposo by Daniel Nolasco concerns the director's late partner, who died after an HIV diagnosis. Nolasco celebrates every part of the faded figure of his lover, down to the terror of the illness. He's a storm of patchy facial hair trapped in a kiss, a gorgeous body slowly crumbling, his penis outlined in blood in his pristine underwear by a bloody hand. What he was and what he became. Nolasco's careful tableaux of his partner have the elegance and boldness of Robert Mapplethorpe, Andy Warhol, or Bruce LaBruce. The character of the dead lover has his fate dictated by the future he knows is coming, and can only nod along to his own fate as it nears. The strategy takes some of the sting out of his passing by realizing the inevitability, like the end of every movie, joins us all.
The new LGBTQ Brazilian films frequently find themselves at the crossroads between melancholy and celebration, between knowing how far we've come and how far we have yet to go, of what's been lost and what gained. For every film like Claudia Priscilla and Kiko Goifman's Bixa Travesty (Tranny Fag), or Leonardo Mouramateus and Andreia Pires' Vando Vulgo Vedita, which are celebrations of free, naked bodies in great colorful heaps on beaches, beds, or rooftops, there are more somber counterpoints.
Luiz Roque's gorgeous short Heaven imagines an all-too-believable dystopia where being trans is considered an epidemic, and drones monitor the population's promiscuity. The candy-colored parade of sexual positions in Fábio Leal's The Daytime Porter gives way to a tentative standoff between a carefree bourgeois and his doorman. The luxuriant sexual expression, found in the most life-affirming and colorful of these films, comes with the understanding that many people fought and died for this moment and no second should be wasted. Ismael Caneppele's jaw-dropping documentary hybrid Music for When the Lights Go Out has the perfect phrase for the ever-shifting mood of these fearless new movies. In the midst of images of transition and travel, of crossing from light into nocturnal vignettes of connection between two women, a director and her young androgynous subject, we hear the voice of the older woman say, "I also miss things that haven't happened, and it hurts so much."
The past and the future must be now, or we will lose what we've gained and what we yet need. Laughter, tears, cries of anger, music, silence, old ideas and new blood, electrifying energy and bone-deep sadness all have to mingle now, because a painful history nips at our heels and there is still so much we could lose. Everything possible must happen because there may not be a second chance.