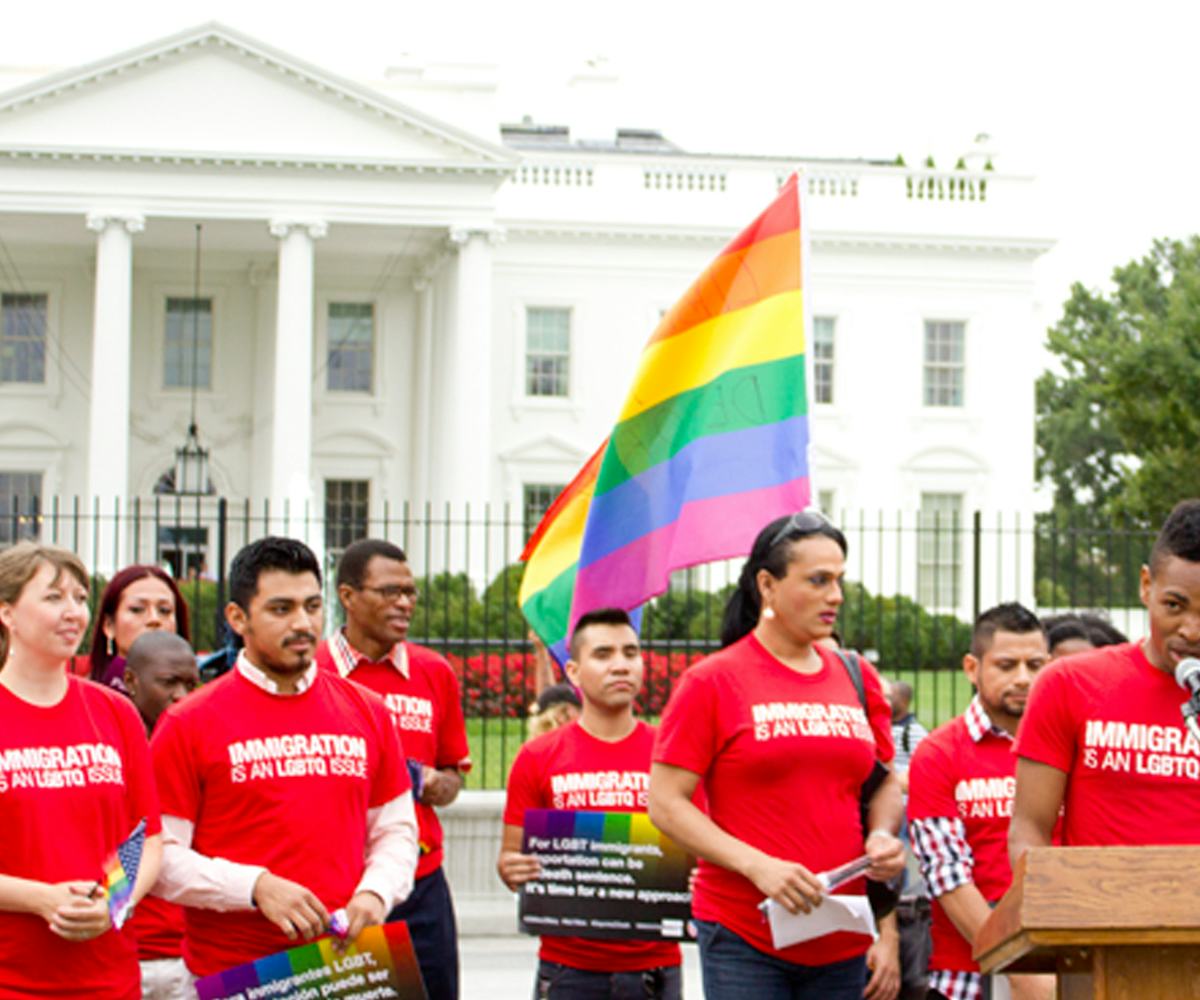 6 LGBTQ+ Charities To Support During Pride Month
One of the most impactful ways to support the LGBTQ+ community is to help the most vulnerable among us. With the LGBTQ+ community under active legal attack from the GOP in dozens of state legislatures and with hate crimes on the rise, actively and regularly supporting LGBTQ+ charities with your money, your time, or other resources is one of the most powerful ways you can demonstrate allyship and help us fight back.
Here are six charities that are seriously worth your time.
Immigration Equality is the only organization in the United States that directly advocates for and represents LGBTQ+ and HIV-positive immigrants. They provide free legal resources for their clients and have built a nationwide network of attorneys and translators who win an astonishing 98 percent of their cases. IE works with asylum seekers, detainees, LGBTQ+ immigrant and binational families and couples separated by oceans, and undocumented LGBTQ+ people living here in the United States. You can read their extensive FAQ on Trump's executive orders here.
How You Can Help: Volunteer, especially if you are an attorney or someone who can translate (translators help during client interviews, with intake forms, and even in courtroom proceedings). In addition to individual donations, Immigration Equality also actively seeks out fundraisers.
Find Them Here: Facebook | Twitter | YouTube
Over the last 10 years, LGBT Books to Prisoners has sent 6,000-plus books to incarcerated LGBTQ+ identified people across the United States. The program is a trans-affirming, racial justice-focused, prison-abolitionist project founded to address the distinct lack of dignity incarcerated people face. There is a paucity of reading material and intellectual stimulation in the American prison system, and LGBTQ+ people, in particular, are often starved for books that address their needs.
How You Can Help: Donate monetarily or shop their book wishlists through a local independent bookstore in Madison, Wisconsin, or Amazon (you can find their high-priority book list here). If you're in Madison, where the organization is based, you can volunteer to help with packages and book sorting.
Find Them Here: Facebook
Suicide is the second leading cause of death for young people between the ages of 10 and 24. The risk of suicide attempts is four times higher for LGB youth and two times higher for questioning youth. In a national study, 40 percent of transgender adults reported having made a suicide attempt; 92 percent had made an attempt before the age of 25.
The Trevor Project was founded to affirm the inherent value and dignity of LGBTQ+ lives and to combat the epidemic of suicide in our community. While the organization has grown to encompass a number of educational programs, The Trevor Project is best known for their flagship program: a national toll-free, confidential suicide hotline for LGBTQ+ youth. Last year, they took 45,000 calls. 
How You Can Help: Volunteer opportunities are available on the hotline and text/chat, as well as with events and administrative help (varies by city). Individual donations are always accepted, and you can also look into corporate, legacy, and stock-giving. They also offer resources and training for middle and high school teachers, nurses, and counselors. 
Find Them Here: Facebook | Twitter | Tumblr | YouTube
The Sylvia Rivera Law Project works to guarantee that all people are free to determine their gender identity and expression. Primarily working through legal channels, SRLP provides legal help and counsel for the trans and genderqueer community, advocating for racial justice and prison abolition. SRLP offers assistance with name changes and is heavily involved in advocacy for LGBTQ+ individuals in prisons and the immigration system. One recent example of their work is this new DIY resource on name changes for incarcerated trans, gender non-conforming, and intersex adults in the New York prison system.
How You Can Help: Twenty-five percent of the organization's funds come through grassroots donations, primarily monthly donors at the $10 or $20 level. (They also have some badass merch.) There are also numerous opportunities for volunteering, from administration and PR to research and translating. You can support their numerous campaigns here.
Find Them Here: Facebook | Twitter | Instagram | YouTube
Astraea Lesbian Foundation for Justice
Want to give to hyper-local organizations, but not sure how? Donate to Astraea, a 40-year-old organization that has given more than $31 million to grassroots LGBTQ+ organizations, groups, and artists around the globe. Astraea is unique in that they specifically support activists. The organization's roots are intersectional, actively privileging the work of people of color here in the United States and trans, gender-nonconforming, and intersex people around the globe. (Astraea has an interactive global map on their website in which you can explore just how far the organization's impact goes.)
The tl;dr is this: Only .2 percent of all foundation dollars go to directly to supporting LGBTQ+ activists internationally, but 86.5 percent of Astraea's budget goes directly to their programs, supporting grassroots activist work.
How You Can Help: You can support LGBTQ+ activists across the globe by donating to Astraea. They also accept fundraising. 
Find Them Here: Facebook | Twitter | Instagram
Gay, Lesbian, and Straight Education Network (GLSEN)
For 25 years, GLSEN has advocated for safe and affirming schools for all, regardless of sexual orientation, gender identity, or gender expression. GLSEN empowers educators and students to make a grassroots-level difference in their schools when it comes to LGBTQ+ equality in education.GLSEN is also active on the state and national policy level, focusing on anti-bullying policy and the legal support of trans and gender non-conforming youth.
Given that the current Secretary of Education Betsy DeVos does not believe that LGBTQ+ students deserve the protection of the Department of Education, GLSEN's work is more important than ever. (Read GLSEN's response to Secretary DeVos' statement here.)
How You Can Help: If you're an educator, you can join GLSEN's Educator Network. They have resources to learn about creating safe(r) spaces in education. You can also donate financially.