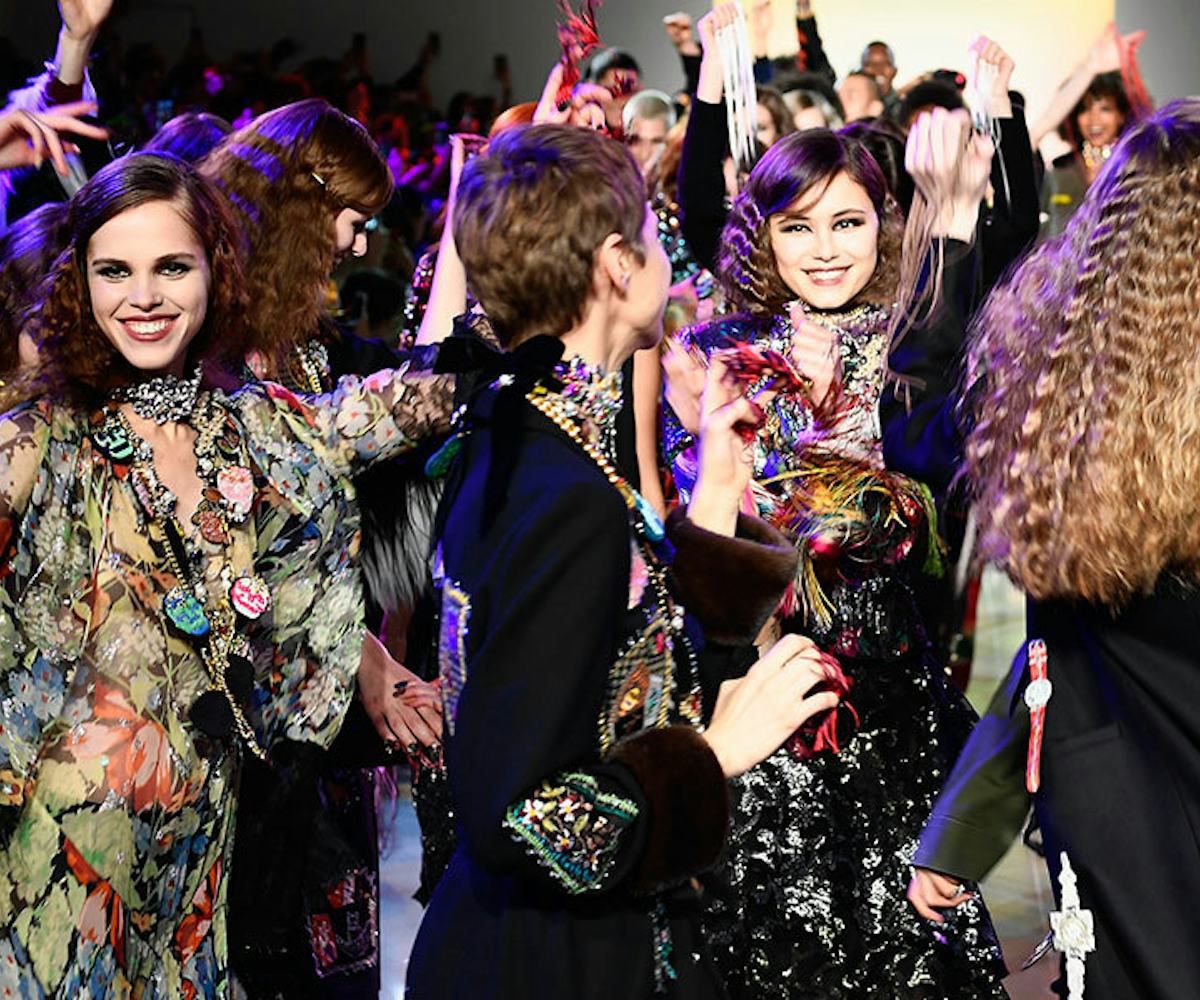 Photo by Frazer Harrison/Getty Images for New York Fashion Week: The Shows
Libertine's Fall 2018 Show Will Make A Believer Out Of You
Do you believe in the power of color? Of sparkle? Of doing the most?
Those are the questions designer Johnson Hartig left the audience with at Libertine's Fall 2018 show as a model wearing an army green jacket embellished with Cher's visage exited into the light. The answer, it seems, is a resounding yes. Yes to color. Yes to believing. Yes to being unafraid to shine a little, or, in Libertine's case, a lot. "Our collections are always sparkly," Hartig said backstage. "I have no boundaries. I'm definitely a maximalist and have been since I was a kid."
You don't have to look much farther than Libertine's latest collection for proof. The '30s-inspired opium den glamour of a collection boasted enough sparkle to give your Kira Kira app a run for its money. Makeup artist Katie Jane Hughes brought that luxe smokey vibe to life with pitch-perfect shadow smudging while CND's Jan Arnold and Heather Davis truly did the most by adding floor-length fringe to the models' nails. Is it too much? Not by Hartig's standards. "I've never seen too much of anything," he said. Clearly. But that's exactly why Libertine's show was a triumph of fun and a celebration of going over the top just for the thrill of it.
See how it all came together in our exclusive BTS video, below.
Camera:Charlotte Prager and Dani OkonEditor:Madeline StedmanProducer:Maura Gaughan