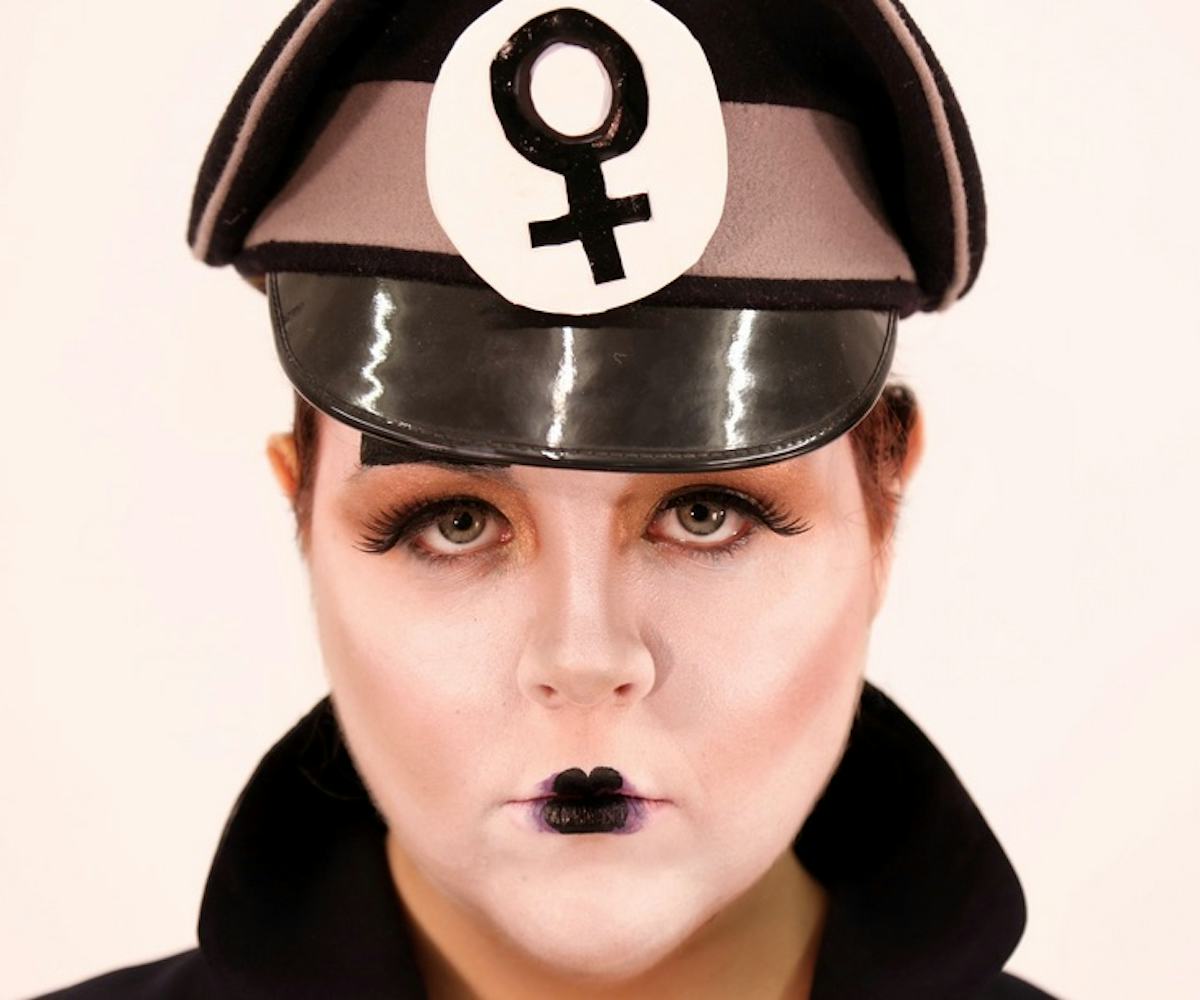 artist liberty antonia sadler skewers female stigmas + stereotypes
For the last five years, the Mullen Lowe Group NOVA Award has been given to a student at famed London art and design school Central Saint Martins, who displays an outstanding originality in both vision and execution. This year, the award was won by the emerging artist Liberty Antonia Sadler, whose droll explorations of the the female form, sexuality, and food, stood out among the other finalists. Through a mix of performance and illustration, Sadler critiques and satirizies the societal constructs that work to subvert what it really means to be a woman. We caught up with her shortly after her victory to discuss her practice, the current state of feminism, and the challenges facing young women today.
Your work depicts the experience of living in a female body in a "Photoshopped world." What is that experience actually like?
My work comes from a personal perceptive, influenced by ongoing research and social phenomena. I feel that in Western mediatized culture, the quest for physical perfection for women is deeply damaging, as there is a disconnection between the aesthetics of femininity and perceived intellect. Whilst mainstream male beauty is often associated with something powerful, like strength, for women it is mainly connected to being thin and overtly sexualized. It's quite traditional, really, and rooted in an old-fashioned gender binary.
How does your work engage with that notion?
I feel my work has three main topics: Food, femininity, and sexuality, and they all interconnect and inform each other. In my illustration and film, I want to represent personas and bodies that some may brand as imperfect, but to do so in a positive light using interpretations of stereotypes, historical figures, non-binary persons, and text. Whilst developing my practice, which explores issues that I feel passionately about, I realized it is much more accessible for an audience to connect with a subject if it has a humorous slant rather than what could be perceived as a wall of fury.
How did you come to engage with this topic? Was there a specific awakening? A gradual self-awareness?
Working within the theme of "body politics" stems very much from personal experience and how my life was affected during my childhood and adolescence. When I was 16, I started life-drawing classes, and seeing women of all shapes, sizes, and ages being proud of their bodies helped me come to terms with the battleground that was my own.
What do you make of the pro-feminist wave that seems to be dominating certain visible corners of the media and the Internet? A lot of people have called this a trend. How do you see it? 
During my teen years, feminism was deeply "unfashionable." If you labeled yourself as feminist in a social situation, there could be a most unpleasant misinformed backlash (quite often homophobic, always something about being a "man-hater"). I think it is wonderful how feminism has "returned," and young people are proud to call themselves feminists. What I find interesting about the current wave of feminism is how the discussion of privilege within the term has now become more widespread, which I think is very positive. It moves the conversation away from being solely about heteronormative persons and onto why and how such a flawed social structure has been formed, and how things can change for the better.
What do you think are some of the challenges facing young women today?
I feel the stigma around femininity is the most difficult challenge, not just for young women but for all young persons. For example, if we observe insults and derogatory terms, the vast majority have some kind of direct relation to women or being like a woman, including trans and homophobic slurs. The difference between calling someone "an asshole" and calling someone "a cunt" is an example. One spews shit and yet the other—which is exclusively female—is deemed to be more offensive. I think it is also a case of having more representation: Young women being able to see more grown women succeeding, not to the detriment of anyone else or to fill a quota, but because they are best at what they do.
How does satire and humor play into your work? 
There's a tradition to satire that I love, a history of critiquing sociopolitical trends and being both informative and entertaining. The vast majority of my work is character-based personas playing with performativity; that act as a way for me to communicate a perspective through humor, much like a grotesque or jester. It's like being on everyone's and no one's side at the same time, with the intention of making a statement in order to start a conversation.
How has being enrolled in school evolved your practice as an artist?
My course at Central Saint Martins was BA [Hons] Performance Design & Practice, a very multi-disciplinary environment which contains a large spectrum of practices together, from live art to filmmaking and theatre. My time at university was spent developing my practice alongside people with completely different disciplines, (e.g., filmmakers, live artists, theatre designers, makeup artists), all learning to collaborate and exchange knowledge. The contextual approach was from a performative angle, about communication with an audience and looking out into the world. The question was always purpose, rather than being inverted into the self or the grand narrative of "the artist alone in the studio," you were encouraged to think about how you function as an individual within the creative forum. 
What are you most proud of in terms of your career?
My proudest moment so far has been winning the Mullen Lowe NOVA Award 2015. This prize is given to one Central Saint Martins graduating student for creative innovation. The kind of work I make is very personal, so to be awarded this was very humbling and has meant a great deal to me.
Who are some of your greatest heroes, artistic or otherwise?
The ongoing research that informs my practice means I am constantly expanding my list of heroes, but there are definitely constants, such as the immersive environmental sound work of Brian Eno, which has been part of my life's soundtrack for many years. Visual artists such as Grayson Perry, transvestite potter, and Gerald Scarfe, satirical cartoonist, both of whom use humor to explore difficult subject matter. In terms of theory, I would say the writings of Judith Butler, specifically the theory of gender performativity, and Hélène Cixous' emotive and poetic approach to philosophy, have influenced my outlook. My film heroes are Derek Jarman and Pier Paolo Pasolini, who both explore themes of sexuality and politics, often from a personal starting point; the challenging and sometimes dangerous ideas in their films inspire me to be brave. 
See more of Liberty's work here.