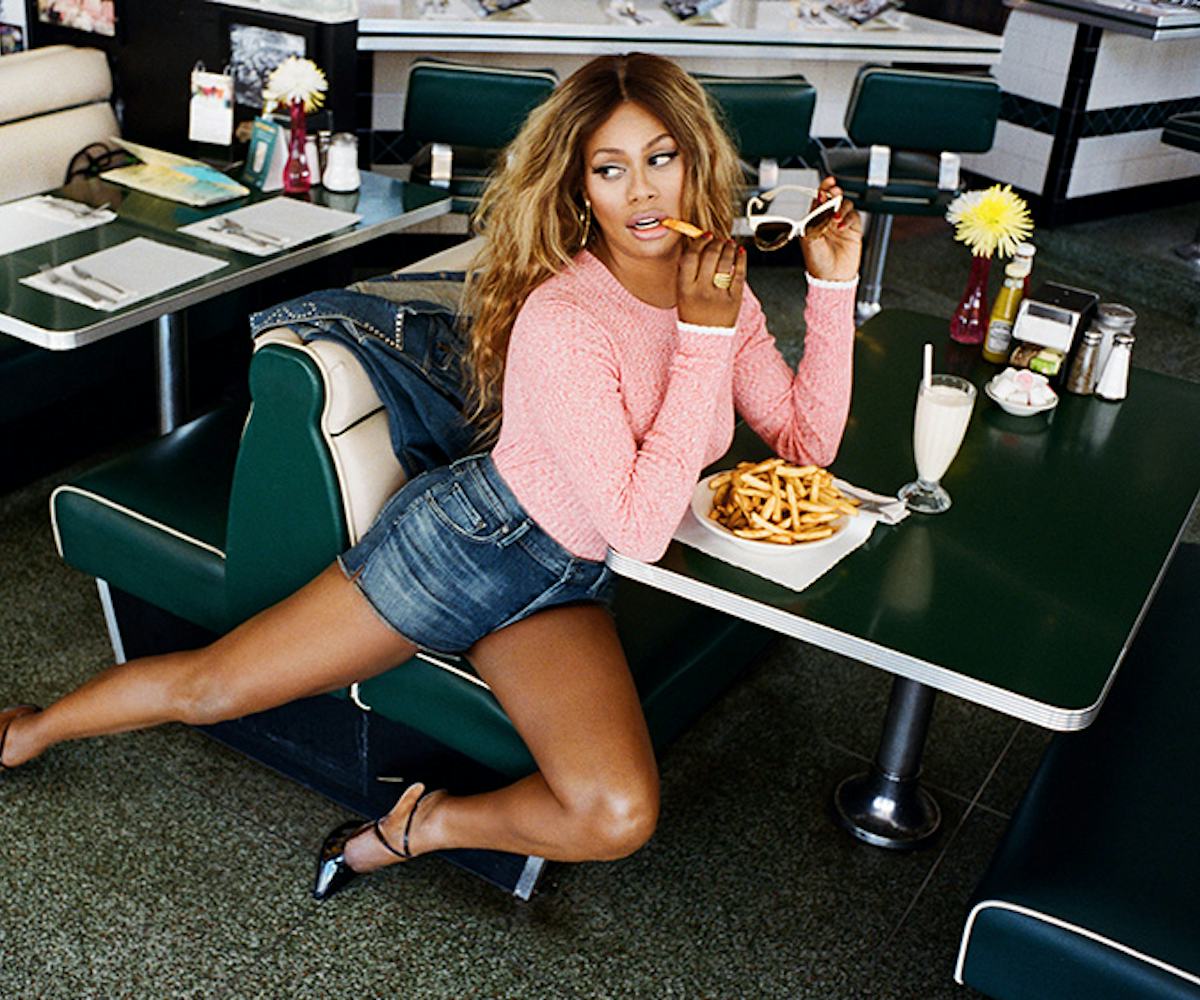 Photos by Felisha Tolentino sweater by celine (available at barney's, beverly hills), shorts by citizens of humanity, earrings worn throughout by karine sultan, sunglasses by dita, studded jacket the seat by heidi slimane (available at barney's, beverly
laverne cox gives us life advice
+ talks purses and patriarchy
Laverne Cox is the kind of person who, upon meeting you, immediately finds something to compliment. The first time I talk to her, at the GLAAD Awards, it's my hair. For this interview, at the Library at the NoMad Hotel, an old-timey bar near her home in Midtown, Manhattan, it's my rings. Taking off her huge sunglasses, she looks me up and down, nods in approval, and smiles. "Real cute," she says, gesturing to my jewelry while I blush fiercely. Her kindness is constant: From her activism to her one-on-one interactions, she's trying to make other people feel good. 
Cox has been back in New York for less than 24 hours after a weeklong trip to Paris—her first time there—and her eyes light up while describing how no one knew who she was. "I can't go three blocks in New York without getting recognized anymore," she says. "In Paris I actually went to Zara and tried on clothes. I felt so normal." 
One of the most noteworthy souvenirs from her trip was a beautiful Fendi tote, which seems to represent so much more than just a new purse. On her walk here, for example, a man called out, "That's a dude!" She responded with a swift "fuck you," she says, re-enacting the way she tossed her head back and flashed her Fendi like a shield. Despite her dismissal of the comment, it's clear she's distressed: Later, she rests her head on the bag with tears running down her face while describing how upset her twin brother gets when people are hateful toward her. This luxury gift she's bought herself—after worrying about paying rent for much of her adulthood—symbolizes her success, femininity, and self-preservation. 
The 31-year-old's rise to fame started just two years ago with the debut of Orange Is the New Black. The popularity of the Netflix women's prison dramedy, one of a handful of really good mainstream shows with well-written LGBTQ characters, marked a huge cultural shift. Here was a show with a ton of queer people that the media (and not just the lesbian blogs I read) was talking about and obsessing over.
On the show, Cox plays Sophia Burset, a black trans woman, with humor and sensitivity. Because of this, she's become one of OITNB's biggest breakout stars—and she's used her newfound notoriety to shake up how much of America treats trans people. She was the first openly trans person on the cover of Time and was the first black trans person to produce and star in a TV show (VH1's TRANSform Me). This month, she plays Deathy alongside Lily Tomlin in Grandma, a poignant story of women—gay, straight, and trans—across three generations. 
Her many inspiring projects aside, it's Cox's commitment to being visible and vocal that's turned her into an activist icon. Through simple things like hashtagging her selfies with #TransIsBeautiful, she's helping make the world a safer place for other trans people. 
"OK, let's do this," says Cox, slinging the Fendi on the couch between us, adjusting her sweater leggings, and leaning forward, her eyes twinkling with a friendly intensity. 
Click through the gallery to read the entire story.
PHOTO CREDITS
photographer: felisha tolentino 
stylist: sean knight
hair: ryan randall at the only agency using r+co.
makeup: deja marie smith for dd-pro using cecile.
manicurist: brittni rae at nailing hollywood using the system by formula x in curiosity.
When I was trying to figure out what to do with my life, I thought I wanted to be a full-time activist, but one of my mentors warned of the high likelihood of burnout. How do you manage to combine activism with your career and stay passionate about both?
Ultimately, I'm a storyteller—imagining different ways to tell transgender stories. I'm really interested in changing the ways in which we talk with and about transgender people, not only in personal conversation but also how we cover those stories in the media. What I really have to prioritize is self-care, something as basic as getting sleep. I've had to say no to a lot of things. There's a cost for me emotionally when I speak up about things. I'm always a target because I'm a public figure, and I'm not doing activism in obscurity. I have to get myself ready for the bullets. 
There's this idea that feminine beauty belongs to young, straight, white cis-women of a certain body type. Do LGBTQ people need to reclaim what it means, or should we disrupt it entirely?
Years ago I wanted to have the kind of cosmetic facial feminization surgery that Caitlyn [Jenner] has made popular in terms of people's understanding. But I didn't have the money to do it. I'm so blessed and grateful that I didn't because I would look completely different. I've had to learn to love and accept all those things about me that make me distinctly trans: my broad shoulders, my big hands and feet, my deep voice. It's so deeply ingrained in this culture, though. When Caitlyn's Vanity Fair cover came out, the language that people were using was deeply misogynist—she looked beautiful according to very specific standards, and that's deeply problematic.
I found the focus on her appearance to be upsetting.
So many people on my social media pages say, "You're gorgeous," and who doesn't like hearing that? But it made me think: Are people saying I'm beautiful for a trans person? Are they saying I'm beautiful because they couldn't tell I'm trans? I mean, you can find blogs where people are like, "Laverne Cox is drop-dead gorgeous," and there are other blogs saying I have "linebacker proportions." 
Transparent's Jeffrey Tambor told me he thinks the gender binary won't be a thing within the next two generations, which sounded really ambitious.
Two generations! That would be nice. But black people are still being murdered. We had the Civil Rights Act 50 years ago, and black people are still being murdered with impunity by the police.
So what can we do?
Hearts and minds have to change. We have hate crime legislation, but if that dude out there who called me a dude wants to kill me, he's going to do it. So much of this is about changing patriarchy. Patriarchy is linked to homophobia and transphobia, and in the patriarchal imagination they're inextricably linked; there's a binary that separates men and women. To dismantle patriarchal thinking, one has to critically interrogate how they've internalized it. 
I feel like the people who most need to change their thinking about patriarchy have no awareness that that's what needs to happen.
Patriarchy is killing men. It's killing men of all races actually. I've dated so many straight men who would never claim me publicly, and I was witnessing them be torn because they thought everybody's idea of them as men would change and that would be just so devastating for them. 
What do you do to stay positive? 
Well, I just had a really good time in Paris, even just allowing myself to splurge on this handbag—though I think it's important for me to be critical of this privilege as well. There are a lot of people out there who are struggling. But I can't lift someone else up if I don't take care of myself, too.