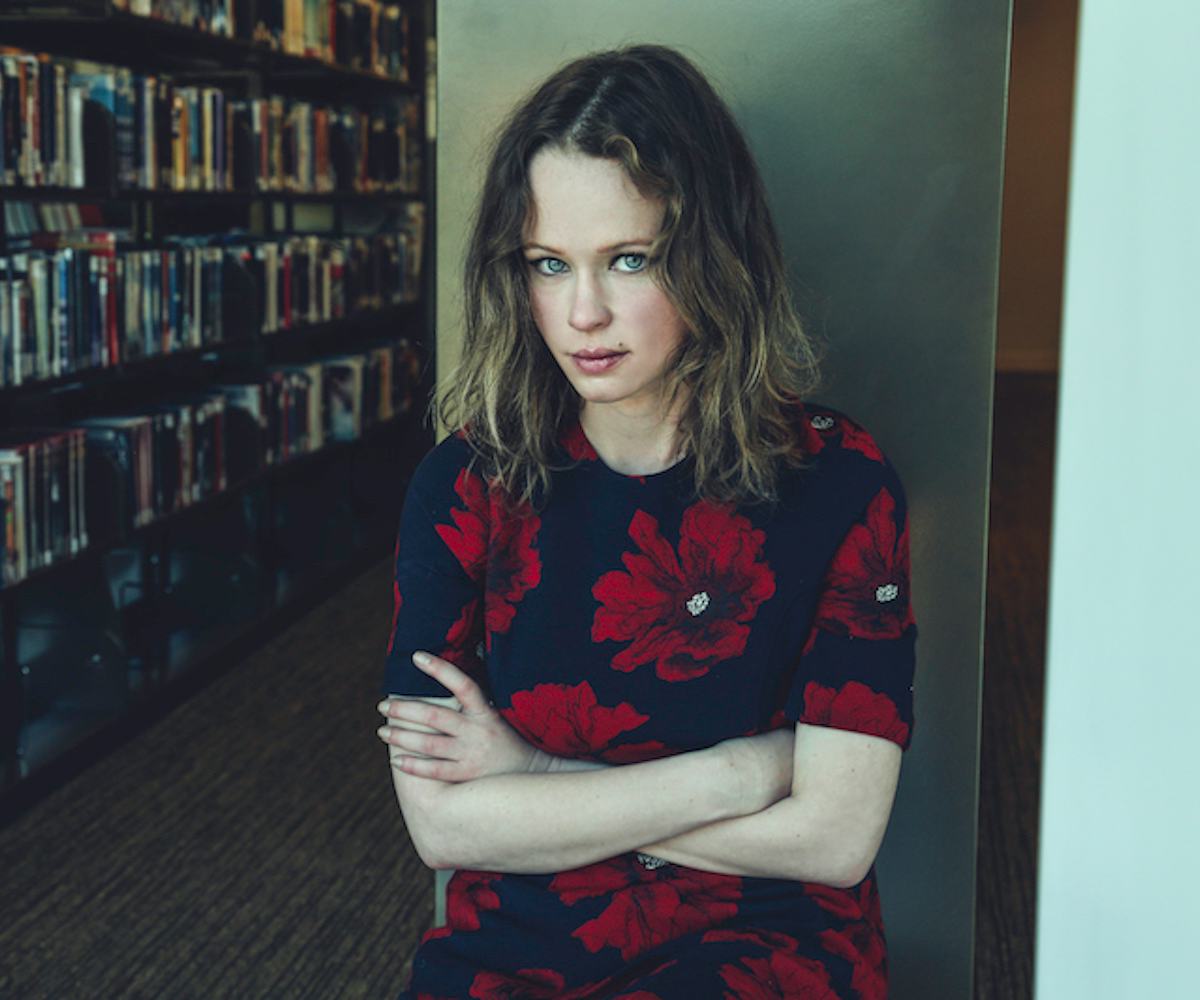 Photographed by Janell Shirtcliff. Top and pants by Lela Rose.
We Found Thora Birch
the '90s starlet gives us life advice
The following feature appears in the February 2016 issue of NYLON.
I considered myself to be a Ghost World fan. I referred to shitty bands as "Blues Hammer," and shitty art as "tampon in a teacup." I was well versed in the survival mechanisms of pre-Internet teenagers, which this particular film portrayed so well. Enid and Rebecca knew what my friends and I knew: that the only way to avoid dying of boredom in a cultural wasteland was to put on your ironic armor and embrace everything you hated.
So, in 2008, when I was a senior editor at NYLON and tasked with writing an homage to the 2001 cult classic, I did zero research. I knew the movie so well that fact-checking seemed redundant…or so I thought.
Imagine the horror when it came to my attention that I had called Enid "Edith"—in print. I still don't know how it happened. Even worse, it didn't register until we received a note from a reader who pointed it out. We ran the letter, I felt intense amounts of shame, and then moved on.
Recently, however, the opportunity to interview Thora Birch—the actress who made Enid Coleslaw who she was, who made her everything I loved, who owned the Y2Ks with this role as well as a starring one in the Academy Award-winning American Beauty—fell into my lap like some kind of gift from the universe. Finally, a chance to right my wrong!
I was also dying to know what Birch has been up to for the past decade and a half. Instead of taking the path one would expect of a critical darling with back-to-back blockbusters under her belt, she went on to appear in straight-to-DVD horror flicks and TV movies. She never stopped working—next month she'll appear in two episodes of USA Network's alien drama "Colony"—but for the past few years, Googling her name turned up mainly "What happened to…" articles. 
When Birch and I meet up in Los Angeles, she's just finished her NYLON shoot at the West Hollywood Library, a lifelong favorite spot for the voracious reader, and is back in her own clothes: embellished jeans, high-heeled black boots, and a sparkly purple sweater. She speaks with a nervy laugh and obvious intelligence, like a sagacious friend who's been there, done that, and is down to do it again. She's also the first to admit that what actually did happen to her was not something she expected, nor was it something she particularly enjoyed. Regrets, though? She has none. 
"Every experience was an experience," she says. "What became bothersome was that it started to become more and more apparent that there were expectations. That seemed like something I should be supplying to myself, not something placed on me. I fought against it, I was kind of nasty, and that didn't really help. I'm sorry, everybody!"