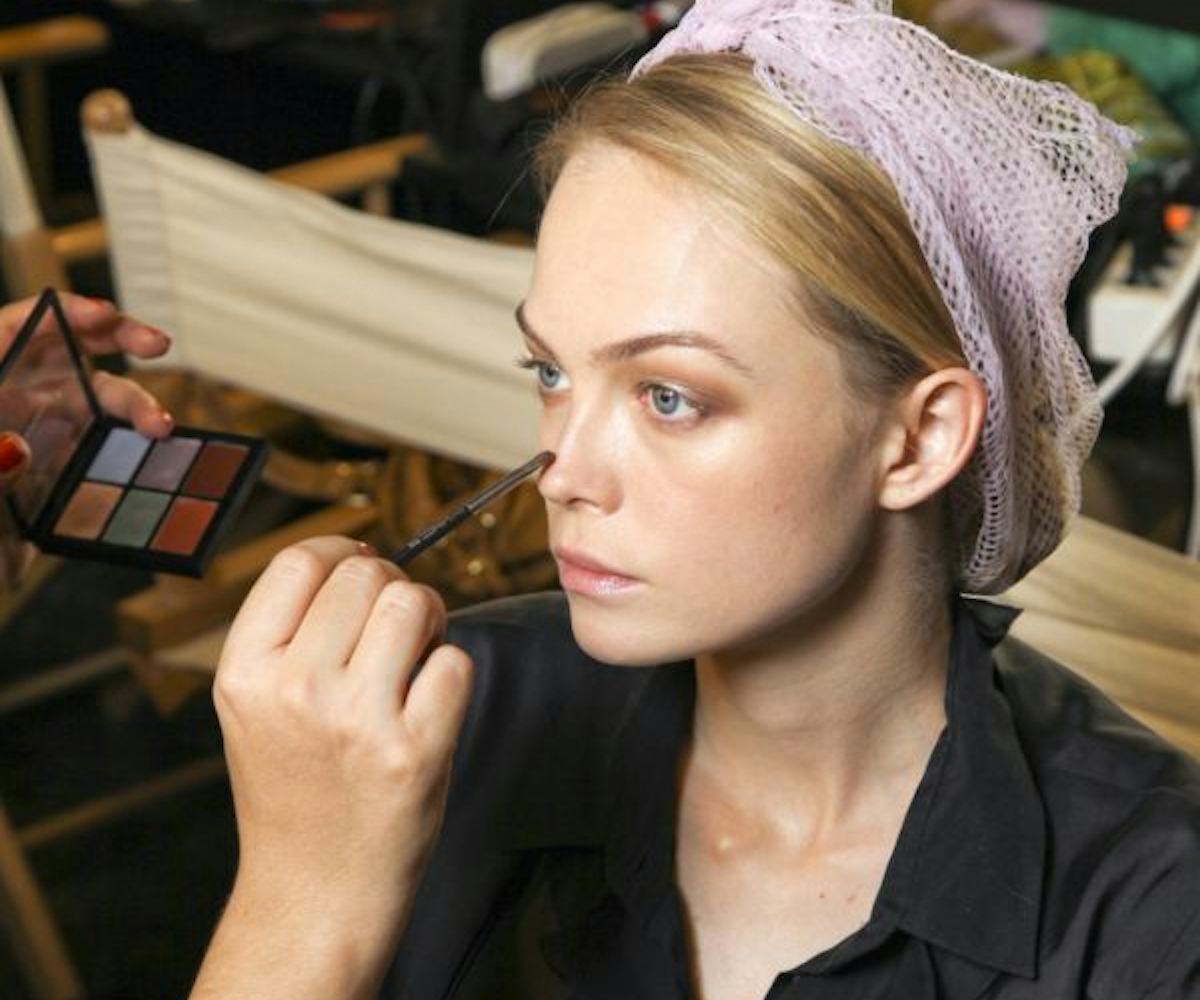 Photo via Imaxtree
5 Life-Changing Makeup Hacks We Learned This Year
From our friends at The Zoe Report
Curated by Rachel Zoe and her team of editors and stylists, The Zoe Report is not only your stop for all things fashion and beauty but all-around lifestyle as well. Check out their site for everything from shopping tips to dating advice, to the latest in celebrity news.
All year long we've tapped backstage and celebrity makeup artists for their insider beauty secrets—from how to achieve the cleanest cat eye to how to keep your makeup on all day. Today we've gathered 2016's most genius expert tips in one place. Read on and start 2017 with your best face forward.
How To Get The Shiniest Cheekbones
With products ranging from glittery golds to shimmery silvers, the world of illuminators can be blinding. We tapped legendary makeup artist Pat McGrath for tips on how to highlight like a pro. "I love to use powder highlighter on top of cream highlighter for that extra pop of light," she tells us. "Layering products is key when you want long-lasting results for more intensity and dimension."
Click here for more highlighter tips from Pat.
How To Grow Out Your Brows Like A Pro
Brows can get messy. To help you keep them in tip-top shape between touch-ups (without over-plucking), Alexandra Goodman from Anastasia Beverly Hills shares a hack: "The best and easiest way to tweeze between brow appointments is to outline with a powder and fill in using one of the five Anastasia Eyebrow Stencils. Tweeze the hair outside the area that's filled in, which will ensure you don't take away too much. Usually it's best not to take away any hair from above the brow—leave that to your specialist."
Click here for more eyebrow tips from Alexandra.
How To Fix Makeup Blunders
How many times have you gotten mascara on your nose and tried to wipe it off but only made it worse? Celebrity makeup artist Carissa Ferreri says, "I constantly see women who apply mascara but then don't clean up the eye area properly. You're left with mascara smudged all over the lid. Instead, wait for it to dry before using a dry Q-tip to wipe away excess product on the eyelid and underneath the eye. It only takes a few seconds, and it makes such a difference."
Click here for more celebrity makeup artist tips.
How To Have Perfect Makeup On Camera
Having your photo taken can be stress-inducing, so we asked celebrity makeup artist Sarah Uslan for her best on-camera makeup tricks. "Two mistakes I often see people make are concealer that's too light under the eyes and foundation that has a high SPF. When a picture is taken with a flash, both can cause you to look washed out or make your face look way lighter than your neck and body." Point taken.
Click here for more makeup, posing and lighting tips from the experts.
How To Preserve Your Lash Extensions
When you spend a pretty penny on a set of eyelash extensions, you want to make sure they last. One of LA's premier lash artists, Arianna Montazem, gave us the rundown on extensions, including the best mascara tip for preserving your flutter. "You can wear mascara over your extensions, but don't use a waterproof formula or cake it on. Be careful how you remove it—avoid anything with loose cotton fibers, such as cotton pads or cotton balls. Instead, dip a clean mascara wand into oil-free eye-makeup remover, or use a makeup wipe or even your face wash to gently remove."
Click here for more eyelash extension tips from Arianna.