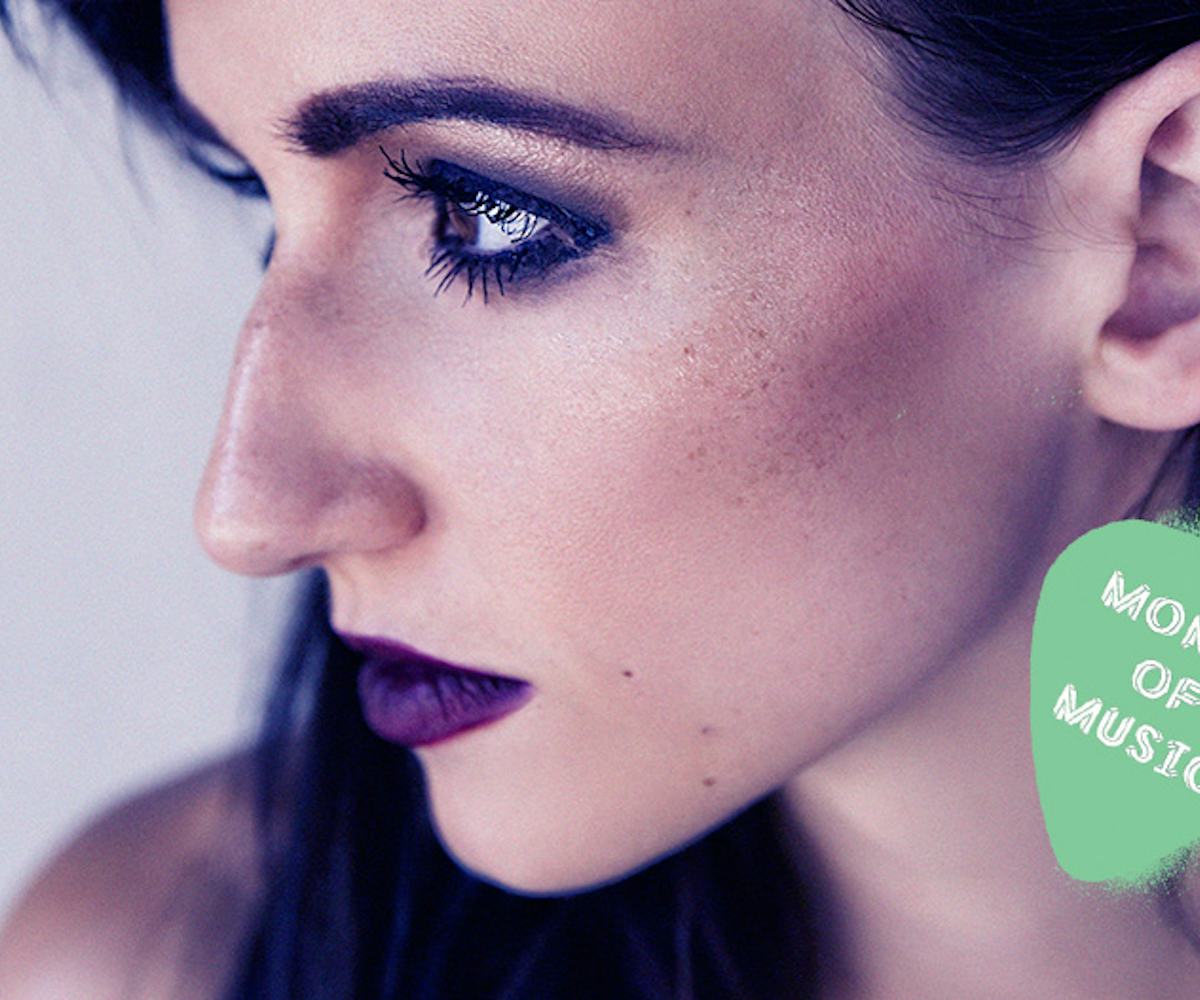 Photo courtesy of Warner Bros.
LIGHTS Is Destined For Great Heights
Up she goes like a "Machine"
We share music because we want to connect with others on a deeper level. We want to relay and relate to a message that can't be said with just words. This April, NYLON is dedicating six days a week to introducing you to new artists and budding favorites. With interviews and GIF portraits done down at SXSW (plus two very special ones done outside of the conference), NYLON's Month of Music is an exercise in finding aural pleasures outside of the Top 40. It's an exercise in challenging you and ourselves to not stick to one genre. But above all, it's a celebration of bold voices and sheer talent. Enjoy.
The last time I spoke with LIGHTS, she had just released her third album, Little Machines. The LP, an 11-track deep electro-pop record, went on to be toured for more than a year. Almost immediately after releasing it, however, she hit the ground running on the acoustic album. That album, appropriately titled Midnight Machines, comes out Friday, April 8, and is made for late nights, cozy evenings, and intimate moments. The eight tracks are aural comfort. Her voice possesses a unique delicacy that's endearing and adds to the familiarity of the album. You know you've made a solid record when it can be interpreted in different ways and it doesn't sacrifice any of its original impact. Midnight Machines packs the same power, and for that, LIGHTS should be applauded. 
How did Midnight Machines come about?
It was kind of predestined to happen even before Little Machines came out. Every record I've done, I've put out an acoustic version of. So, immediately, as soon as I announced the album, almost the second day after it came out, everyone was like, "When's the acoustic version?" I think I've just sort of set that precedent. It is such a different spin on things, and some people prefer one over the other, or both, or are excited to hear the songs but want it in a different way. It was going to happen from the beginning, but I didn't want to do anything that was as obvious as just making another acoustic album, so I just decided to do some kind of different variation on it and landed on this late-night, moody, vibey version. It came from jamming with the boys in my band. We'd been playing these songs for a year and a half now. At the time we recorded, we'd been touring on Little Machines for a year, and, you know, we just sat down and played our most stripped back instruments. We ended up recording the whole thing in eight days, with the string section and everything.
Now that is a record.
[Laughs.] Yeah, exactly.
That's fast! Do you prefer one version over the other?
They're both so different. There's so much energy and power in the full versions, and obviously they, for the most part, are written in the full form. That's the first time you hear of them. But, for me, it's such an important thing to write a song that's solid from front to back; the way that you know it's a good song is that it can be interpreted a thousand different ways and still come across. If you have no bones there, the acoustic album wouldn't make any sense, you know?
Definitely.
It means a lot to me that it can be done that way.
How did you choose what songs to include?
There were actually quite a few contenders in the pile, and it got down to three or four that were unreleased, and I think it was just a matter of bouncing all the songs around with the team, and they were all still in demo form when they were being bounced around. I was writing for a movie that didn't end up coming out, and that's how "Follow You Down" came about, and that added another song to the pile. It was cool because I was writing from a perspective I'd never written from before. It was about how far you'd go for a friend. The movie never ended up happening, so I really wanted some way to put this song out, and I was thinking about lots of different options, and Midnight Machines came up. It's one of my favorite songs I've ever written, actually. And then came "Head Cold," it was between that and a couple other ones in terms of songs that didn't get on Little Machines. That song was actually tied to really specific memories. When I was writing Little Machines, I was facing a lot of writer's block, and one specific memory that I had was of a day a cold front came through, and I had a recording session. I got up to my van—I was driving the tour van for a while—and the snowplow had pushed up a huge pile of snow around the van. Then a cold front came and froze it into a block of ice, and I could not get the van out. It was completely frozen in. I stood there on the corner, just staring, wondering what the hell I was going to do, and I was struck with this huge epiphany. It came to me, this resolve to just start chipping away at what I was dealing with—whether that was right in front of me, or in the bigger picture. You know, over time you'll get down to the heart of it, you'll be able to move on, but if you don't try, and you give up, you're not going to go anywhere. So that song was written that evening, about that exact experience, and it meant something so much greater. I think I just put things on a bigger level after that.
What is something you've learned from touring Little Machines?
There's so much you learn along the way. I think one of the biggest lessons I continue to learn is having humility and being thankful for what you have because everything's a grind and it doesn't get easier. Nothing's handed to you on a silver platter. Everything takes work, no matter how many records you put out. You know, I'm on my third LP and still busting balls touring, and trying to keep people happy. And you never get to a place where people's approval is given to you for free. So you're always in this place of wanting to do better for people. You never get your skin thick enough to be immune to the opinion of other people, and I think that's an important aspect of being an artist. You need that.
What song of yours fits the following situations?
Getting ready in the morning?
"How We Do It," because it's about facing the world and not caring.
Me time?
"Muscle Memory," because it's intimate and personal. There was buzz going around that it was about masturbation; it's not, but it could be!
Hooking up?
"Speeding," because it's got a driving beat and feels good.
Can you recall a moment in your life—whether it's a song, a show, a video—that convinced you, you wanted to be doing music?
Around when I was 11, I remember hearing U2's "Still Haven't Found What I'm Looking For." I remember hearing it and thinking that's what I want to be doing—making something that feels like that.
If any artist, dead or alive, could cover your music, who would you want it to be?
Oh, Cyndi Lauper. She could cover any damn song of mine and it would be amazing.
Have you ever been starstruck?
Yes! It was with Phil Collins. Something came over me and I lost control. I became a total fangirl. I was invited to a radio show where he was giving this big interview. The host knew I was a fan, so I went. It was incredible. I was reduced to a little girl. He's inspired me so much.
At the end of the day, how do you wind down and ground yourself?
I love going home to my family, hanging out, and playing video games. It's humanizing, really. It reminds me that everyone is trying to live their life and get by. It's a way to be.
Are you thinking about your next album?
Yes, but let's get Midnight Machines out and toured. We'll get to the next project after this one has some time to be alive.