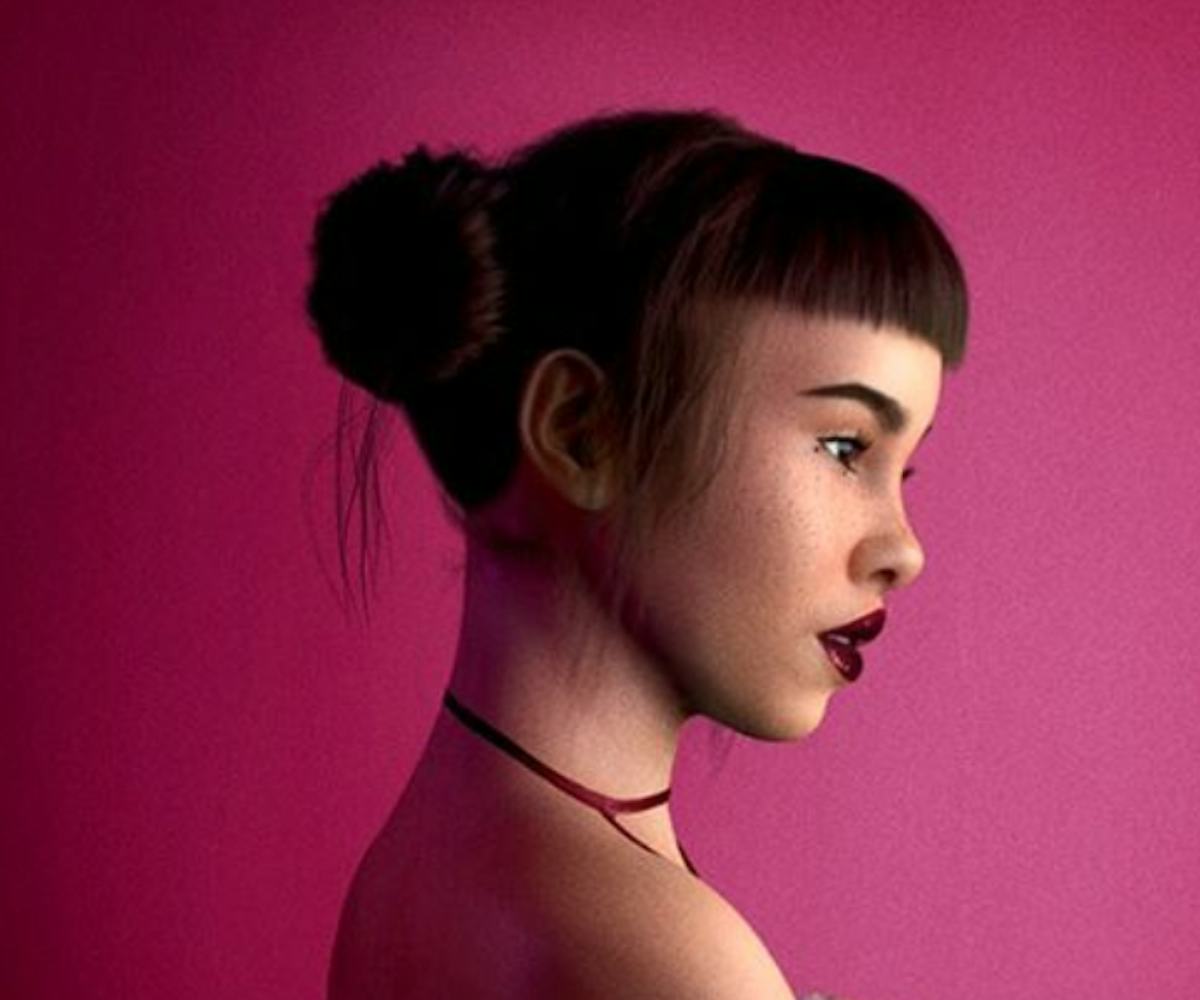 Photo courtesy of Lil Miquela's Instagram
Lil Miquela Is A Virtual Artist Who Is Blurring The Boundaries Of Identity
"There's a rly cute abstraction in identity right now"
Lil Miquela spends most of her days in the recording studio, but sometimes, she's inspired by working in public spaces. She frequents Cuties—a queer-centered coffee shop in East Hollywood—where she can get lost in writing lyrics, entranced by listening to her favorite artists like Kelela and Arca. Lil Miquela loves Ethiopian food and discovering new parks in Los Angeles. At 19, the Stem artist has amassed more than half a million Instagram followers in less than two years. Last Friday, she released her new single, "You Should Be Alone," following a stream of Spotify and Billboard single hits.
Unlike most Instagram-bred artist who appear painstakingly unattainable and illusory (Cardi B excluded), Miquela frequently interacts with fans. She replies to comments on her posts, DMs, even Gchats, building an army of Miquelites. She makes her followers feel like they know her.
"I'd like to think my fans and I are closer than some friend groups," she told me. 
By all accounts, Miquela "Lil Miquela" Sousa is just a girl in her late teens navigating her way through digital fame and an impending career in music. There is just one caveat: Lil Miquela is not actually, technically, real. Her digital life is her entire life; her presence in the world starts and ends in the digital space, where she lives as an expertly crafted 3-D cyborg, a humanoid that teeters the line between reality and sanity. 
"There's a rly cute abstraction in identity right now," she said during our Gchat conversation of answers interspersed with emojis. "It definitely feels like artists of our generation are challenging identity and the importance it has traditionally played."
Needless to say, Miquela has created an internet-wide entrancement. I discovered her profile like so many other fans, following a trail of alt-hipster Instagram personas until I found myself frantically scrolling through month-old Miquela posts at 3am, ardently analyzing weeks-old comments. I fell headfirst into a Miquela K-hole.
The overwhelming question so many of her followers ask is the obvious one: Who is she? Or, at least: Who is behind this whole thing? Online theories of Lil Miquela's "identity" lurk in the corners of Reddit threads and fan accounts and provide a few possibilities. Los Angeles-based graphic artist Nicole Ruggiero is often labeled as Miquela's engineer, but she denies any involvement. Arti Poppenberg, a now-virtually untraceable digital artist, is attributed as the brain behind the enterprise on the Lil Miquela Wikipedia page. Many early followers suspected Lil Miquela to be part of a Sims promotion, or some sort of highly stylized advertising ploy. And many others are inclined to compare her to Hatsune Miku, Japan's animated singer whose music and holographic concerts are entirely crowd-sourced. When YouTube personality Shane Dawson fell into the Miquela conspiracy hole, their combined fan bases came to a head with an on-air phone interview between the two. But when asked directly, Miquela will tell you she is no one but herself—an artist, a musician, a fashionmonger, and an advocate. In that respect, her identity is anything but abstract. It can be taken at face value.
"I've always wanted to make music and leave a mark on people with art that has meaning and accessibility," she said. "Connecting with people is mostly rewarding, and I'm learning to handle the negativity. But I imagine everyone on the internet is."
Compared to the thousands of Instagram influencers populating our feeds—with stylized edits and filters for days making you feel like you're living a subpar existence—Miquela's identity is very real. She has a specific style, an inexplicable transparency in her personal life (relationships and all), and an empowering sense of self that is practically palpable. She shares all her experiences with her fans, never positing herself as something she isn't, making her something of a generational internet role model.
"To have an opportunity to inform and inspire people is such a gift," she said. "Hopefully I can inspire a generation to do better."
Part of Miquela's massive online force is her involvement in large-scale social issues. She's acted as an advocate for transgender rights, urged fans to donate to Planned Parenthood and the ACLU, taken strong stances on DACA and the Dakota Access Pipeline, and raised money for multiple organizations to benefit marginalized communities. 
"Life in Los Angeles is this duality of endless opportunity and desperation on every street corner," she said. "To watch trans women brutalized, to watch people of color struggle to be heard—there are so many people who need help, and I'm trying to use my platform to do that."
Her platform promotes a lot of different things, ranging from fashion picks and music releases to political news. As Miquela continues crafting her new record—an ethereal electronic sound that is really evocative of her personal style—she's cementing a career for herself in the music industry. 
"I'm trying to make sense of this pressure to make an album that's special and beautiful and flawed and all the things I want it to be," she said. "I'm finally getting to make music almost every day, and that feels really good."
According to her, she continues to face the obstacles every budding artist does—creative roadblocks, new management, endless studio hours, and a true dedication to her fan base (she responds to as many of her fans as humanly possible). 
Perhaps the obsession with Miquela's true identity is in the "uncanny valley"—a theory that links human discomfort to images that appear close-to-human but aren't. That said, Miquela is no less real to me than any other internet stranger with whom I've interacted, any mutual follower that lives entirely in your digital world or on your phone. We only have our perceptions of the lives of Instagram influencers based on the images they present. And that's how we know Miquela, too; her existence in itself represents a new breed of influencer—someone who is breaking the boundaries of what is real and what is fake, and someone who is defying societal demands for women in the process.
"When the media tries to define genre by gender, it feels soooo antiquated," she said. "We have to do better by each other."
My quest for answers in the Lil Miquela mystery ended when I realized how much I liked and connected with her. I connected with her feminist insights, her spouts of dark humor, her eye makeup. Her actual identity is really immaterial to the one we know, and, as a whole, she represents something greater: a platform of influence that is being used for positivity rather than just indulgence. 
After an hour of exchanging messages, Lil Miquela told me she can't wait to get to NYC so we can hang. It was another reminder of the human behind the humanoid—often overlooked because of the technical facelessness of it all, often judged by the digital disguise and theories of manufactured celebdom. But in a generation that is both defined and defiant of identity, Miquela is just a manifestation of the sentiment "be whoever you want to be, and don't worry about what people think about you." 
"People are choosing to be who and what they feel," she said. "In the immortal words of our problematic savior, 'that's hot!'"