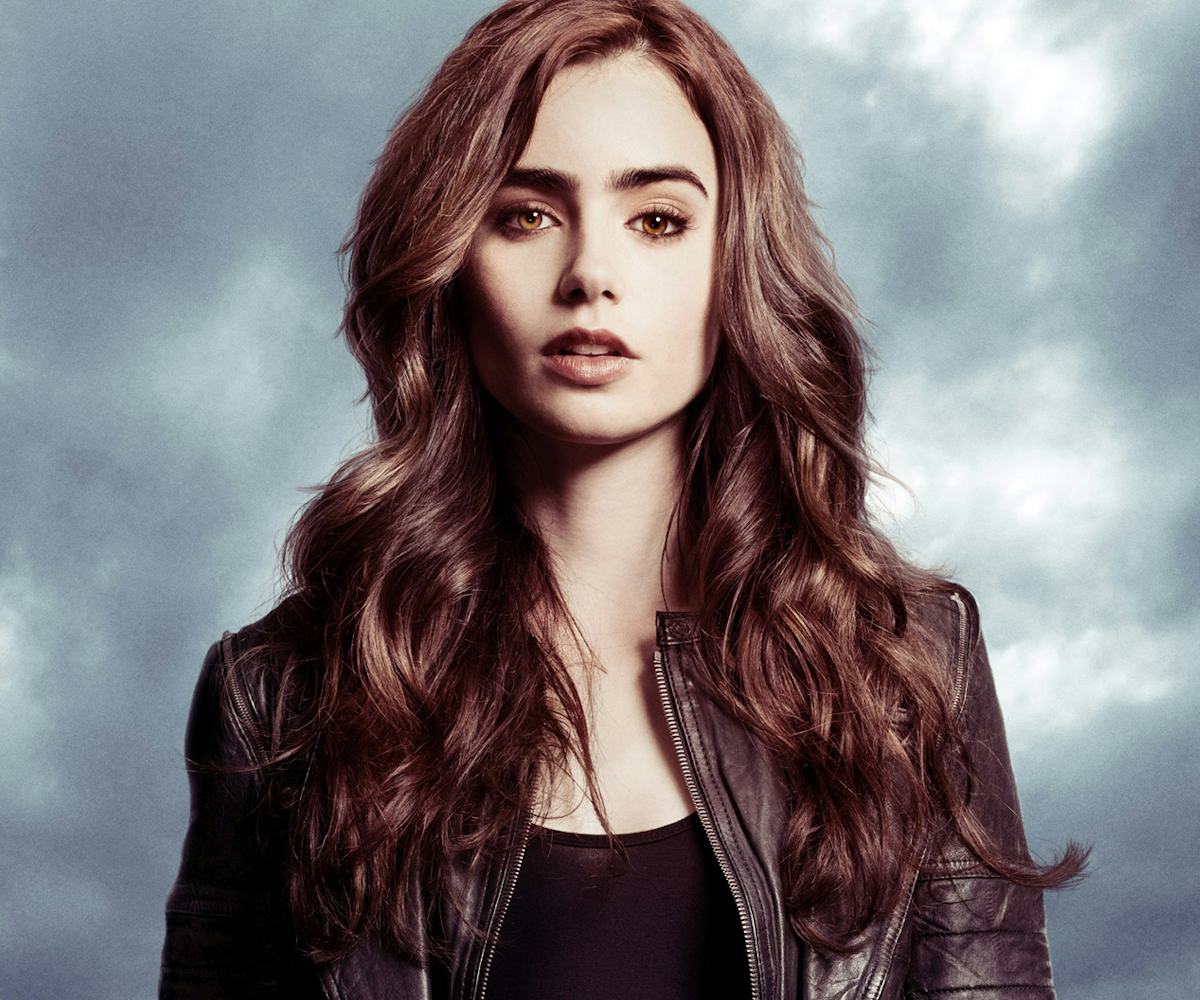 only mortal
in the power ranking of fantasy females, how does clary fray match up?
In crop tops, dark lips, and even bowler hats, there's no question Lily Collins has been killing the fashion game recently during her whirlwind press tour for The Mortal Instruments: City of Bones. But this week we actually get to see the actress kick ass in a whole different way: on the big screen. 
Based on the eponymous book series by Cassandra Clares, the highly-anticipated summer blockbuster finally lands in theaters today. The timing is basically perfect, as it's situated comfortably between two other YA novels-turned-Hollywood flicks (this spring's Saorsie Ronan film The Host and the upcoming The Hunger Games: Catching Fire, which requires no explanation). But how does her onscreen alter-ego, the teenage shadowhunting Clary Fray, match up to the other protagonists hitting theaters this year?
We've pitted Clary, Katniss, and The Host's Meanie Stryder against each other below: consider this your ultimate fantasy female cheat sheet, and let us know your favorite girl hero in the comments. 
Movie: The Mortal Instruments: City of Bones
Fantasy Female: Clary
Full name(s): Clarissa "Clary" Adele Fray/Fairchild/Morgenstern
Special Powers: She's a shadowhunter, meaning she is a half-human, half-angel; talented in tracking and killing demons
Enemy: Demons, vampires, werewolves
Love Interest: Fellow shadowhunter Jace (Jamie Campbell Bower)
Defining Physical Feature: Bold brows, pale skin
Movie: The Hunger Games: Catching Fire
Fantasy Female: Katniss
Full name(s): Katniss Everdeen, "Girl On Fire," Catnip, 
Special Powers: Tribute and winner of the 74th annual Hunger Games; pro at the bow and arrow
Enemy: It's complicated. The Capitol, who forces her to return and compete in the Quarter Quell; President Snow, other Quarter Quell competitors
Love Interest(s): Also complicated. Pretends to love Peeta (Josh Hutcherson), but really loves Gale (Liam Hemsworth).
Defining Physical Feature:Side braid, Mockingjay pin
Movie:The Host 
Fantasy Female: Melanie
Full name(s): Melanie Stryder / Wanda
Special Power: inhabited by a "Wanderer" soul and now has a double identity; able to find and interact with humans; possesses free will
Enemy: Alien souls
Love Interest(s): Jared Howe/ human Ian O'Shea
Defining Physical Feature: Pale, glowing blue eyes