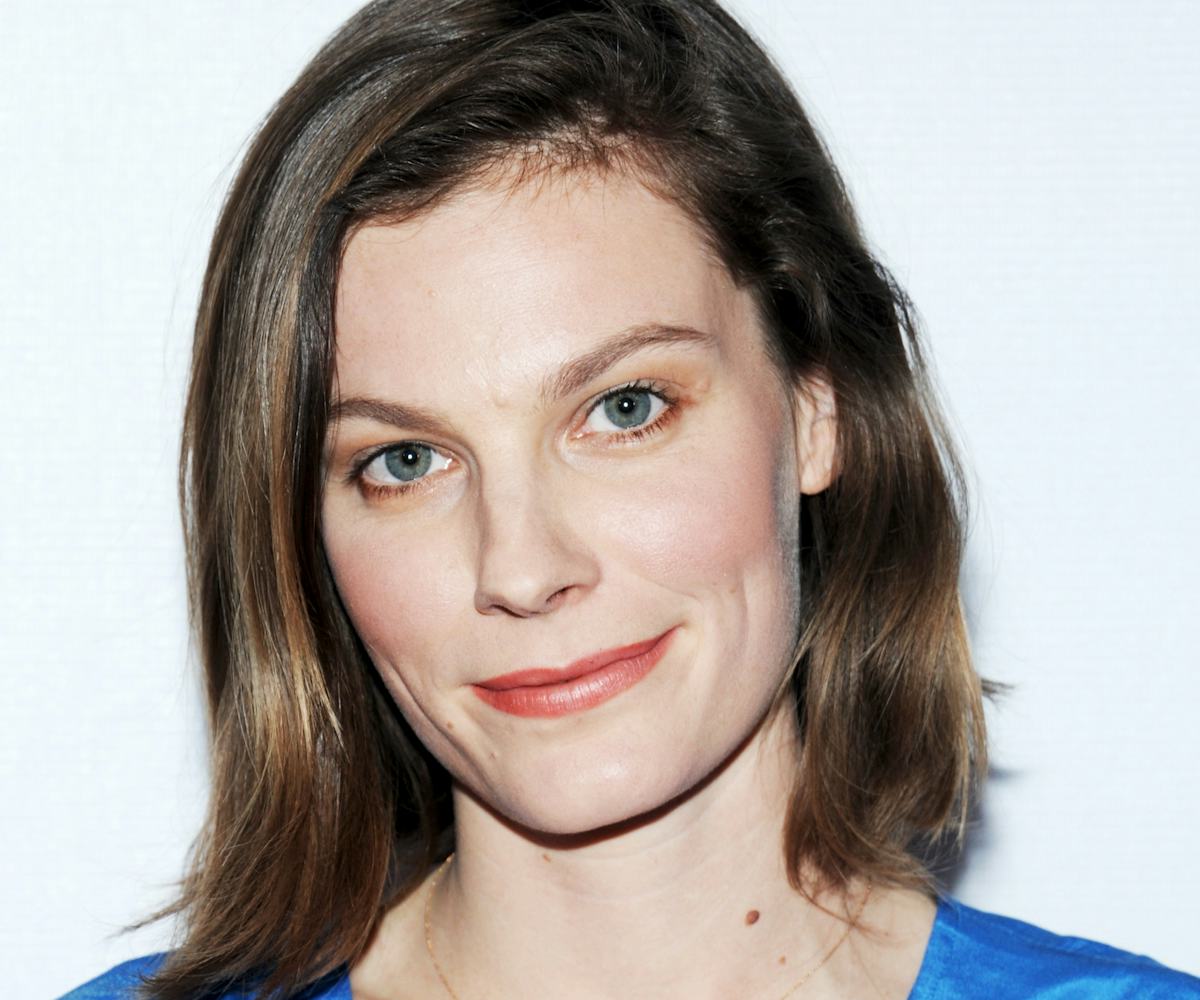 Photo by Grant Lamos IV/Getty Images
Lindsay Burdge On Her Unsettling New Psychodrama 'Thirst Street'
The movie premiered at last week's Tribeca Film Festival
There's something about Lindsay Burdge that makes her very good at playing women with inappropriate romantic obsessions. We first saw her as a teacher whose illicit affair with a student marks her unraveling in 2013's A Teacher, which made a Sundance breakout out of the now 32-year-old actress. In her latest, Nathan Silver's Thirst Street, Burdge plays Gina, a flight attendant who falls for her Parisian one-night stand, Jérôme, during a layover while still recovering from the trauma of her ex-boyfriend's suicide. Convinced her brief rendezvous is more than just a casual fling— that it's, in fact, a sign from the universe—Gina drops everything and moves to Paris to be with him.
Things don't go over so well, but Burdge plays Gina with equal parts naiveté and cunning, her face lacking self-awareness and her mannerisms missing social cues. She's also supported by a strong cast: the legendary Anjelica Huston narrates the film in voiceover, while director Philippe Garrel's daughter Esther Garrel stars as Jérôme's ex, who comes back into the picture. During the Tribeca Film Festival, Burdge sat down to talk about the past relationships she referenced during shooting, her on-set mishaps, and the actresses who inspire her.
Did Thirst Street make you think back on past relationships?
Well, my real life relationships became folders. I was like, "Hmm. What do I need? If I need to be a little obsessive, I'll think about that relationship. If I need to be a little delusional, I think I'll look at that one." Hopefully, I've never been quite that crazy, but I think I'm a little bit more self-aware than Gina is, so at least if I'm acting crazy I know that I'm acting crazy. Also, I had a relationship with someone in Paris, so I definitely thought about that a lot. 
Did you shot most of the film in Paris?
Yeah, I love Paris. At first, it felt really isolating, and I was like, "Maybe I don't like it here anymore." And then by the time I left, the producer basically had to take me in an Uber to the airport and physically put me on the plane to make sure I got back for the New York shoot because I just wanted to stay.
In the film, you catch an eye infection from your lover. I read it as a metaphor. How did you interpret it?
I feel like it works both ways. Every time you're intimate with somebody, it feels like they leave some kind of a trace on you; it's just kind of creepy and gross. Tell me what you were thinking.
I thought of it as something she couldn't shake off and that it mirrored her gross obsession she had with him. 
And it's funny to me that she continues to show up, wanting to hook up with him. It almost feels like she's grateful for it, like he gave her a scarf or something to wear. It was also funny because on set it was kind of an elaborate makeup setup. Pretty much every day I had to have that thing put on and then taken off.
Was that the most difficult part of this shoot?
I think I broke my finger and my toe shooting this movie. There is a scene where a tug of war takes place with a homeless guy. He spoke [only] French, so we couldn't really choreograph the scene that well, so we just kind of went for it. My finger was swollen. Sometimes these movies just take a physical toll on you. There was also this one scene, where I show up at Jérôme's house in a wig, and he rejects me. I was just tired of being humiliated, and I was like, "I don't want to do this scene!" It must've just been the straw that broke the camel's back, or maybe it was just the first time that I realized that I was just consistently being humiliated in every scene. 
Who are some of your favorite female characters in films? 
There's so many. I love everything Isabelle Huppert has ever done. She's a saint or an angel or something. 
She also plays very fucked-up characters. 
Oh, I know, and she does it so well. And I love Gena Rowlands, especially in Opening Night. And Katharine Hepburn in Philadelphia Story. And Tilda Swinton can do no wrong. 
So why Thirst Street?
It was the people involved, honestly. Nathan and I had pretty much just finished working on Actor Martinez, and I was down to work with him again. And then he told me he wanted Sean Price Williams to shoot it; Sean and I had been friends for a really long time, but we'd never worked together. So I was really excited about those things.
How did Nathan get Anjelica Huston to do the voiceover?
He knew that he wanted a voiceover, and I think it was the people at Washington Square Films who suggested Anjelica Huston. He sent her a DVD over the holidays, and she watched it, and she was like, "Yeah, I should be in this movie, I would make it better." That's a nice way of thinking about projects, as an actor. I only want to do something that I should be in. I was there doing ADR the same day that she was doing the voiceover, and the moment she walked in, I was like, "Hi! It's nice to meet you!" And then I just ran. 
I would totally do the same. 
She's so tall and beautiful, and I was overwhelmed.