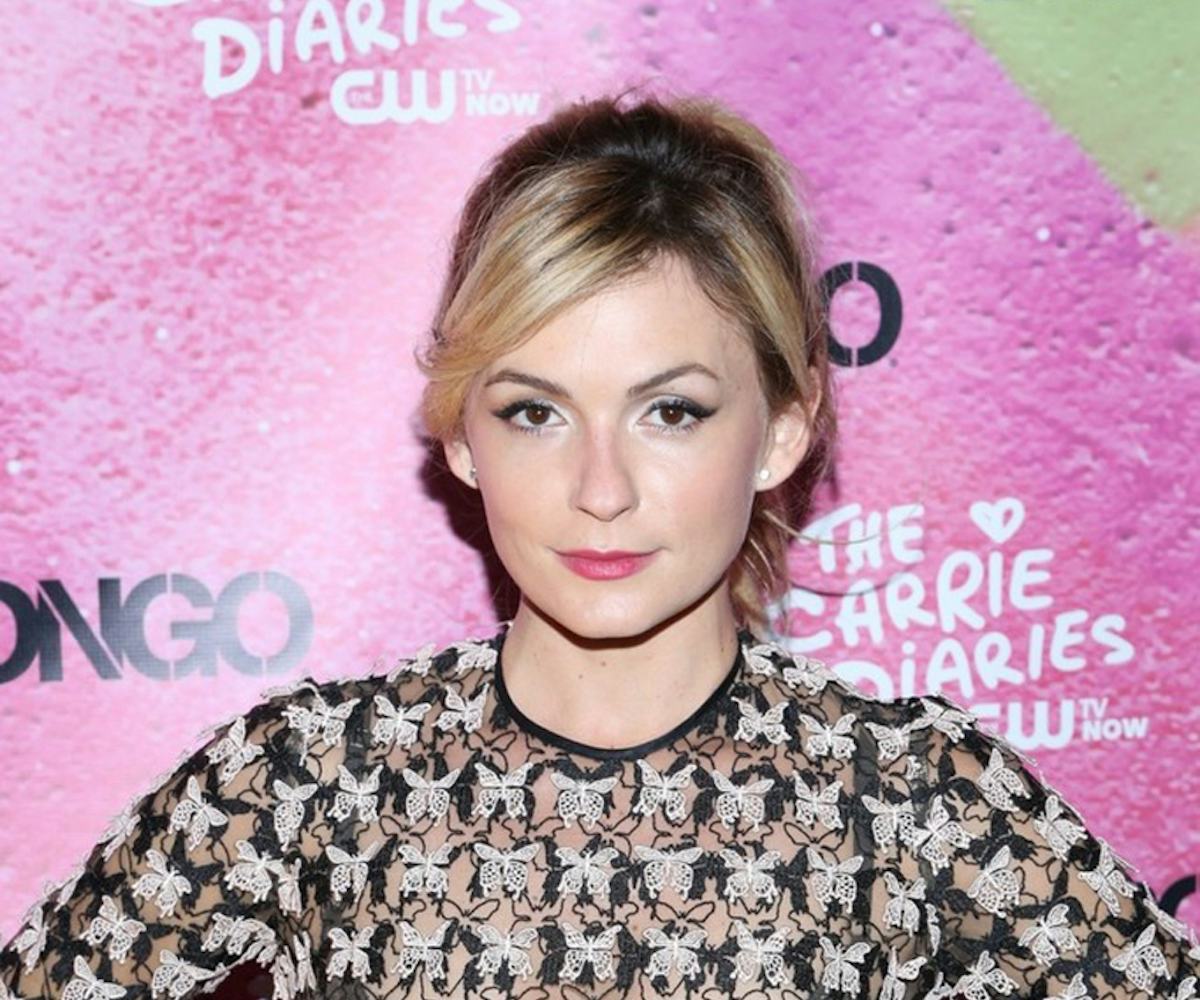 beauty queen: lindsey gort
i couldn't help but wonder: what is the secret behind samantha jones' perfect makeup?
This weekend's season two premiere party for The Carrie Diaries wasn't just any red carpet event for Lindsey Gort; this was, in many ways, her big debut as a much younger Samantha Jones. And if there's anything we learned from six season of Sex and the City it's that Carrie's man-loving BFF never had her makeup look anything but flawless.
Gort looked the part perfectly, thanks in part to a little bit of inspiration from her Novis dress. "It felt kind of '50s and flirty," says Tina Turnbow, who did the actress' makeup. "We talked of a winged eye and slightly coral lip. Because of the butterfly pattern on the dress, I thought of shimmery, ethereal wings, so I chose a luminescent metallic charcoal gray as opposed to a flat black eyeliner shade."
While we can't all channel Samantha Jones, we can get Gort's look. Here are Turnbow's tips:
ARCH IT: Nars Brow Perfector - $22
"I wanted to bring out the arch of her brows so I filled them in with Nars Brow Perfector pencil."
EYE IT: Kevyn Aucoin Eseential Eye Shadow Set Palette #2 - $58, Lancome 24H Artliner in Chrome - $30
"First I used shimmery ivory shadow on her lids and a honey color in the crease from Kevyn Aucoin, then using Lancome's 24H Artliner in Chrome I started midway on the lid to draw the winged shape, finishing the line into the inner corner of the eye very lightly. I dabbed a bit more on the center of the lid, where the light hits, to pick up the metallic highlight." (For more of Tina's tips on getting the perfect line, here's her guide to cat eyes!)
LASH IT: Maybelline Lash Discover Mascara - $6.49
"I curled the lashes and put a few coats of Maybelline Lash Discovery mascara on the top and bottom lashes as well. To enhance the winged shape, I added a few individual lashes on the outer corner."
CORAL IT: Stila Convertible Color in Gladiola - $25, Nars Velvet Matte Lipstick Pencil in Pop Life - $25, Kevyn Aucoin The Flesh Tone Lip Pencil in Blossom - $24
"For cheeks I used a peachy cream blush by Stila on the apple of the cheek and blended. For Lindsey's lips I blended two lip pencils--Pop Life by Nars for an orange-y tone, then topped with a pretty pink pencil by Kevyn Aucoin called Blossom. The blend of orange and pink makes a nice coral!"