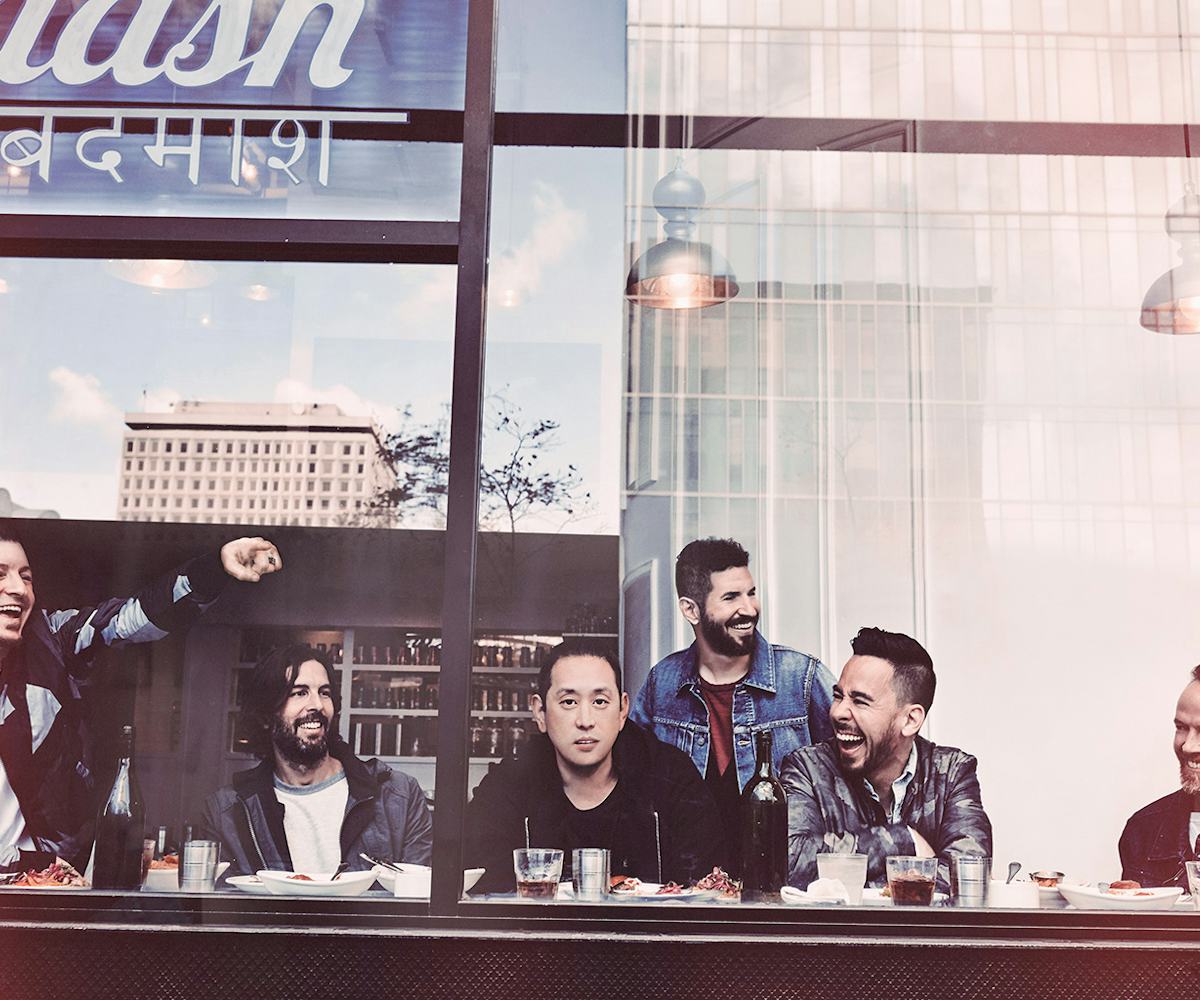 Photo by James Minchin
Linkin Park Goes Pop With 'One More Light'
Woke up and felt the responsibility
"We should remember from now on to start our album cycles and tours here because it's a good confidence booster," Linkin Park's Mike Shinoda says, nearly 4,000 miles outside of New York City in Lima, Peru. The band was gearing up for its show later that night when we spoke, sneaking in a few tour stops on the front end of their new album cycle before releasing it to the world. "Normally, we might play two or three new songs in the beginning of a tour cycle, but this time we've added six new songs to the set," he continues. "We released 'Good Goodbye' a few weeks ago, and the fans down here know every word." Now, with the proper release of One More Light (out today via Warner Bros.), the fans have a full album's worth of new material to sing back and digest.
The digestion process, however, hasn't been as smooth. Linkin Park's latest is also its poppiest. Its edge isn't rock but rather a healthy mix of warm-hued melodies that still pack that Linkin Park bite. "With this is being our seventh album, we've actually gone through this process of surprising people and hearing reactions many times," Shinoda says, citing the distinctive lack of screaming and distortion on One More Light, sonic elements that have come to define the band's decades-long career. The actual content of the album is still par for Linkin Park's course; they continue to muse on finding your place in the world and the bitterness that can come from the search but are imbuing it with a worldlier, almost guiding force view. 
"We're constantly taking risks and trying different things," says Shinoda. "It recently occurred to me how ironic it is when somebody says the pop elements on the One More Light songs aren't taking chances when it is from a band like ours. The people who say the music isn't risky are the exact people with whom the risk is taken." Welcome to 2017 where we, the audience, will hopefully come to appreciate our favorite artists challenging themselves and their sound instead of putting out the same-sounding albums over and over again.
The goal of One More Light, as Shinoda says, was to make something unexpected. Goal met. It's a proper album with a definitive journey, one that's thankfully made of songs that connect with one another and not just a bunch of singles thrown together in a pseudo-narrative way. The sound may be brighter than usual, which has a lot to do with the band's outlook on life. "I think a lot our previous music was told through the lens of pointing a finger at somebody and saying, 'You did this to me' or 'You're not acting the way I want you to act,'" Shinoda explains. "There's a peace that comes with being a little older because you realize you can't control somebody's actions, which, of course, influences what you make."
Take, for example, the song "Invisible." It's a song written for Shinoda's children; had this song come out 10 years ago, the lyrics would've likely focused on personally feeling invisible to the world, but instead, it's a reminder to someone else that they aren't even if they feel the world doesn't understand them. The song "Nobody Can Save Me," too, deals with taking responsibility for your own actions rather than blaming someone else. Talk about growing pains.
"This album is really intimate," Shinoda says. It's a project of working through your own issues and confronting the F-word of all F-words, feelings. "It became obvious that a lot of the songs were about feeling like you're at the mercy of the world around you," he adds. "The fact that these songs were born in the moment when we were frustrated or sad or whatever makes for better music." Honest, too; the calm that threads much of the album together is therapeutic. Dramatic and stressful situations are no walk in the park, but working through them and getting through to the other side brings a certain amount of brightness to your world, a poppy element that wasn't there before, but that feels exactly right for this moment in time.