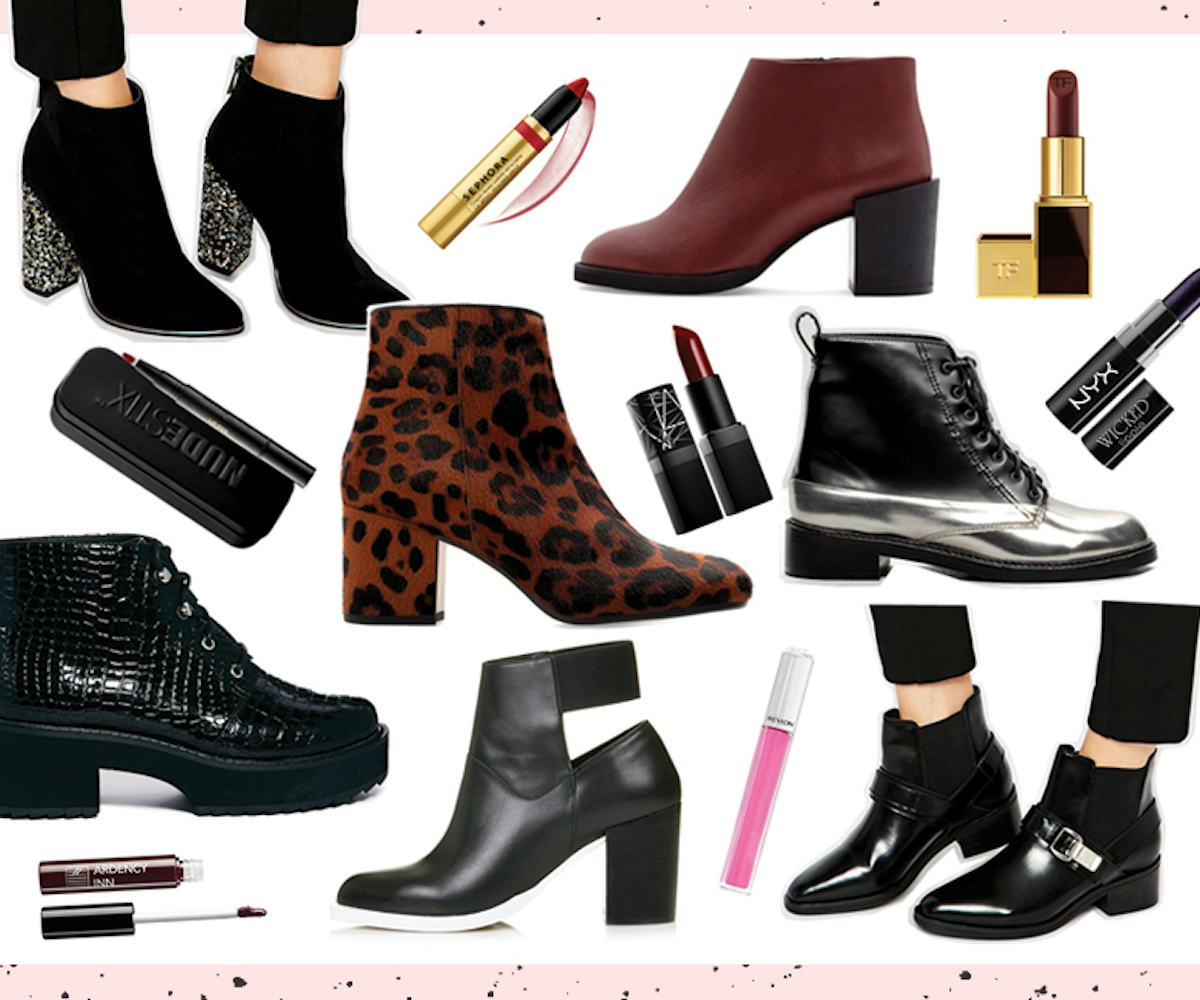 7 reasons to match your lipstick to your boots
it'll make winter less depressing, for one.
There aren't that many things that can make us feel excited in these cold, dark December days—not even the impending holidays. But, when we have no choice but to get our shit together and leave the apartment, there are two things that make our existence more bearable: Boots and lipstick.
Call us superficial, but if we're rocking badass boots and our lips are coated in a bright color, we feel ready for anything. So we decided to honor that feeling and put together boots and lipsticks that complement each other—like a burgundy leather bootie with a deep matte red stain, and a punk-inspired combat boot with edgy purple lipstick. Because once our lipstick and boots are coordinated, we can worry less about the rest of our outfits. After all, if you're wearing red lipstick and leopard print booties, what else do you really need? 
Click through to see the combos we came up with.
Zara High Heeled Printed Leather Bootie, $159.
NARS Hardwired Lipstick in "Deadly Catch," $26.
ASOS Risky Business Ankle Boots, $66.33.
NYX Cosmetics Wicked Lippies in "Betrayal," 5.99.
& Other Stories Silver Lace-Up Leather Boots, $225.
Ardency Inn Modster Long Play Lip Vinyl in "Dubstep Remix," $23.
ASOS Angel In Disguise Leather Chelsea Ankle Boots, $79.59.
Tom Ford Lip Color Matte in "Velvet Cherry," $50.
Topshop Miami Elastic Cut-Out Boots, $160.
Revlon Ultra HD Lip Lacquer in "Hot Pink," $9.99.
COS Block-Heel Leather Boots, $225.
Nudestix Lip Pen in "Hypnotic," $24.
New Look Caviar Embellished Heeled Ankle Boots, $75.78.
Sephora Collection Lip Glitters Retractable Pencil in "Glittering Red," $12.