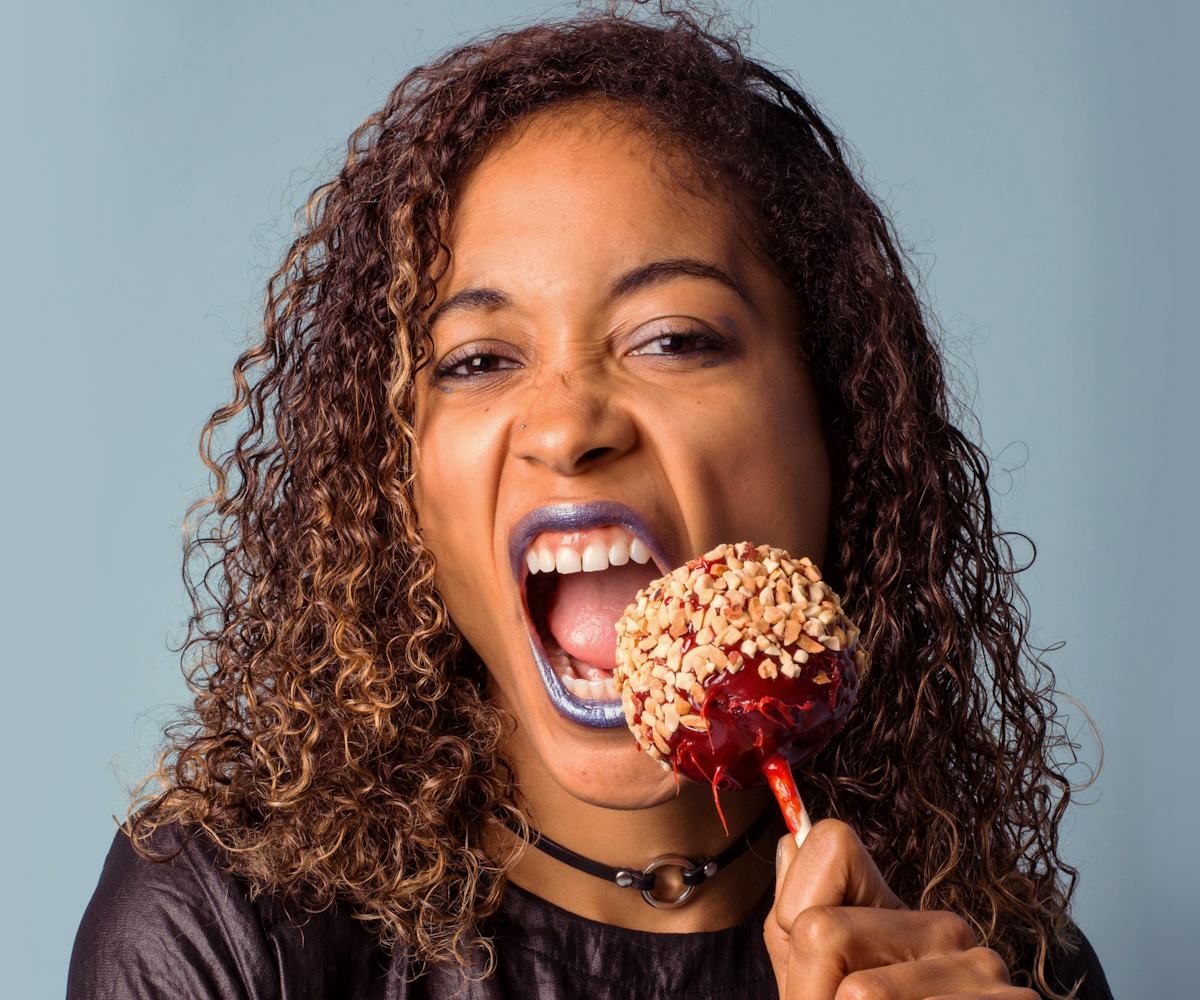 Photographed by Franey Miller, assisted by Nessa Bibby
Lipstick Vs. Candy Apples: Kiss October Goodbye
'Tis the season that bites
Last season, we challenged ourselves to keep our lipstick straight with insanely delicious ice cream cones. Rather than make a big mess bobbing for apples, we decided to put our lips to the test by feasting on candy apples.
Long before pumpkins became the staple for fall, everyone was all about the apples. Whether you're baking them in a pie or shoving them onto a stick, the options for how to eat an apple are endless, but one of our favorites—and one of the most iconic—is definitely the candied one.
The candy apples we picked for this session were coated with caramel peanuts, so needless to say, we were definitely not afraid of getting our hands dirty. For the record, the biggest challenge we had was actually getting our hands on these treats. (You'd be surprised by how few places in New York City carry traditional candy or caramel apples that can be purchased at the last minute. Thank goodness for our local Met Foodmarkets.)
With Thanksgiving right around the corner, we're already cooking up something extra tasty for the occasion so stay tuned for more. See how 10 NYLON editors get the job done in the gallery, below.
Photographed by Franey Miller
Photo Assistant: Nessa Bibby
I'm a longtime fan of Lip Whips, the brand's long-lasting matte lip color that does not move. Beauty Bakerie is one of those brands I can go to sleep wearing, and wake up with it fully intact (though I don't recommend doing this). That said, I had a pretty good feeling that this moody gunmetal navy would pull through. As expected, after biting into the sticky caramel-coated apple, my lip color remained fully intact. This one's a winner!
Beauty Bakerie, Metallic Lip Whip in 'Space Cake,' $20, available at Beauty Bakerie
I was so excited to participate in this shoot as a girl who loves both lipstick and food. I'm constantly trying to find lipsticks that can withstand delicious foods and was happy to find that this warm shade of hot pink held up super well against the candy apple. Some of the color got on the bottom of my nose and on my chin, but other than that, it managed to stay put. I think I'm ready for Lipstick vs. Buffalo Wings.
M.A.C Cosmetics, Liptensity Lipstick in 'Eros,' $21, available at MAC Cosmetics
When someone hands you anything YSL, you take it. So when it was my turn to step up to the candy apple plate, I was feeling confident. Although the apple was a lot to handle, I chomped right in, completely unfazed by the peanut and caramel glue that was attaching itself to my every tooth and cranny. The only thing that remained perfectly in place was the lipgloss that had enough viscosity to repel even the stickiest of holiday treats. Needless to say, I rocked the gloss all day and night with minimal touch-ups needed. Bless YSL.
Yves Saint Laurent, Rouge Pur Couture Glossy Stain, $36, available at YSL
This was my first encounter with a candy apple. I'm typically the girl in the office that gets rogue lipstick smudges on my eye, cheekbone, and fingers (basically anywhere but my lips) and was sure I'd meet my doom at the hands of a peanut-covered caramel apple. The Manic Panic stick did not disappoint like some of the other matte lip colors I've been wearing lately. I was left looking presentable enough to not have to reapply until hours later.
Manic Panic, Lethal Lipstick in 'Blood Red,' $15.99, available at Manic Panic
I've tried a shit-ton of matte liquid lipsticks before—including the infamous Kylie Jenner Lip Kit—and honestly, truly, it doesn't get much better than Jordana's Sweet Cream Matte. It not only stayed put throughout the shoot but also through a Shake Shack burger for lunch and Domino's Pizza for dinner. Do not judge me.
One aspect I don't like, which is true of most matte lipsticks, is that it's somewhat drying. Not nearly as bad as some I've used in the past, but definitely be generous when you apply lip balm beforehand. Other than that, it's just as—if not better—than most of the more hyped-up versions on the market. And coming in at $4.99, it's a whole lot cheaper, too.  
Jordana Cosmetics, Sweet Cream Matte Liquid Lip Color in 'Vampy Vixen,' $4.99, available at Jordana Cosmetics
This creamy cool red goes on so easily that I was *sure* it couldn't stay put... But, for the most part, it actually did. By the end of the apple (yes, I ate the whole thing), I did lose some of the color—because caramel is sticky and there was napkin involvement—but I really didn't experience much smudging. Not bad, not bad at all. 
Lancôme, L'absolu Rouge in 'Caprice,' $32, available at Sephora
I recently converted to brown lipsticks. I wanted to test this shade specifically because any time that I wear brown lipstick and it smears, it's super noticeable since it's so dark. I would also like to mention that this was my first time eating a candy apple, so I was maybe more anxious about that than what would happen to my lipstick. What a relief that this experiment turned out to be a huge success—the lipstick never budged and I actually liked the apple!
BITE Beauty, Multistick in 'Anise,' $24, available at Sephora
Berry-like colors are my go-to for colder months, so I fell in love with the 'Marsala' shade the second I saw it. It glided onto my lips, which was encouraging in that it was guaranteed to keep my lips moisturized, but meant that it'd almost definitely come off when I ate the candy apple. Sure enough, any spot on my face that was in contact with my lips when I bit into the apple was covered by the lipstick. Still, my lips looked untouched; despite rubbing off onto my nose and chin (because apparently, my lips touch all parts of my face when I eat, which is very cute), the lipstick remained just as semi-glossy as it was when I first applied it. The M.A.C Liptensity Lipstick can easily win against any food challenge you present it with—provided you can control how wide you open your mouth when you eat, that is.
M.A.C Cosmetics
, Liptensity Lipstick in 'Marsala,' $21, available at 
I picked this color because I was looking for a dark burgundy shade, so it was a bit of a surprise when I applied and got more of a dark magenta. Still, I definitely didn't hate it. It went on smooth and precise, but I'll tell you right now: This is not candy apple-eating lipstick. If I wasn't so good at eating candy apples—like basically major leagues—it probably would have wound up on my nose, etc. This thin, slippery lipstick is pretty but smudged and disappeared with just a couple bites. Apple still tasted delicious, though. 
Urban Decay, Vice Lipstick Vintage Capsule Collection in 'Bruise,' $17, available at Sephora
This didn't turn out as deep a blue as I was expecting, but it made me look like I'm from outer space, so still a win. The lipstick itself went on really smoothly and easily. It survived the first two bites of the shoot, but by the third was all over the apple and my chin. I think this lipstick could survive a light meal but would lose in a make-out session… or against the rest of that apple.
Urban Decay, Vice Lipstick Vintage Capsule Collection in 'Frostbite,' $17, available at Sephora