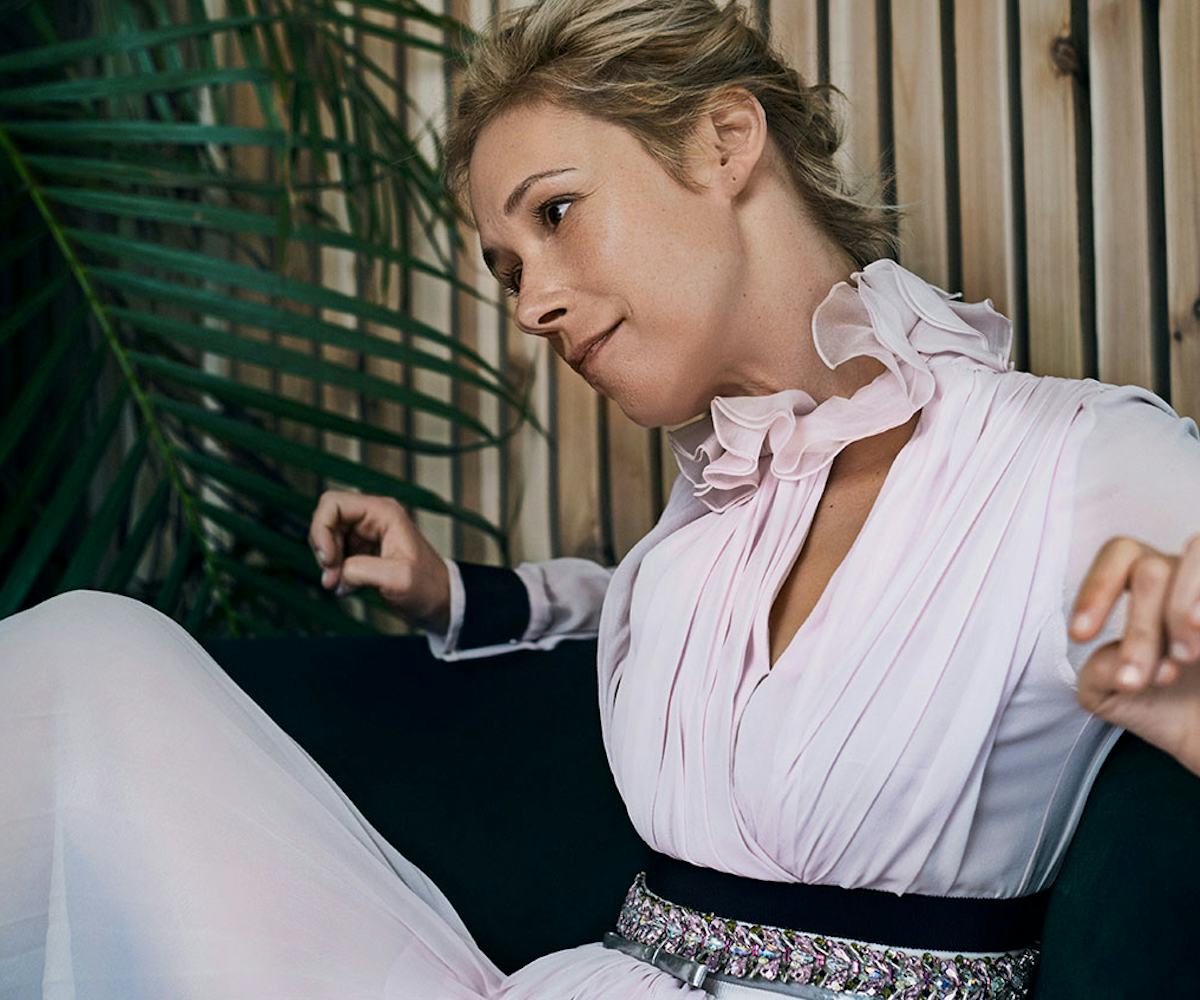 Photographed by Ricky Michiels
Liza Weil On Her Unexpected Journey From Stars Hollow To Shondaland
"I'm relieved when I feel like the stuff that I'm doing is important"
Liza Weil is nervous when she arrives at The VNYL in Manhattan's East Village. The actress admits that she hasn't done a photoshoot in a while, but you wouldn't be able to tell when she's in modeling mode on set. It would also be surprising for fans of her role on How To Get Away with Murder that Weil's been recovering from a foot injury which has made it almost impossible for her to move from the waist down while filming the show. (For a scene where she needed to get through a doorway, the crew made a dolly to roll her through the door.)
That Weil has such a calm demeanor and is the type of person who handles crises extremely well stands in stark contrast to the characters she's known for playing on television. Perhaps best known for her portrayal of Paris Geller, the fiery nemesis turned BFF of Rory on Gilmore Girls, Weil, in real life, is easy to talk to and in-between soft-spoken sentences, she giggles like a schoolgirl.
"I always wonder if me being on that show is going to diminish it for [my daughter]," she says with a laugh. "I certainly hope not."
Weil grew up in a creative household with parents who dabbled in regional theaters and went on to join a comedy troupe. Their involvement with the Madhouse Company of London moved Weil overseas and away from the countryside of Landsdale, Pennsylvania, where she spent her early childhood. Weil describes her upbringing as a bohemian lifestyle full of constant traveling and performing. Being surrounded by so many artistic and eccentric people certainly made an impression on her at a young age.
"It immediately made me want to have that life," she says. "So I knew very, very early on that that was something that I wanted to pursue. I was very lucky to be born into a family that supported that and gave me a very strong work ethic surrounding it. I'm very grateful to them."
Photographed by Ricky Michiels
Styled by Carrie Weider
Hair by Sirsa Ponciano
Makeup by Akiko Owada
Nails by Yuko Wada
Weil didn't necessarily have the most traditional childhood, but neither does her own daughter, Josephine. With parents that are both actors, the six-year-old has spent a lot of her time on film sets. But the way that Weil sees it, this is Josephine's own version of normal.
"Right now, we're in a really lovely situation because of the shows that I work on; Viola Davis' daughter is very close in age, and that's the first time since I've been working that there's been a compatriot for [Josephine]," says Weil. "When she comes to set to visit me, she has her own life on set with Viola's daughter. That makes me very very happy. She's pretty low-key about it; I think that she's at an age now where she sort of knows what we do. She's certainly unimpressed."
Little does Weil's daughter realize the imprint that her mother has made on hundreds of thousands of mother-daughter duos across the world with Gilmore Girls. Paris Gellar was essentially a high school girl's worst nightmare, but eventually, viewers had a change of heart about the villain of Chilton.
"In the very beginning, I think Paris did sort of present a one-dimensionality. She was just sort of very confrontational and mean and driven," Weil says. "I think that was daunting for me, not knowing where that behavior was coming from."
Left look: top and skirt by Christian Dior, earring by Annelise Michelson. Right look: Turtleneck dress by Peet Dullaert, earrings by Cartier
Weil credits creators Amy and Daniel Palladino for "incorporating a really thoughtful backstory about her upbringing," that helped her have some compassion so she could identify with her character more, though. And besides, Weil has always found it more appealing to disappear into people anyway. "I'm not like that in my life, so it was a different thing for me to sort of channel," she adds. Nobody else had Paris' signature sharp, unfiltered, tongue-in-cheek wit. Of all the quirks that made her character tick, Weil's favorite trait about Paris was her unapologetic nature.
"I think she did have insecurities; I think that was a huge motivation for a lot of her behaviors. She knew what she wanted, and she went after it," she says. "As a sort of young girl playing her and figuring out how to navigate the world, it was a really strong influence for me, to be reminded of those things."
At the time when filming for Gilmore Girls commenced, Weil was a relatively inexperienced actress in her early 20s; a high school graduate learning the ropes of the auditioning process. She initially moved to New York City after scoring a part in an off-Broadway show, but then packed up and headed for Los Angeles to star in the independent film Whatever. Shortly after, Weil auditioned for Gilmore Girls, and the rest is history—her big break in the business had finally been established. 
Having been a part of the iconic series for all seven seasons, Weil attests to the fact that she experienced a lot of personal growth behind the scenes.
"I felt really fortunate to be able to have a consistent job during that time, which was a hard time to be alive and be figuring out who you are as a person," she says. "To be able to have a consistent place to be, and those kind of responsibilities, really helped me buckle down and remember what's important."  
Camisole by Topshop
With the demanding hours and hard-core memorization skills necessary, the cast and crew became very close with one another over the years. Recently, the cast reunited for the revival on Netflix, titled Gilmore Girls: A Year In the Life, that's set to premiere tomorrow.
"When we do all come together, there's a lovely shorthand that we all have with each other, and we pick up where we left off, which is a beautiful thing to share with people," she says. 
Unbeknownst to Weil, she would go on to portray even more intense characters throughout her career. A few years after Gilmore Girls came to an end in 2007, Weil randomly got a call from Shonda Rhimes. The two of them had a casual meeting, time passed, and eventually she was invited to audition for a guest spot on Grey's Anatomy.
The following year, Weil landed a spot on Private Practice, her first job since she had her daughter. From there, Weil got called in for Scandal and sealed the deal for the role of Amanda Tanner. When the script for How to Get Away with Murder came her way, Weil was confident that she was ready for the part.
"It was so exciting for me reading that pilot, thinking of all the possibilities of where that show could go. I think the thing that sticks out to me is I'm somebody who really takes well to having baby steps and progressing in a natural way," she says. "I did feel like I had a relationship and knew so many people in 'Shondaland,' and that certainly made me feel very welcomed. I think that kind of environment really lent itself to people doing good work."
Left look: dress by Topshop, bracelet by Cartier, earrings by Peet Dullaert. Right look: dress by Giambattista Valli
When Weil is in character as Bonnie Winterbottom, she has to balance being "somebody who has kind of a bunch of different versions of herself depending on who she's around." In front of the notorious "Keating Five," Bonnie has the ability to exert power and authority over the students. Weil's character is the counterpart to Davis', and their scenes together often reveal Bonnie at her most vulnerable state.
Weil describes their relationship as a complicated mother-child dynamic where Annalise Keating takes on a parental role. Despite all the trauma that has been inflicted upon her character, Weil loves that Bonnie continues to stay motivated and willingly steps up to "restore this family back to its former glory." No matter what situations she gets thrown into, nothing can interfere with Bonnie's blind loyalty to Annalise.
She adds, "I think that [Frank and Bonnie] would both do anything to prove their devotion to [Annalise]. It's a very multifaceted character, and I'm again so lucky to be able to have an opportunity to play somebody who's so complicated on television."
Dress by Jaline Resort, necklace by Cartier.
Weil and Davis' relationship off camera has been nothing short of magical too. Weil is at a loss for words as she tries to describe the "out of body" experience of working with the actress. Weil has always admired Davis, so to have the opportunity to be with her in scenes every day has been "a dream come true."  She describes Davis as an extremely generous person who is kind, laid-back, and, most notably, full of humanity.
"I have a tendency to get a little self-critical of myself and worry that I'm not going to be able to execute something, and [Viola] has a lot of compassion for that and she understands that very much. So, I remember a day, where I think it was the scene that I had in the parking garage with Asher, where Bonnie tells him that she killed Sam and makes up that whole story, and I was really struggling with it," she says. "I was very overwhelmed, and she just looked at me and nodded and just gave a very straightforward motion with her arm to just mean, 'Just get in there, get in there, just do it, just plow ahead.' It was so helpful to me and something that I always think about."
If you thought that this season was intense, wait until you see what's in store for 2017. This interview was conducted a few weeks before viewers finally learned which member of the Keating Five was murdered. Weil said that coming off such a heavy season was tough on everyone because they didn't know that they were losing a major character. Additionally, most of the characters were isolated from the whole group this season, making them all miss each other even more.
"We know what kind of show it is, and we're under no illusions that that isn't a possibility, and it's something that can happen to any of us, but now that we're in the thick of it, it's a huge loss," she says. "I again have to remind myself that this person isn't actually going to die and that I'll be able to call them up and have dinner sometime in the future. It's very emotional and hard."
Weil describes the rest of the cast as a family full of remarkable and talented people. Throughout the seasons, they make an effort to schedule dinners together. "It's very important to us, the value of coming together and sort of marveling over this experience," she says. Right now, they're all planning an off-campus retreat of some sort. She adds, "It's a very dark show so I think we are all very very connected and try to take care of each other the best we can."
Dress by Alberta Ferretti. 
Underneath it all, Weil has portrayed a handful of unforgettable women on beloved programs where the writing is unparalleled. And like many women in the real world, she balances having a full-time job with raising a family but lives a relatively normal life for someone working in show business. (As you can see on her Instagram page.) When all is said and done, Weil revels in the fact that her daughter can share these experiences with her, and she's proud of the fact that she has been able to portray strong, complicated women throughout her career. She tells us:
My daughter is in school now, and I do miss out on drop-offs and pick-ups and being a part of her daily life a lot of the time that I'm working on this show. I think that I'm relieved when I feel like the stuff that I'm doing is important and may have value to her someday rather than sort of being on some silly thing that isn't really contributing to the world in any way. It makes you wonder whether you're doing the right thing. I think that I look forward to her seeing that stuff. I guess I hope that she takes what she does from it. She's proving to be a very strong, feisty one herself.
When Weil takes a minute to reflect on her 20-something-year-long career, she remembers how much she looked up to Lauren Graham at the beginning. She had a deep appreciation for the comfortableness and confidence that Graham emitted on Gilmore Girls, a point that Weil never thought that she would ever reach herself. When she really breaks down the timeline, Weil points to Rhimes and the Palladinos for contributing to her transformation into a "better, fully formed person."
"It's very bizarre to me to now really be a grown-up. I kind of can't believe that I'm there because I certainly don't feel that way a lot of the time," she says. "I think I'm starting to be able to stand a little taller. I feel like I paid my dues and I feel like I deserve to be where I am. I feel like I've worked really hard."
Dress by Giambattista Valli.