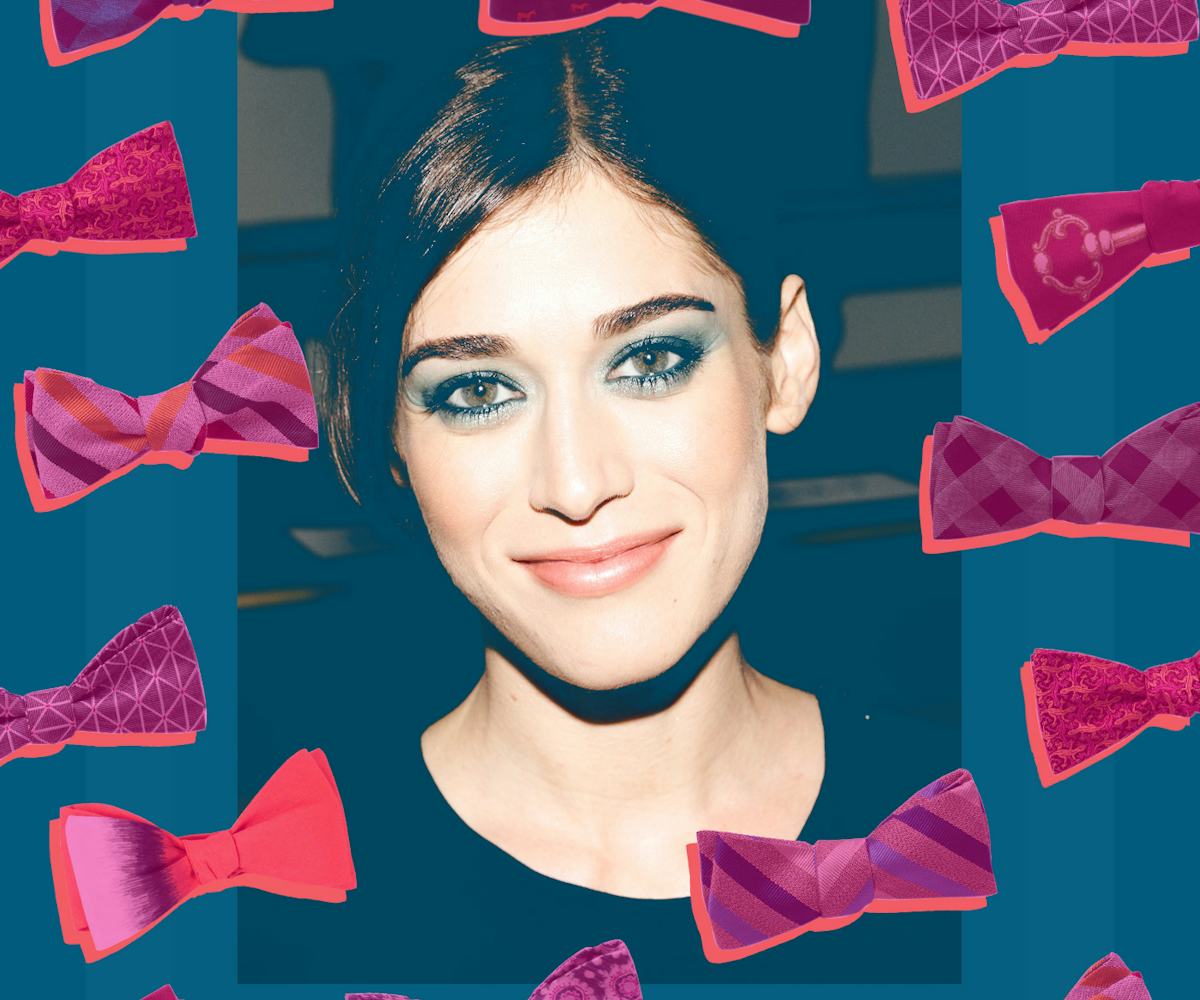 Photo by Mireya Acierto / Getty images
lizzy caplan designs a bow tie for marriage equality
Lizzy Caplan is the latest celebrity to contribute a bow tie design to Jesse Tyler Ferguson's LGBTQ rights organization, Tie The Knot. Sold exclusively at The Tie Bar, Tie The Knot's spring collection of bow ties is inspired by Chicago's famous landmarks and streets. Caplan's bow tie, though, is inspired by a fox's tail, because, why not? It's a pretty literal interpretation of that inspiration, too: The pattern on the tangerine-colored bow tie just looks like a tail. Obviously, it's adorable. 
"I was happy to represent the straight female's perspective on gay marriage bow ties," Caplan jokes, when NYLON asks her how she got involved with the organization. "We have been left out of this conversation for too long, and it's just not right." More seriously, though, she and Ferguson have been friends for years, and Caplan says she jumped at the chance to get involved. "This cause will be on of the few truly great things my generation will be known for, and I'm honored to help in any small way I can." 
Her personal connection to the cause, of course, extends beyond just her friendship with Ferguson. "So many people I love happen to be gay," she says," And I obviously think they should be afforded the right to stare disdainfully across the den at their partners, cooking up murder plots to collect their life insurance, same as straight couples." 
As for whether or not Caplan herself actually wears bow ties? "I don't, really, but wearing more bow ties is one of my New Year's resolutions, so hopefully I will be answering this question differently come 2016," she says. 
Tie The Knot's first bow tie line, released in November 2012, sold out in less than four weeks, so we have a feeling the Lizzy tie won't be available for very long. As for where your dollars go? $20 of every $25 tie purchase and $25 of every $35 cufflink purchase is given to Tie The Knot—who uses the money to fund an international public education campaign to help garner support for marriage equality. Because if you're going to fight for equal rights, might as well look dapper while you do it. 
Photo via The Tie Bar. 
The Tie Bar, The Lizzy Caplan, $25, available at TheTieBar.com.