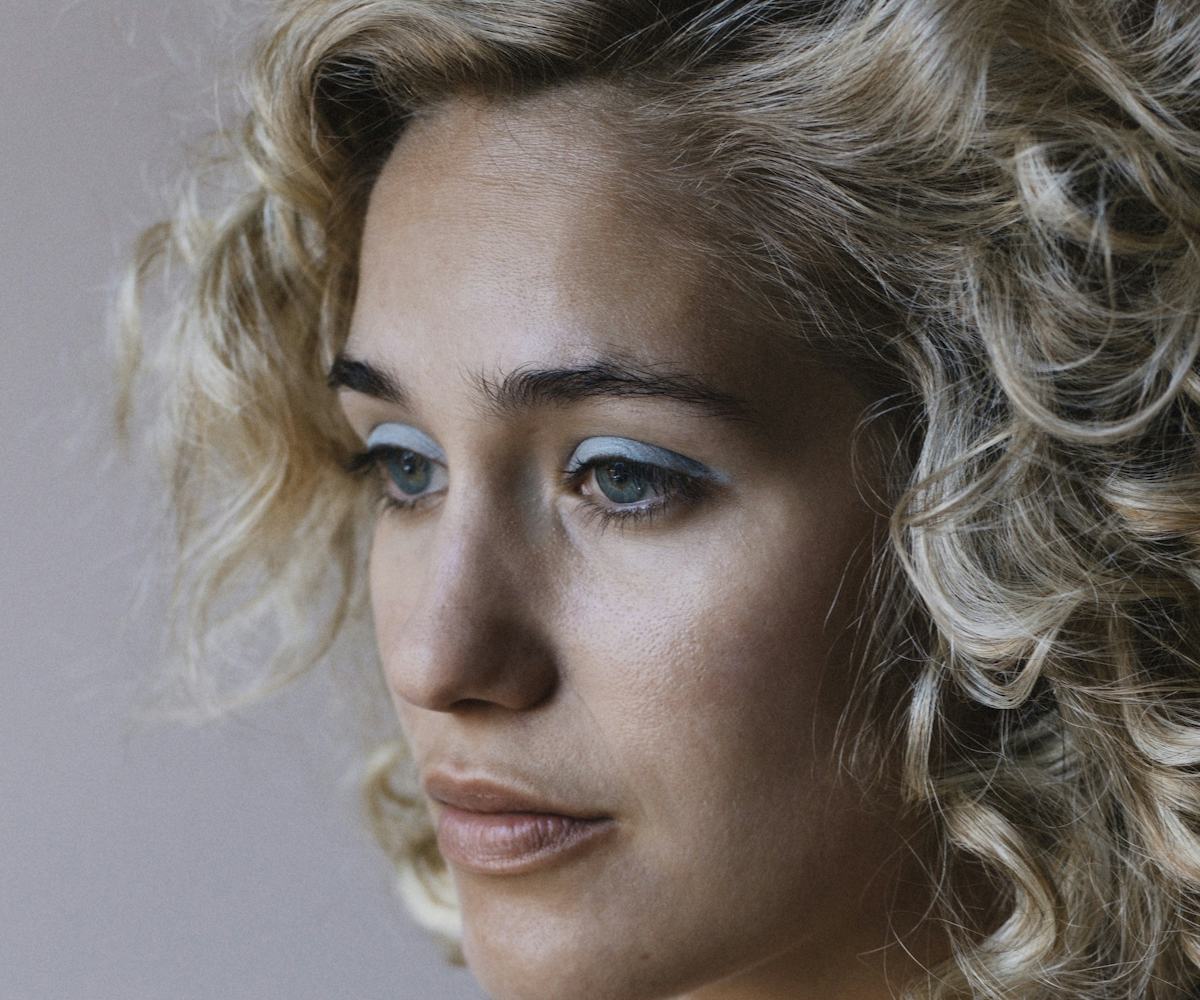 Photo by Celeste Sloman
Watch Lola Kirke's Ennui-Filled Exploration Of What Women Are "Supposed To" Do
'Heart Head West' is out in August via Downtown Records
"There is something to flipping the dialogue—from having my pain be something that I hide to it being something I paint with," Lola Kirke explains to me over the phone. "It can be uncomfortable, but also, it would be more uncomfortable to not be that intimate." This is the kind of contemplative sentiment that extends to the very reaches of her forthcoming debut album, Heart Head West, and underlines the fact that Kirke is an open book as she describes the making of a work she had previously only dreamed of.
The musical result of a particularly trying yet transformative 2017, Kirke's brand of starry-eyed alt-country is a vehicle for "everything that I would talk about to a close friend or even a stranger if I was a little drunk"—and the record definitely delivers in terms of recreating that level of intense intimacy. Recorded with the help of her partner Wyndham Garnett, guitarist Lilah Larson, and past collaborator Omar Velasco—who enlisted the help of his band Amo Amo, including bassist Shane McKillop and drummer Justin Flint—Heart Head West is like getting a glimpse into Kirke's diary. But make no mistake, while the album does flirt with moments of overwhelming sorrow, it is much more complex than that. Shirking the idea of an entire album dedicated to the mournful, sad-eyed mores you'd expect from traditional steel guitar country, there is ample joy and feeling in Heart Head West. And it's all imbued with the genre's listlessness and spirit of mischief; Kirke's choice, then, to call her music "Cosmic American"—a descriptor inspired by the legendary Gram Parsons—feels apt.
And while we may have to wait until August for the formal release of Heart Head West via Downtown Records, Kirke has given us a glimpse of what we can expect from the record thanks to the gorgeous, self-directed video for "Supposed To," premiering here. Watch the video, and find out more about the album in our exclusive interview with Kirke, below.
Tell me a little bit about the album, the songs that are on it and how they're kind of the diary-esque encapsulation of your 2017.
It really does feel like everything that I would talk about to a close friend or even a stranger if I was a little drunk. 
["Point of No Return"], the last track on there, is actually a cover of a song that I've loved for a really long time by Jim Ford. And that's an encapsulation of a period in my life, because [music is] just something I've always dreamed I'd be able to do. But the reason I actually chose that song or covered it in the first place was because, when I was listening to the original, I was like, I wish I could hear Dolly Parton sing this song. And then I was like, Well actually, I don't sound anything like Dolly Parton, but I can give it a woman's voice and try my own hand at it. 
In a lot of ways, I feel like I make music the same way I make jokes. I laugh at my own jokes frequently because I'm telling the jokes that I wanna hear, and that's maybe not the greatest thing to admit. But if I'm really honest with myself, that's why. I like my music. I'm making music that I would like to hear, and that feels just really good to do.
Filling the void that you wish you could occupy.
Yeah. I think that there's a lot of really great music coming out right now, too, but writing music certainly helps me explore the voids in my own life. I do feel like art making for me has always been connected to the void within. 
I'm so grateful that I get to express the void within and that people have some interest in hearing that expression or watching it. But yeah, I don't think I would be driven to make much of anything if I didn't feel a tremendous sadness and loneliness and self-loathing from time to time.
Was it weird to put yourself out there in this very intimate and personal way? Did you have a moment while you were recording and were like, Wow, everyone is going to hear this?
Yes and no. I mean, it's funny because I have a lisp... sometimes people pick up on it quicker than others. The reason I bring it up is because, often, I feel like people can't actually understand what I'm saying. There's some layer of protection even though my lyrics are extremely personal and honest. But whether it's the production of the music itself or just the way that I sound when I sing... you cannot exactly hear me confess that readily, which is nice. 
But also, the goal of making things for me is to be as intimate as possible with myself. So other people can feel intimate with that themselves, and I can use that intimacy within my work. And I don't really see the point of making much of anything if that isn't the goal because then it's just really general. And I don't really want to live in a general world. I like to live in a very specific one. 
I think that there is something to flipping the dialogue—from having my pain be something that I hide to it being something I paint with. And I want to paint with all the colors. I don't want to just paint with one. It can be uncomfortable, but also it would be more uncomfortable to not be that intimate.
Was there a song that was particularly difficult to write?
I think a lot of the songs are about my family, and so that's particularly difficult. The second song on the record, "Born to Die," is about my brother who passed away, and that's a particularly difficult song to sing. But, as I said, it would be more difficult not to sing it.
On a somewhat a lighter note, how does this new record differ from your past work?
It's the same producer, who's [also] my partner, Wyndham Garnett. We found a music studio-slash-apartment on Airbnb that we moved into, and we ended up becoming really good friends with [Omar Velasco], whose apartment it was. I played music with [his] band Amo Amo. His band is often my band, and there's a lot of really nice sharing and music community that's come out of that. But I recorded that first EP in that apartment kind of as an experiment to see like, "Can I do this?" 
So I guess the difference between the EP and the LP is that I believed in myself more with the LP and it's not like a concept album. It's not just about one thing. There is definitely a cohesive sound to the LP. It's all recorded live with the same band and the EP was much more piecemeal.
Was there anything surprising about the recording of the album that differed from your past writing and recording experiences with the EP?
I think just being able to do it. We tracked live-to-tape and the musicians on the record... and it was just such a beautiful experience to be with musicians who are so talented and who are sharing their talents with you as you explore your own. It really just felt like we were making something together. 
Tell me a little bit about the video for "Supposed To."
I came up with the concept of the video for another band actually. And then I was like, "I want to use this." The song "Supposed To" is really about the intense pressure I feel to be what other people think I should be and what I think I should be. In a lot of ways, it's about ambivalence, which is a state of being I find myself in frequently. And not being able to choose and not understanding what my compass should be for making certain decisions. I think that has a lot to do with being a girl in the world. That being said, no gender is exempt from standards of who they should be. But so it's about that in a lot of ways. 
On a personal note, I am somebody who is frequently doing things, and I feel like, if I don't do things, I will fall behind forever. Actually, my amazing publicist once said to me, "I work really hard because I'm really lazy," and I connect to that so much. In a lot of ways, that's what the song is about. I wanted to see how that added up for a woman, later in her life. How rebellious would you feel if you had spent your life just doing things that you felt that you were supposed to do? That society told you to do?
Sometimes there is also great pleasure in doing the things that you're supposed to do. In the video, I hope that this came across, but the woman is grieving her lost husband. And, in this generation, I think that long-term monogamous relationships often get kind of shat upon. It's much cooler to be free-wheelin', so to speak. But in my experience, I've actually always really enjoyed those deeper commitments. But the tension between being committed and doing whatever I wanted has felt great to me as well. 
But I think that's really a reflection of this generation. I don't think that people commit to very much these days. Except to their own yoga routine, or something like that. It's interesting. People change careers frequently. They change their minds frequently which is good, we should all be changing our minds all the time. 
Heart Head West is out August 10 on Downtown Records.
Catch Kirke on the road:
7/28: Getty Center - Los Angeles, CA
8/21-23: Union Pool - Brooklyn, NY