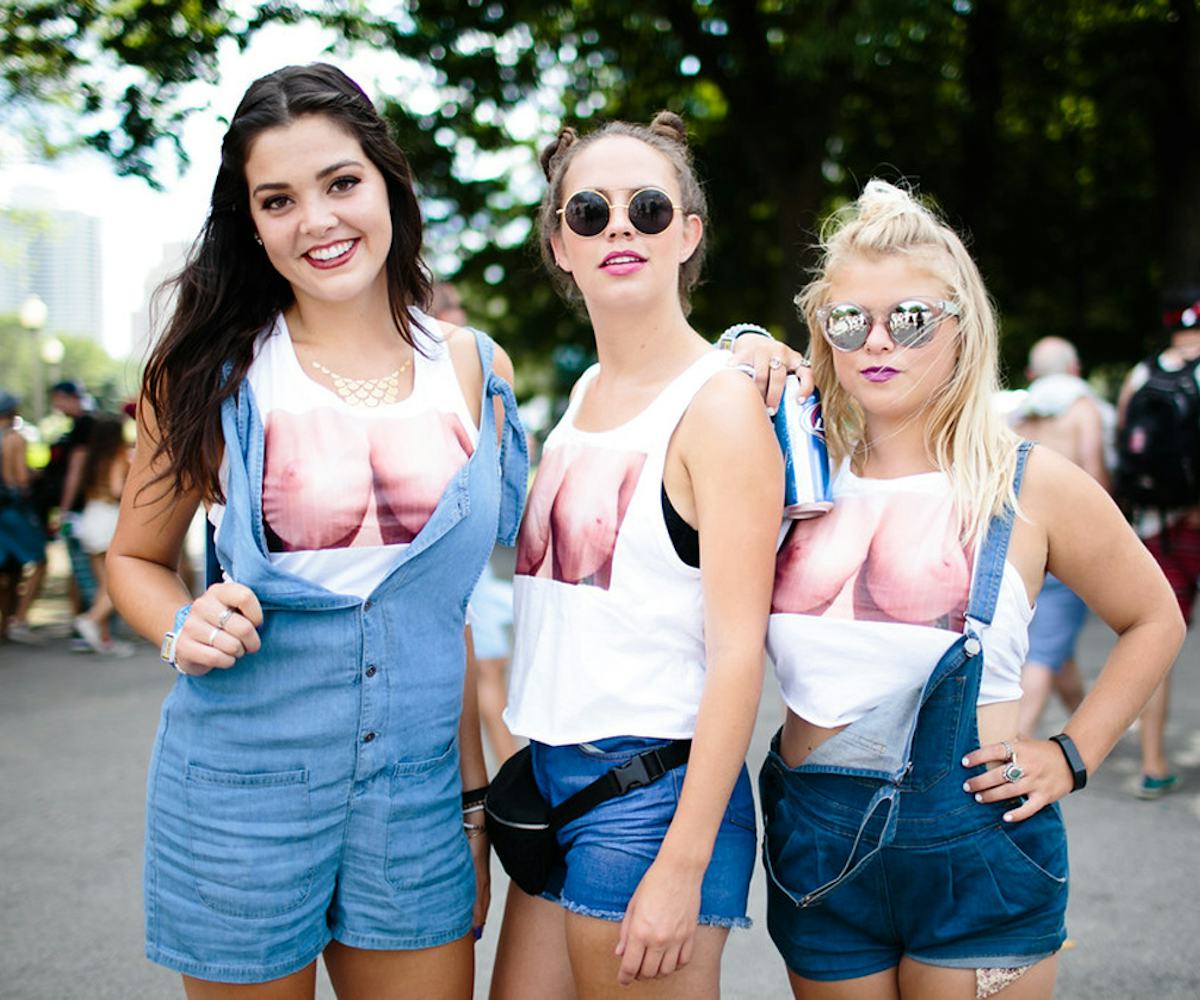 Photographed by Azuree Wiitala
40 Lollapalooza Street Style Stars Who Totally Rock
Attention, people who don't live in Chicago: Lollapalooza is officially a huge thing. Next to Coachella, it may be the biggest, baddest music festival this side of Glastonbury, and the crowds, VIPs, and bands who came out (even those who weren't playing) demonstrate that no inclement weather can stop the mega-fest. (No matter how windy it gets. This is Chicago, after all.) On top of some stellar performances (OMG, twigs. OMG.) and insane drama (Travi$ Scott, for one), we managed to spot a whole heap of gals who had put their own spin on festival dressing. Because this is a music fest, right? Let your freak flag fly.
Queen Charli of the Kingdom XCX.
Do you think she meant to match her outfit with the background??
Holychild gives new meaning to a shell bra.
Jessica Hernandez has melon-ball earrings!
This student is schooling us on clashing colors with a red two-piece and a pop of turquoise in her hair. 
Um, this is a finger party that we would love to be invited to.
One of the reasons Venus looks pitch-perfect? She's a makeup artist, naturally.
Trisha told us she was psyched to see SZA, but we were psyched to see the writer's commitment to camo.
Is this a necklace or a bandana? Or a neckdana? Or a bandlace? Whatever it is, we want one.
What is this hair made out of? The stuff of dreams, that's what.
Dani, our #Lollalook winner, is throwing some serious shade. 
Stine used her connections as a flight attendant to come to Lolla, apparently to teach us all a lesson on how to truly rock the vertical stripe.
You know what this is? You know what this is, actually? The spirit of summer music festivals, personified. It's as is Sonia was our Music Festival Fairy Godmother.
Ashley stuck out because she just managed to exude cool in the sea of hot, hot weather.
Leah, a copywriter, is serving some solid stripe geometry. Kudos to the breathable dress and adorable slides.
Found: The world's most perfect onesie.
Okay, this is awesome. Instead of face paint, try rainbow jewels in a cool pattern. That way, nothing melts off. You go, Lysette.
Sometimes, you just gotta let everyone know what day of the week it is.
Hair envy.
FKA twigs comes from outerspace and lives on a planet of boxer-ballerinas.
Rianne's look is head-to-toe perfection, with an airy, white dress and a denim vest for a little bit of rock and roll. But, what's that on her head...
We caught Siren XX's Kat between sets in a perfectly wonderful A-line, but she told us she was personally psyched to see Tame Impala.
When in doubt, put a kaftan on it.
Free the nipple!
(Also, shout out to Grace on the left for her flas- tattoo necklace.)
At first glance, Jess looks like a young Mary-Kate Olsen.
After being asked about it all weekend, Heather let us know her bag was Ixchel Triangle.
Jami shows off how a cool festival mom dresses.
Guess what Breanna does for a living? Hint: It's also doubling as an accessory for her look.
Kari's gonna be a rooooyal, she'll be the queen bee, and baby—she'll rule, she'll rule, she'll rule—our Lolla fantasy.
Event planner Colleen is just so crisp and chic.
Thea has so many great colors going on here. She's like a postcard from an awesome tropical vacation.
Zella Day told us that she nearly got soaked in her white dress, but we think her lingerie-as-daywear M.O. is perfectly ethereal.
Rebecca opted for punchy graphics—and socks with swear words on them.
Shanelle rocked the fannypack, which was in full effect at Lolla, plus the perfect, often-overlooked accessory: A fresh pair of white Chucks.
Kelsey's patchwork skirt and matching top are wonderful, but let's take a closer look at her braids...
By weaving in fabric, she completed her red-and-gold ensemble.
Amber and Ayitaf were there to check out Odesza and Banks, respectively. 
Check out her amazing 'do. We don't know what is better: The braid or the color. Fortunately, we don't have to choose.
...Okay it is cat ears made of daisies! Major squee-alert.